9 TIPS FOR PLASTIC FREE JULY FROM @LOWTOXLIFE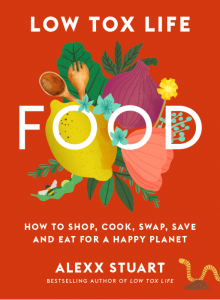 We got some of the best tips around from the wonderful Alexx Stuart from Low Tox Life on some simple changes you can make for a happier, healthier life (and planet). 
1. GO CLOTH
Did you know, it takes 1 cup of crude oil to produce the plastic in 1 "disposable" plastic nappy.
Try cloth nappies, especially for around home. 
BUT we get it, if cloth nappies are a 'block' for you or you need a couple of emergency brands for travel or times when it can all get too hard, Eco Originals Eco Nappies are my top pick.
2. WIPE AND WASH
Consider reusable cloth wipes with warm suddy water for nappy changes, especially for the at home changes. You can use old towels cut up or the brand Cheeky Wipes supplies neatly cut squares of soft towelling.
Need a disposable wipe for on the go, try WotNot Wipes (which are disposable, 100% biodegradable and compostable) and Nature's Child Reusable Wipes are two good options.
3. BABY FOOD READY
You've cooked it, now for baby food freezing, I did little glass jars that I defrosted in the fridge overnight before needing them. You can do this for breast milk also. Just be sure to leave an inch off the top from the liquid to the lid, to allow for expansion.
4. TAKING AWAY
For lunchboxes, my favourite material is stainless steel - It's lightweight and non-breakable for little peeps on the go.
Ditch the zip lock bags. Start seeing how much you can put into jars, stainless containers, glass bottom containers or simply wrap in sandwich wrap bags / wax coated paper sheets.
We love Seed and Sprout lunchboxes.
5. TOY TIME
For BABIES, soft, bendy, chewing types of plastic toys are an absolute no. The phthalates are what make them bendy and they are no good for those tiny growing bodies and a baby doesn't know it's being 'deprived' of anything, so just give it low toxic, wool, cotton, wooden toys.
And before you freak out - Sophie the Giraffe is FINE. She's made from pure rubber these days (don't take hand me downs before 2010) and even painted with food safe paints - AND they make a rubber duckie too, that's ACTUALLY rubber!

6. NOTHING IN HALVES
Stop buying 'halves' of fruit and veg. Buy whole and get a little recipe inspiration to ensure you use it all up over the week. A whole cauliflower could be half roasted with turmeric and olive oil and then served with pomegranate and goat's curd... the other half could be blitzed into a puree with coconut milk.
7. FRESH FOR LONGER
Wrap your herbs in damp tea towels tightly, to keep them fresh - Never leave them in those plastic wraps they might come in depending on where you shop, they wilt far too quickly.
8. BULK BUY
Buy bigger plastic bottles for things like hand wash if you're not keen on soap or making your own. Often the container can be recycled but the little pump or seal lid can't.
9. CONSUMER POWER
Ditch the receipts. Receipts covered in thermal coatings (that plasticky feeling receipt) are covered in BPA in a much more concentrated dose than from food packaging. Say 'no thanks' unless you really need that receipt.

Choose brands that use less plastic.