Dimity, Nothern Beaches, NSW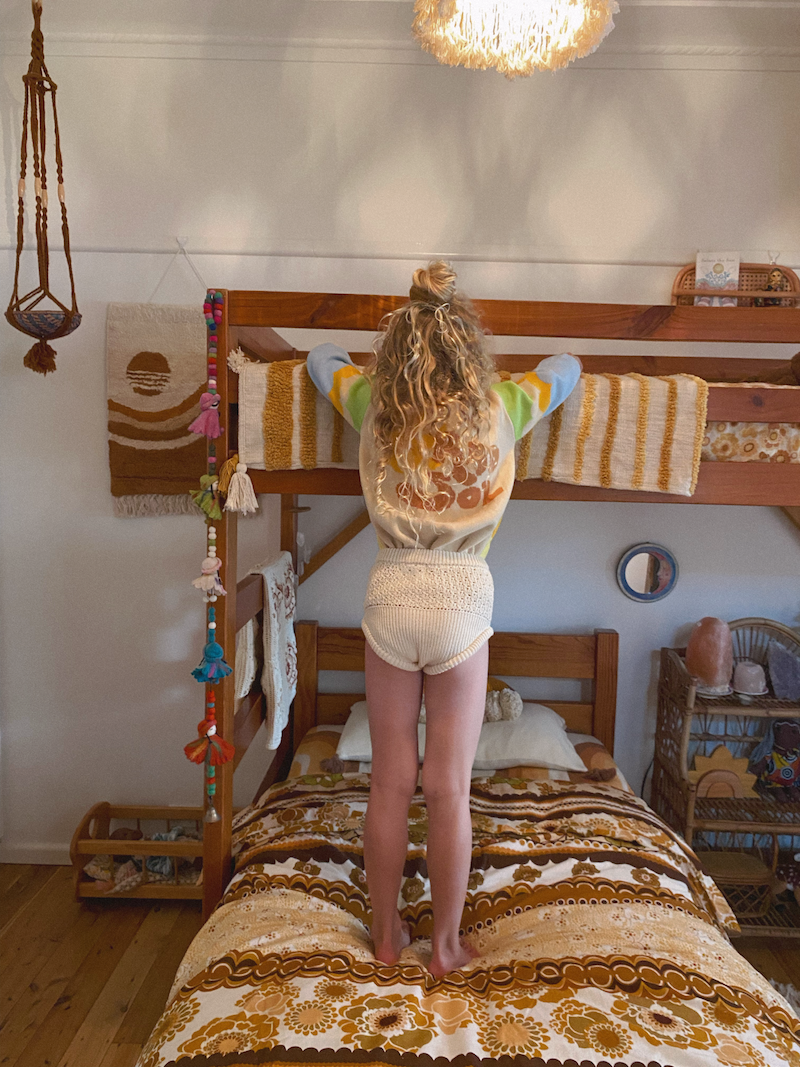 meet dimity.

The calm beach side suburbs of Northern Sydney are home to soon-to-be mama of three Dimity, along with her hubby Mike and their two girls, Zaeli and Ochre. Creativity plays a large part in the families life, with daily craft activities providing a way for them to connect with nature and each other.
Tell us a little about yourself?
I am of Australian/Polish heritage. I grew up on acreage with my mum, dad and 3 siblings, we always had many pets from horses to mice! I was always super sporty my entire life and thought that would always be my passion... but in year12 I fell in love with visual arts. After school I studied a bachelor of visual arts, and from there I have studied floristry and visual merchandising. I worked as a visual arts technician for 10 years at a private boys school. I married my soulmate 9 years ago and now have 2 beautiful daughters and one baby boy due Valentine's Day in 2022. Being a mum is the most amazing thing in the world and I feel so blessed to live this life with my beautiful family by the ocean.

Who is in your family?

My husband Mike and I have two precious wildflowers Zaeli Olimpiada (7) and Ochre Florentyna (4), and 2 bunnies - Coco Rooby and Cupcake Honey ·     

Tell us about where you call home.

We live in Sydney's northern beaches. I grew up north west on acerage and my mum is from country NSW where we spent most of our childhood holidays. When I met my husband we both knew we always wanted to live by the ocean. First we bought an apartment on the north shore but knew we always wanted to buy a home. We bought our dream home eight years ago and did renovations to add a second story three years ago. We love going for family sunset strolls on the sand, exploring the rock pools with the girls and spend our entire weekend with friends at the beach. The beach is our happy place and the ultimate playground for our children.
How does arts & crafts fit into your lifestyle?

Arts and crafts is definitely part of our daily life. I feel like it is the most natural way for me to connect with my children, from going on bush walks to forage for nature finds and then quietly crafting together in our backyard. I have always had art materials around the home so my children can paint whenever they want and freely integrate arts into their daily life. I create because it is what makes me happy. I have a huge appreciation for the fine arts, but craft is my real passion. Using my hands to create is what fills my soul. I think you are born with a creative mind. 'Creatives' see the world differently, it's like my mind takes photos of inspiration throughout the day. It never switches off. My biggest source of inspiration is nature. The colours of the sunset, a small wildflower growing from the gutter, beach rockpools, moss growing on a tree, a delicate spiderweb. I am forever in awe of Mother Nature as she shifts each season providing endless inspiration.
Who is you favourite artist?
I am most inspired by traditional craftsmen - when you go to a local market and see a man sharpening knifes on a old belt powered by a motorbike, or when you see a bunch of elderly women knitting baby blankets to sell in an charity store. A jeweller at their workbench, a shoe maker fixing leather shoes, a Milner creating a hat, a ceramic artist on a band wheel - these traditional hand-made crafts is what inspires me most!

You have an amazing craft space for your girls, whats the favourite thing happening in there at the moment?
Yes I am so grateful for this space. In our backyard we have a little studio that used to be full of gym gear. When my eldest daughter turned 2 I knew I wanted to create a permanent craft space for my children to feel inspired by. I went thrift shopping to find furniture and containers so I could transform one wall into a craft studio. I have always been a 'collector' so it was also amazing to have a space for all my craft materials and trinkets. Every season we change around the space to welcome in the seasonal shift, this is my favourite aspect of the room as each season we see the space transform as it gets decorated with all our new crafts.
What are the girls favourite books?
We love the series 'little people big dreams' and Laura Buntings 'coco' series.
What is your go-to family meal?
Japanese- we all love sushi!
What do you do for you time?
As a mum the best ways I find to 'recharge my soul' are beach swims, op shopping, bush walking and crafting. Craft is definitely my form of 'meditation'. Using my hands to create is what makes me happy and 'fills my cup' !

You can follow along with Dimity's world here.