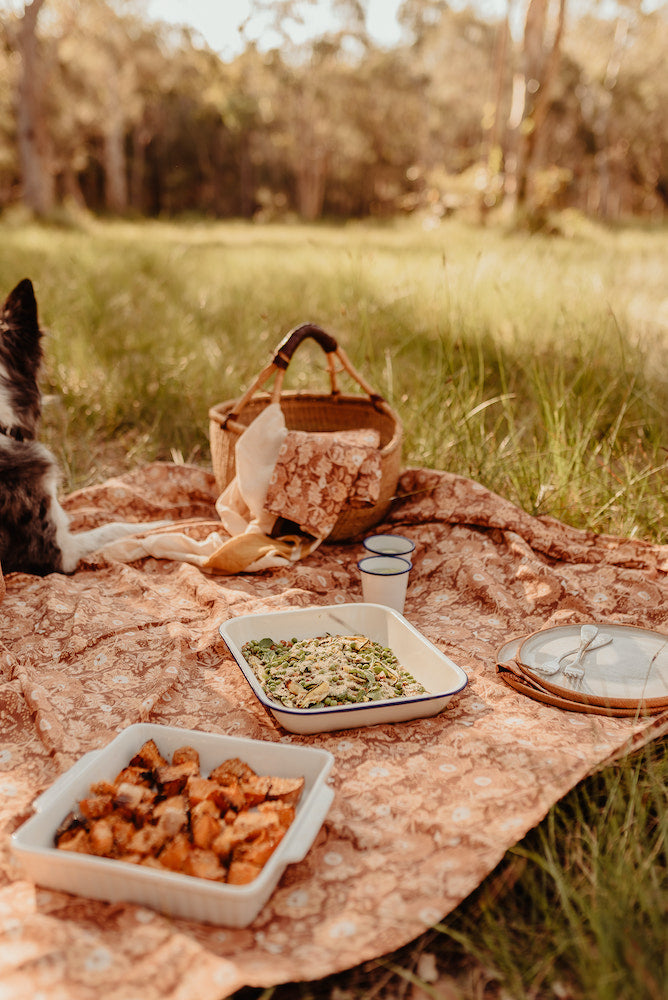 Recipes with Harriet Birrell AKA Natural Harry

Harry is a new mum, author and recipe genius living in a gorgeous 40 square home complete with a veggie patch. A passion for turning simple plant-based organic ingredients into easy & tasty dishes has allowed Harry to show people a different way of life where nourishment with delicious, fun and colourful ingredients are front & center.
Natural Harry grew from selling organic smoothies & raw desserts from the window of a vintage caravan to over 200 recipes full of healthy, natural goodness and three best-selling books. When she isn't cooking, or surfing, or tending her veggie patch with dog Fred by her side, she is busy working on her eco concept store with an emphasis on functional, consciously produced wares made of naturally occurring materials.
In the era of picnics, Harry shared two recipes with us for some easy meals designed to share with your loved ones, spread out on the grass in the summer sun.

GRILLED ZUCCHINI, PEA, MINT & 'PARMESAN' SALAD

I love making this salad to go with pizzas. The flavours are so yummy and fresh, which I find complement pizza really well. It is also a goodie for a balmy summer's night when you feel like something light yet satisfying. I also make it when we are camping as the zucchini and toasted almonds take on a smoky quality over an open fire that is just scrumptious. Zucchini grows really well through summer so, if you plant it early enough, you might find you have an abundance come the warmer months.
2 large (200g) zucchinis, finely sliced
½ cup (70g) almonds
1 cup (140g) fresh peas
½ cup (20g) fresh mint leaves
1 tablespoon baby capers
2 teaspoons lemon zest

2 tablespoons coconut aminos*
½ cup cashew 'parmesan'
Heat a large skillet over medium heat and grill zucchini slices on both sides.
Roughly chop almonds and toast on a hot plate over the fire or in a non-stick frypan over medium heat.
  Layer grilled zucchini, peas, mint, capers, toasted almonds and lemon zest on a serving plate.
Drizzle with coconut aminos and sprinkle with cashew 'parmesan'.
CASHEW 'PARMESAN'
I have not missed the traditional version since discovering this scrumptious plant-based version of parmesan cheese. It takes next to no time to whip up and is so yummy on pizza, pasta, salads and in wraps. I like to store mine in a glass jar in the fridge to keep it fresh and ready to add to my meals. It keeps in the fridge for up to 2 weeks. Freeze to store for longer periods.
Makes 1 cup  |  Prep time: 2 minutes  |  Difficulty: Very easy

1 cup (140g) raw cashews
⅓ cup (35g) nutritional yeast*
1 teaspoon garlic powder
1 teaspoon salt
  Add all ingredients to your food processor. Pulse until you get a texture like almond meal. Enjoy.
SESAME CRUSTED ROAST PUMPKIN
This is a little trick my Aunt taught me when I was a kid. It brings roast pumpkin to the next level and is such a good addition to any spread. The key to achieving the best taste and texture is to use organic or homegrown pumpkin and make sure it is nice and ripe and ready! This serves 2-4 as a side depending on the size of your pumpkin.
1 large pumpkin, 2 kg approx
2 tablespoon coconut aminos
1 tablespoon olive oil

1 teaspoon garlic powder
¼ cup sesame seeds
pinch of sea or celtic salt
Pre-heat oven to 180°C/356°F fan forced. Remove pumpkin seeds, peel and dice into large chunks and add to a large bowl.
Add the coconut aminos, olive oil, garlic powder and salt and mix well to evenly coat the pumpkin. Add sesame seeds and mix again.
When evenly coated, line 1-2 large baking trays with baking paper and spread pumpkin evenly over both trays.  

Place in the oven to bake for 45 minutes or until super soft on the inside and crispy on the outside. Stir once half way.

Harry also has a nack for recipes that nourish our homes as well as our bodies. Her latest book, HOME, is packed with 70 simple & sustainable recipes for a waste-free home - featuring everything from cleaning products to body butter.
Take these simple & fun recipes along to your next gathering in the park. Enjoy!