Shop Talk #05 - Daisy Kids + Life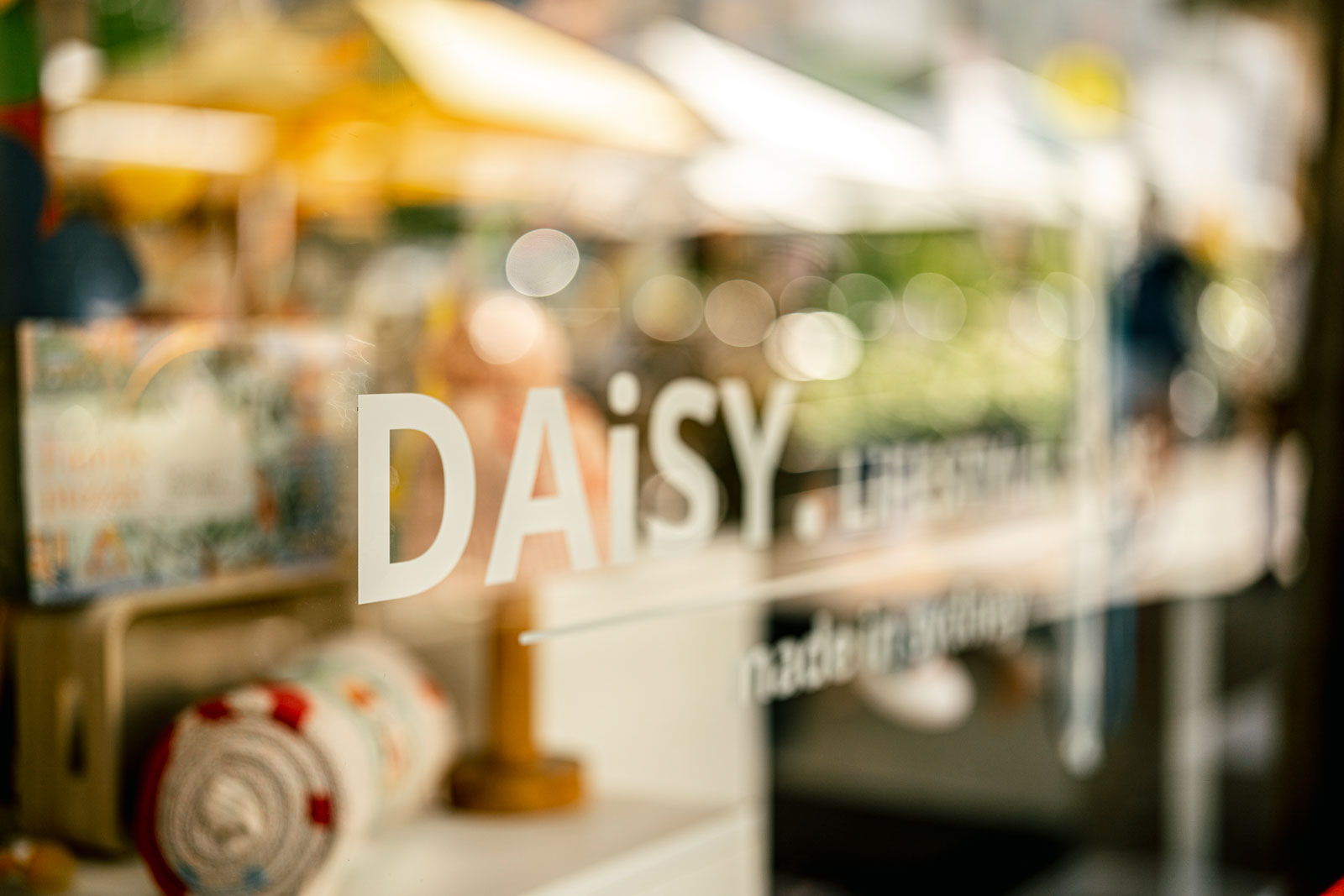 Welcome to our latest Shop Talk! We are excited to chat with Magdalena Duma from Daisy.Kids+Life, based in The Rocks in Sydney. 
Magdalena's ethos for her brand is to be 100% sustainable, and her store showcases a collection of carefully curated Australian-made designs. She shares her story with us and shows us that with a clear dream and a deep desire, nothing can stand in the way! 

WELCOME TO SHOP TALK. 

COME INSIDE THESE BEAUTIFUL STORES WHERE WE MEET THE OWNERS, TALK ALL THINGS INTERIORS AND LIFESTYLE RELATED, AS WELL AS GET A GLIMPSE OF THEIR STUNNING PRODUCTS ON OFFER. 
____________
Hey Magdalena. Tell us about you and your fam.
I was born in communist Poland and came to Australia in 1990 with my parents and brother. Although my parents have passed away, I am now extremely close to my brother, his wife and my two beautiful nieces, Ava and Willow. The girls are really the inspiration for my business. I wanted to create a space where they could see how creativity can be turned into a business and how that business can be sustainable, fulfilling and fun. The girls are very creative, and I often use their drawings in my design prints.
Daisy.Kids+Life is based in The Rocks. What's it like being in such an iconic location?
We love being at The Rocks. It's one of those very rare places in Australia where history meets the future in the best possible way. I always refer to The Rocks as a little village inside a huge CBD. There's a real community spirit here among the locals and small business owners, which I value. The iconic location of The Rocks means that we get quite a variety of customers coming through, from international travellers to interstate visitors and Sydney siders alike. Customers who come to this area are looking for the best of Australia's brands, and we work really hard to source independent labels as well as hand-make our own designs in our studio at the back of the store.
Rad Kid Cord Cap - Tan
AUD $39.00
1st Birthday Cap - Musk Spliced
AUD $39.00
Hip Hip Hooray Birthday Ringer Tee - 2 Years Old
AUD $49.00
How did your brand start?
Like many new businesses, Daisy.Kids+Life started during the lockdown. For the first time in my life, I had lots of time and nothing to fill it with, so I took this opportunity and created my label. Equipped with a domestic overlocker and an old retro sewing machine, I began to make kids' clothing and accessories using sustainable fabrics and trims. 
At the end of 2021, I began to think about places where I could sell my handmade products, and The Rocks seemed like the perfect fit. I opened the shop in February '22. At the time, we didn't have many travellers, and Sydney siders were still a little sceptical about visiting the city, so business was slow. This gave me another opportunity to grow slowly, steadily and organically. I took my time to work out the customer base and the products that were needed and to deal with my own abilities to produce enough of my own designs to fill the shop. 
As the number of visitors grew at The Rocks, I decided to include and showcase other Australian independent brands in my store. I am very happy and proud of the brands that we carry. Each one of them brings a different flavour to the store. I select the brands to complement one another and to create a lovely shopping experience for our customers, who vary dramatically. Showcasing other brands alongside mine has taken the pressure off me to constantly make enough products to fill the shop so that I can take the time to really focus on the design and sustainability of my brand.
We love that you focus on sustainable brands. How do you find/choose the products for your store?
I must admit I am a big Pinterest user, and I find many wonderful brands there. I think the great thing about social media is that smaller, less commercial brands have a presence and can be easily contacted. Through social media, I can explore each brand's vision and decide if it fits with our values. 
Some brands, like Banabae, I was familiar with from my days of working at my friend's kid's store. That experience gave me an insight into which brands, in particular toys, would be appropriate for my own store. This year has been a game changer for us, and we are lucky enough now that many brands and individual people have contacted us to let us know about their designs. 
We stock handmade in Sydney crochet toys by Melinda's Crochet Corner, Merino wool baby blankets and booties crocheted by a lovely retiree called Brenda in Queensland. We definitely try to source Australian-made products whenever possible.
Rad Mama Cord Cap - Mauve
AUD $49.00
Rad Mama Cord Cap - Tan
AUD $49.00
Banabae Cord Cap - Mauve
AUD $24.50
What are your favourite Banabae pieces?
We are absolutely obsessed with the Banabae birthday caps and matching grown-ups and kid's caps! What also stole our hearts was the matching mum and daughter Petal Puff Merino Blend Longline Cardigans and the retro printed bamboo swaddles. Love the graphics!!
Where can people find Daisy.Kids+Life?
Our physical store is conveniently located at 139 George St, The Rocks. You can also check us out at www.daisykids-life.com or follow us on Insta @daisy.kids.life
Shop more from Banabae for the whole family:
Petal Puff Merino Blend Kids Cardigan
AUD $59.50
Rad Team Ladies Organic Cotton Jumper - Pink
 AUD $129.00
Beneath The Waves Bamboo / Organic Cotton Swaddle
AUD $49.00
Heaps Good Hemp Tee - Adults
AUD $59.00