Styling Guide - Casual Coastal Nursery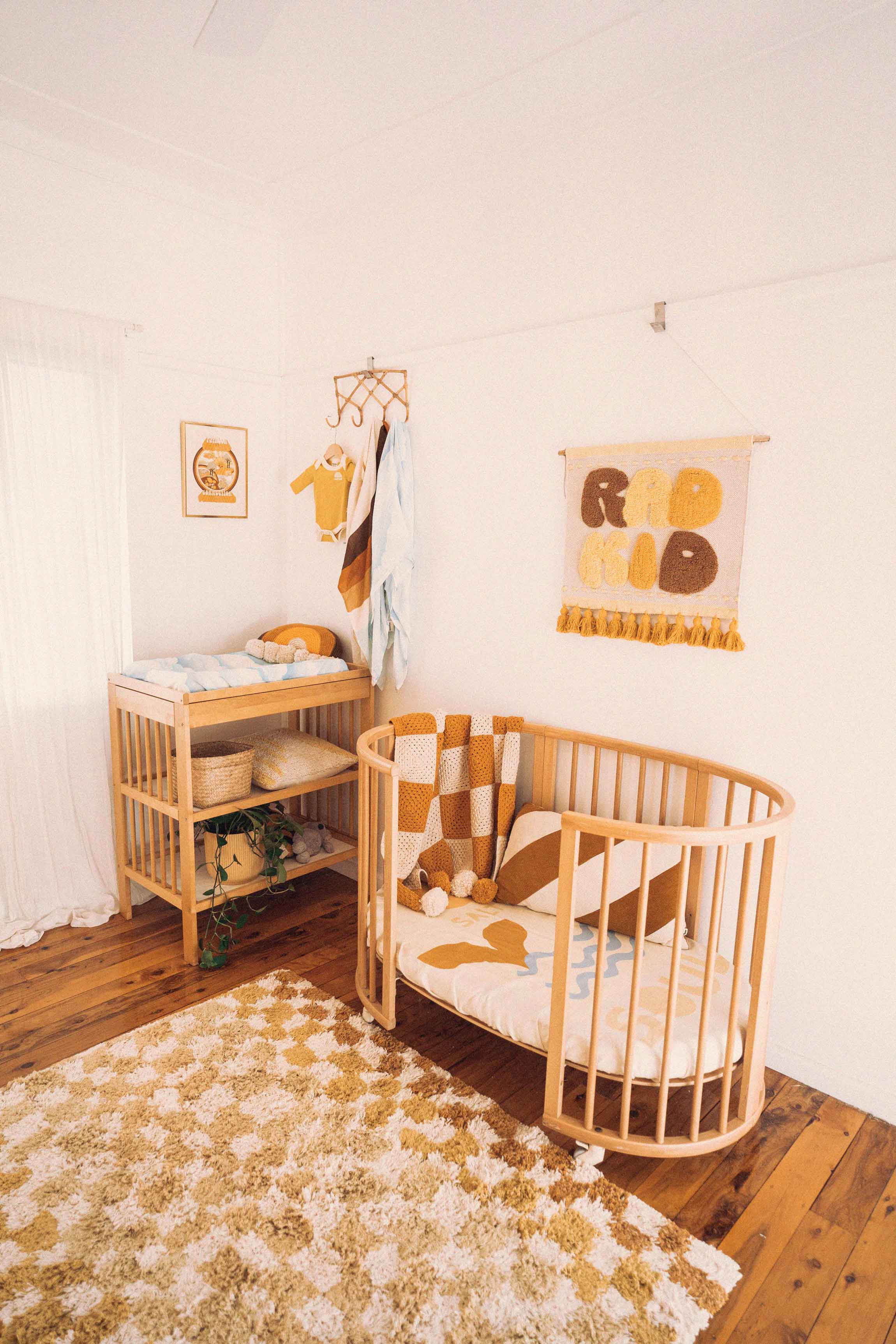 STYLING GUIDE - CASUAL COASTAL NURSERY
Forget stitched-up nautical navy. This look is all about bringing in the natural colours of the Australian coastline. Sky blues, sandy neutrals and sunny yellows grounded with earthy browns and timber furniture.
The nostalgic 70's and 80's vibes come through by incorporating our Checkers Cotton Tufted Floor Rug to add warmth and a feeling of cosiness to the room. 
Checker Cotton Tufted Floor Rug
AUD $337.50
Our retro-inspired prints become the focal point of any room and are guaranteed to bring sunshine and smiles. Our bassinet sheets also work for changing pad covers (as pictured above).
Salty Soul Bassinet Sheet/Changing Pad Cover
AUD $69.00
Head in the Clouds Hemp/Organic Cotton Bassinet Sheet/Changing Pad Cover
AUD $69.00
Think outside the square when filling up blank wall spaces. Hang your most loved swaddles and baby clothing on display, or even use surfboards for wall art, and shells as shelf trinkets. Our light and sunny wall hanging add life to any space whilst tying in with natural woodgrains in furniture and fittings.

Rad Kid Tufted Wall Hanging
AUD $111.75
Flow State Bamboo / Organic Cotton Swaddle
AUD $49.00
Rainbow Connection Digital Art Download
AUD $15.00
Shop Casual Coastal Nursery:
Rainbow Dreams Crochet Cushion
AUD $129.00

Oblong Stripe Cord Cushion
AUD $89.00
Head In The Clouds Bamboo / Organic Cotton Swaddle
AUD $49.00

Checkers Cotton Crochet Blankie
AUD $299.00
Sunrise Loop Back Cushion Cover - Yellow
AUD $108.75

Sun Kissed Ribbed Organic Cotton Long Sleeve Onesie
AUD $33.75
Rad Kid Classic Organic Cotton Onesie
AUD $45.00

Rad Kid Long Sleeve Organic Cotton Onesie
AUD $36.75