The Brightside: Pleasant State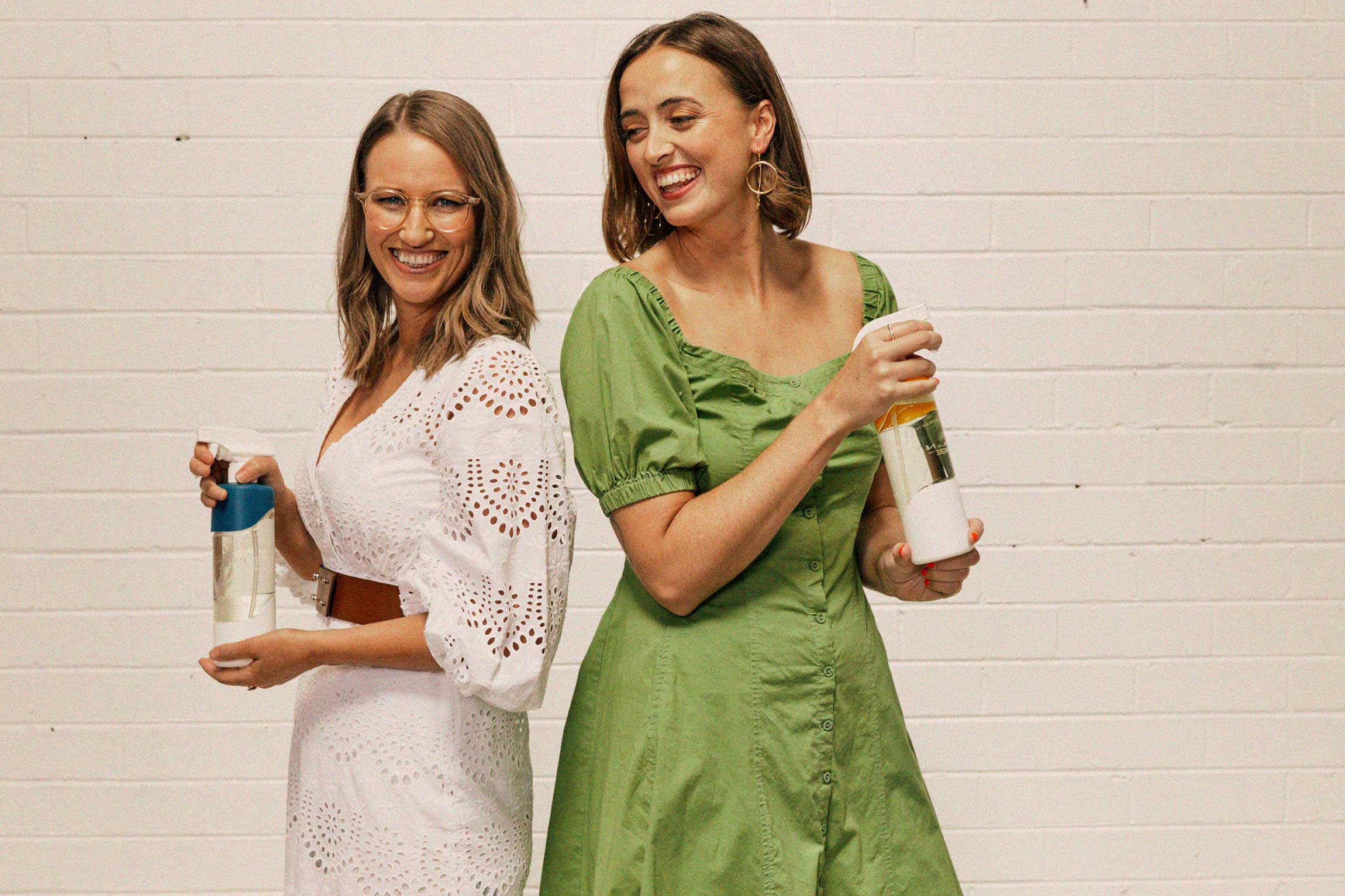 THE BRIGHTSIDE: 
SPRING CLEAN YOUR HOME TOXIN FREE WITH OUR FRIENDS PLEASANT STATE
Never mind a global pandemic, 2020 was the year Pleasant State set out to revolutionise the way we clean our homes, and what a wild ride it's been!


We love a female-founded brand. Tell us about how you came to work together.
Many people don't know this, but Ami and I had actually never met before we started working on Pleasant State. Ami had been struggling with migraines as a result of toxins in her home environment, so she was working to remove toxic chemicals and plastics from her life. But when it came to cleaning, she couldn't find any effective, sustainable and healthy solutions. 
She came across the just-add-water concept overseas and realised nobody was making them in Australia and globally. So Ami set out to find a solution using high-quality, plant-based ingredients. She knew she could create an amazing, ethical business and product but needed someone to bring the brand to life and build a community of changemakers to support it. And that's where I came in! A mutual friend of ours introduced us at a cafe on the Sunny Coast. As soon as I heard Ami's wild idea to rid the world of single-use plastics and toxic cleaning chemicals, I was in. This all happened in early 2020, just days before the start of the pandemic. 
As the new reality began to set in, we quickly realised that if there was ever a time the world needed non-toxic, zero-waste and effective cleaning products, that time was now. So we put everything we had into Pleasant State, and three years later, I'm incredibly proud of how far we've come. 


What inspired the creation of Pleasant State?
I touched on it a little above, but for us, our core 'why' is our mission to prove that doing good is good for business. We want to demonstrate that you can build a profitable business while balancing people, planet and profits. It's why we're Australia's first B Corp cleaning brand and a proud 1% For The Planet member. 
Through our work and by developing revolutionary products, we want to rid the world of toxic cleaning chemicals packaged in single-use plastic while changing our customers' relationship with cleaning. Cleaning doesn't need to be a thankless chore, a necessary evil that's hidden under the kitchen sink. We've created products that bring joy to cleaning and can be displayed proudly on your kitchen bench. Products that ultimately make home care a form of self-care. 


In a market filled with cleaning brands, what sets Pleasant State apart?
I love this question! There are a bunch of factors that set Pleasant State apart from other cleaning brands. We've worked really hard to ensure we're making Australia's best cleaning products! Our products are Australian-made using plant-based, high-quality ingredients. They're verified as safe and non-toxic by the Clean + Conscious Awards. We partner our revolutionary bars with ridiculously good-looking custom glass and silicone bottles that are zero-waste. 
Even our bar wrappers are certified home compostable. We scent them with essential oils, not artificial fragrances, so they smell amazing and are better for your health. And most importantly, they actually work! In addition to these product features, Pleasant State is a female-founded, bootstrapped and crowdfunded business that is supported by a rapidly growing community of like-minded people, all working in the present state to create a future Pleasant State!


Can you share any intriguing facts about the cleaning industry that people might not be aware of?
I have learnt so much about the cleaning industry throughout this journey, particularly when it comes to ingredients and the impact everyday cleaning chemicals can have on our health. Unfortunately, the cleaning industry is highly unregulated. Unlike the beauty and food and beverage industry, cleaning brands don't legally need to disclose the ingredients used in their products. It's highly unregulated, and the majority of ingredients in everyday cleaning products contain known carcinogens, allergens and sensitisers. So while many of us think we're keeping our families safe by keeping them clean with these products. They can actually do more harm than good.


The sustainability aspect of your brand is so inspiring. Can you share with us how your products are eco-friendly?
From day one, we set out to build an ethical brand that balances people, planet and profits. We did this by following the B Corp framework when setting up Pleasant State. This demonstrates that we meet the highest standards of social and environmental governance. In addition to this, impact, ethics and transparency are embedded in everything we do at Pleasant State. Our motto is to do the right thing, even if it's the hard thing. Our zero-waste, plant-based products have allowed us to stop about 178,000 single-use plastic cleaning bottles from ever being made and ending up in oceans or landfills, to generate 89,000 litres of toxin-free cleaning that's safe for our homes and waterways, and raise and gift over $48,000 to Take 3 for the Sea and Good 360.


What exciting things can we expect in the future?
We have big plans for Pleasant State. After closing our successful equity crowd-sourced funding round in June, where we raised over $1 million from 724 investors, we're now working on some exciting short and long-term strategies. These include new products, a potential retail play and exploring international markets. The hope is that with this growth, we can scale our impact for people and the planet. Watch this space! 


Shop our range of sustainable homewares:
HOME by Natural Harry
AUD $39.99
Kiss The Cook 100% Linen Tea Towel
AUD $35.00
Arabella Linen Table Cloth
AUD $149.00
Joni Rad Cook 100% Linen Apron
AUD $89.00