The Dreamers #38 - Emma Kate Of @wildfemmes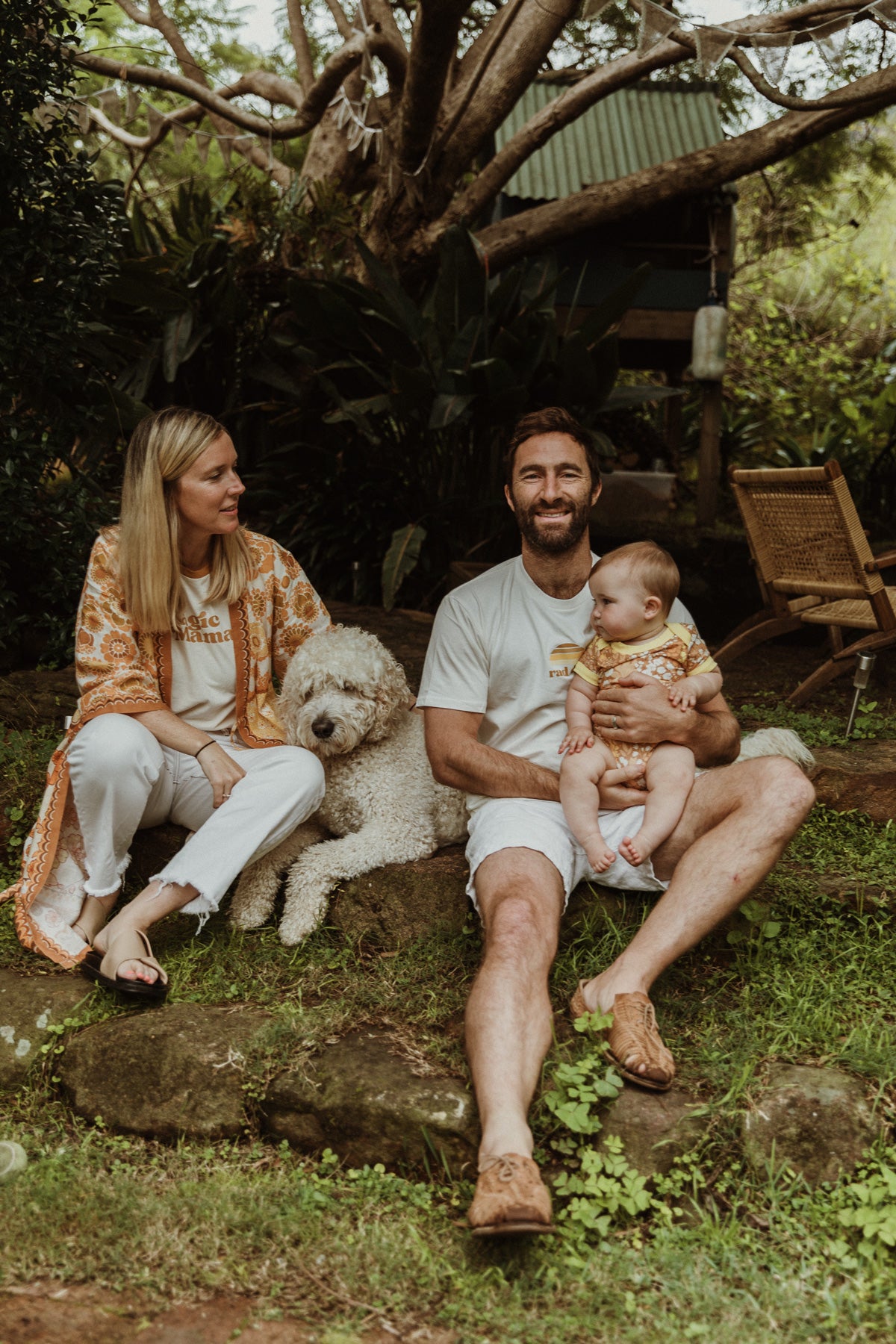 Meet Emma Kate Maggs of Wild Femmes.

This talented lady gives us a glimpse into her work and home life with her husband Scott, daughter Goldie, and their adorable groodle, Mr Waggs!
WELCOME TO THE DREAMERS. 

COME INSIDE THE HOMES OF EVERYDAY FAMILIES AND BUSINESS OWNERS  DOING LIFE THEIR WAY. 
____________
What is your name? Tell us a little about what have you been up to lately?
My name is Emma Kate Maggs and it's a Monday. 
 This morning I cooked breakfast for my little family that includes my husband Scott, daughter Goldie and first born Mr Waggs - a large Groodle.  
Autumn has brought with it many highlights; watching our babe's character and new skills bloom, seeing my husband love being a dad and how obsessed Goldie is with him, the evolution of Wildfemmes and the incredible women I have been fortunate to connect with, and after all these beautiful things, that my body is starting to feel like my own again now nine months postpartum. I feel lighter, more motivated and I can feel that fire inside of me returning. 
Tell us about where you live and your favourite local spots? 
I live on Dharawal country an hour south of Sydney in the beachside village of Austinmer - it's a sweet slice of paradise we're lucky to be living in. Our house is a short stroll to Little Austi Beach where we go for walks and swims every day. It's just glorious. 
I love popping into Earth Walker & Co for my daily brew chai, Pickled Poet in Thirroul for a wine, Papi's for "the second best burger in town", the beautiful farm Wombarra Springs, the secret mermaid pool where Wildfemmes was born and my favourite spot of all is the oasis that Scott has created for us in our own back yard.
Your little bub is the absolute cutest. What's your favourite personality trait you've seen coming through?
Goldie is growing at a rate of knots. She can crawl super fast, stand up, wave and has gorgeous big toothies that have come through. Prob the thing I love most about her is that she's so happy, always smiling and cackling. When you walk into a room and she see's you, her smile melts me every time. It's also a great reminder to greet people warmly as the effect is definitely contagious. 
You own a beautiful photography business called Wildfemmes. 
Can you tell us a little more about this? 
I would love to. Wildfemmes is a photographic series that was born through the respect of what the female body can endure and create, combined with an overwhelming desire for a new outlet that ignites something strong inside you. It celebrates the female form and the powerful women that inhabit them through strong yet ethereal underwater imagery and inspiring storytelling. Along the way I have been interviewing some incredible women and I'm excited to launch the series in the coming weeks. It's my one woman pursuit to find out what keeps women wild today - brilliant stories surrounding belief systems, self love and acceptance, resilience, how to do the work, professional journeys and the daily rituals and knowledge that keep us striding forward in the most authentic of ways.
I consider Wildfemmes to be a family business and we have been working on some beautiful products to come under the brand and ethos that we hope to release by the end of the year. So much goodness comes when there is flow and alignment and for me, this process has been so organic and cathartic.
How long have you been working on this? 
I have been working on the collection and series for just over two years now and it's been so wonderful to see it take on a life of its own and be so positively received. After working as a producer and director in the TV and content creation space for nearly two decades, it's always a little daunting jumping into new waters, but the community and landscape have been so welcoming.
What was the draw to this raw, stunning female imagery? 
I am an ocean babe at my very core, and have always loved surf and underwater photography. Having worked with some of the most talented humans, the inspiration has always been there. 
Like most, 2020 was a rollercoaster of a year, and after some personal experiences with my health, my appreciation for my body was grand. Add to this that I am fortunate enough to find myself in a community of strong, successful and powerful women who are living their lives by design, it felt so natural to return to the water with these muses and see what eventuates. The result was magical and the evolution continues - I am learning and connecting more with every shoot. 
As a mum, do you feel more connected to your work? 
Incredibly so. Goldie has taught me so much in the nine months we've been together, and how we view ourselves and our bodies and the language we use on a daily basis is a really big one. I am more motivated than ever to create an environment for her where it is a given that women empower each other, are proud of their bodies and their achievements, and how important it is to see other women doing the same. 
Honey Bunch Ringer Organic Cotton Onesie
$45.00
Rad Dad Classic Tee Organic Cotton - Natural
 $49.00
Joni 100% Linen Robe
$179.00
Rad Kid Honey Bunch Cap
 $39.00
Sunny Daze Floral Organic Cotton Blankie
$129.00
Coverlet: Upsy Daisy Butter & Leaf Green
 $389.00
Magic Mama Ringer Tee: Tan
$49.00
Upsy Daisy Reversible Euro Pillowcase
$55.00
READ MORE FROM THE DREAMERS BLOG: