The Dreamers #72 - With Angela Michel From Worthy Drink Bottles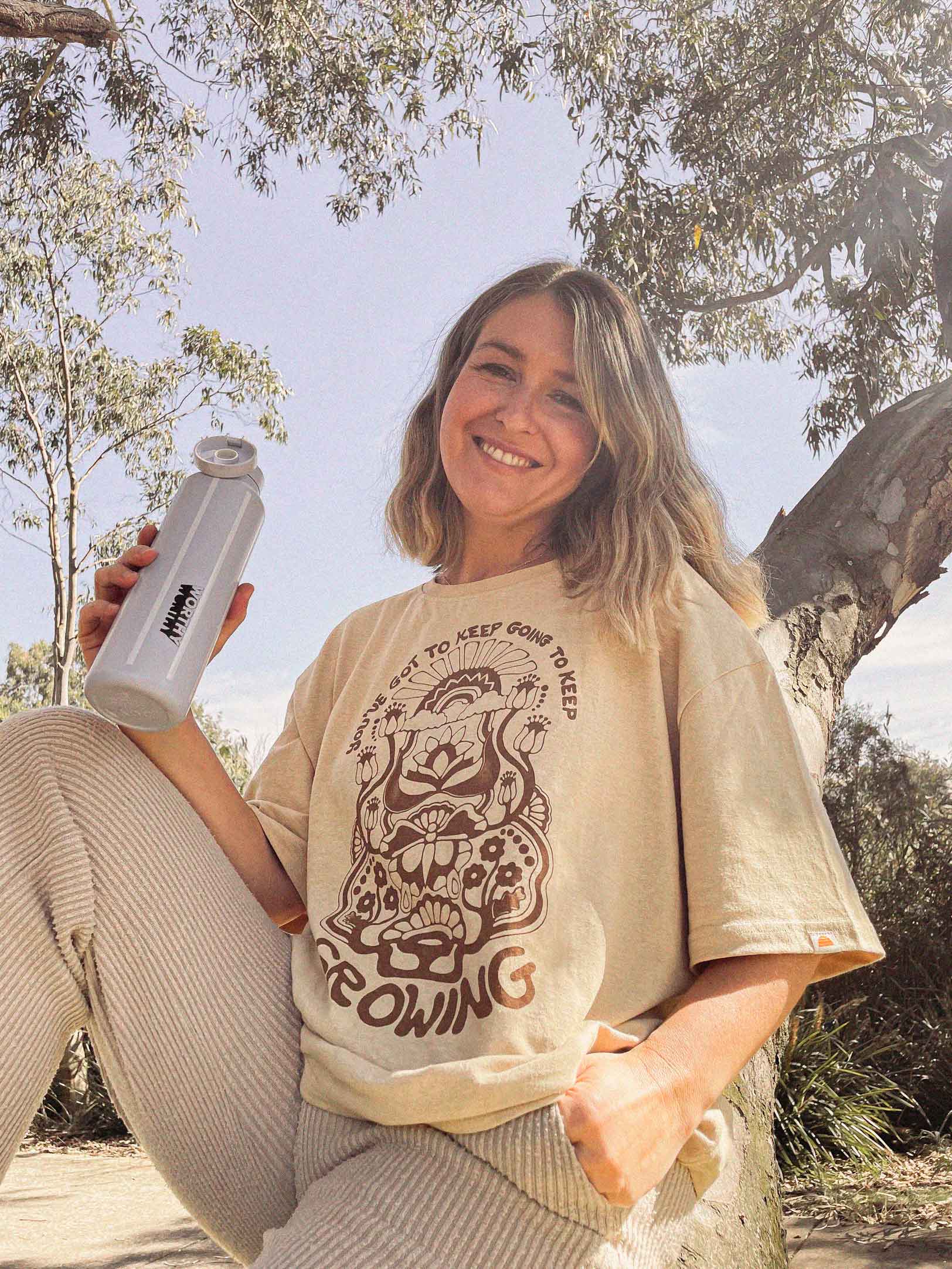 What we sow today, we reap tomorrow. This is the ethos behind Worthy Drink Bottles, founded by Angela Michel. What sets these drink bottles apart is that they are made using carbon-negative sugarcane, which creates zero waste in the manufacturing process. As our latest Dreamer, Ang shares with us how her business came to be, her home life and what drives her to carve out a better world.
WELCOME TO THE DREAMERS. 

COME INSIDE THE HOMES OF EVERYDAY FAMILIES AND BUSINESS OWNERS DOING LIFE THEIR WAY. 
____________
Hi Angela! Who's in your family? 
Hello! There's my hubby, Brendan, me, our three lively kids- Jonas (10), Ayla (7) and Jentzen (3) and our almost one-year-old Groodle pup, Luca.
Where do you live in Australia? Tell us about home. 
We live in Melbourne and just celebrated one year in our new (much more spacious) abode amongst the bush. We love it here. We love walking daily through the bush reserve creek trail just steps from our home (where these pics were taken).
Keep Growing Hemp Tee - Ladies
AUD $59.00 
Petal Puff Organic Cotton Twinset
AUD $63.75
Rad Kid Tee Faded Black
AUD $49.00 
Rad Dad Cable Knit Jumper - Espresso
AUD $108.75
We love your brand, Worthy. Where did the idea come from? 
Thank you. After working for over a decade as a Radiographer, I wanted to do something entrepreneurial, something to make a positive impact in the world. I had been using many drink bottles and was frustrated with what I was currently using. The glass ones kept breaking, and the paint was chipping off the stainless steel ones. Plastic was never an option, so I decided to create the most sustainable bottle on the market. The idea came to me at 1 am while feeding baby Ayla!
Tell us about sugarcane. 
Sugarcane is so incredible to manufacture! It functions similarly to plastic but is completely made from plants, so it's non-toxic, lightweight, durable and one of the most sustainable materials to use. It is carbon negative and has zero waste at manufacture. We use the stem of the plant to create the bioplastic resin, and we use the waste (Bagasse) to power the factory! Sugarcane is continually grown, releasing oxygen into the atmosphere and grows easily using natural resources. All other drink bottles use crude oils and a lot of resources to produce - ours use nature! 
How do you find juggling family life with running a business? 
It is a challenge, for sure! I started this year pretty close to burnout out and realised pretty quickly that something needed to change, so I got with my business/life coach, and we revisited my goals and created a new schedule that gives me a healthy work/life balance. It was a game-changer! I now enjoy more time with my kids and am fully present, living a slower and intentional life, enjoying every day and living sustainably!
What are your favourite Banabae pieces? 
Ooooooh - I'm obsessed with anything, Banabae. I do love the matching sets for the kids, particularly the Petal Puff Organic Cotton Jumpsuit Ayla has, and I love those colours on her. I love my Keep Growing Hemp Tee. I love how soft and oversized it is. Plus, the reminder to keep going! I really appreciate that Banabae is sustainably and ethically produced with organic materials. This is super important for us.
SHOP BANABAE RANGE FEATURING SUSTAINABLE FABRICS:
Fishing for Dreams Organic Cotton Twinset
AUD $63.75
Keep Growing Hemp/ Organic Cotton Playsuit
AUD $49.00
The Bright Side Ringer Tee - Ladies

AUD $55.00
Rad Dad Tee - Washed Black
AUD $55.00