The Dreamers #80 - With Photographer By Joey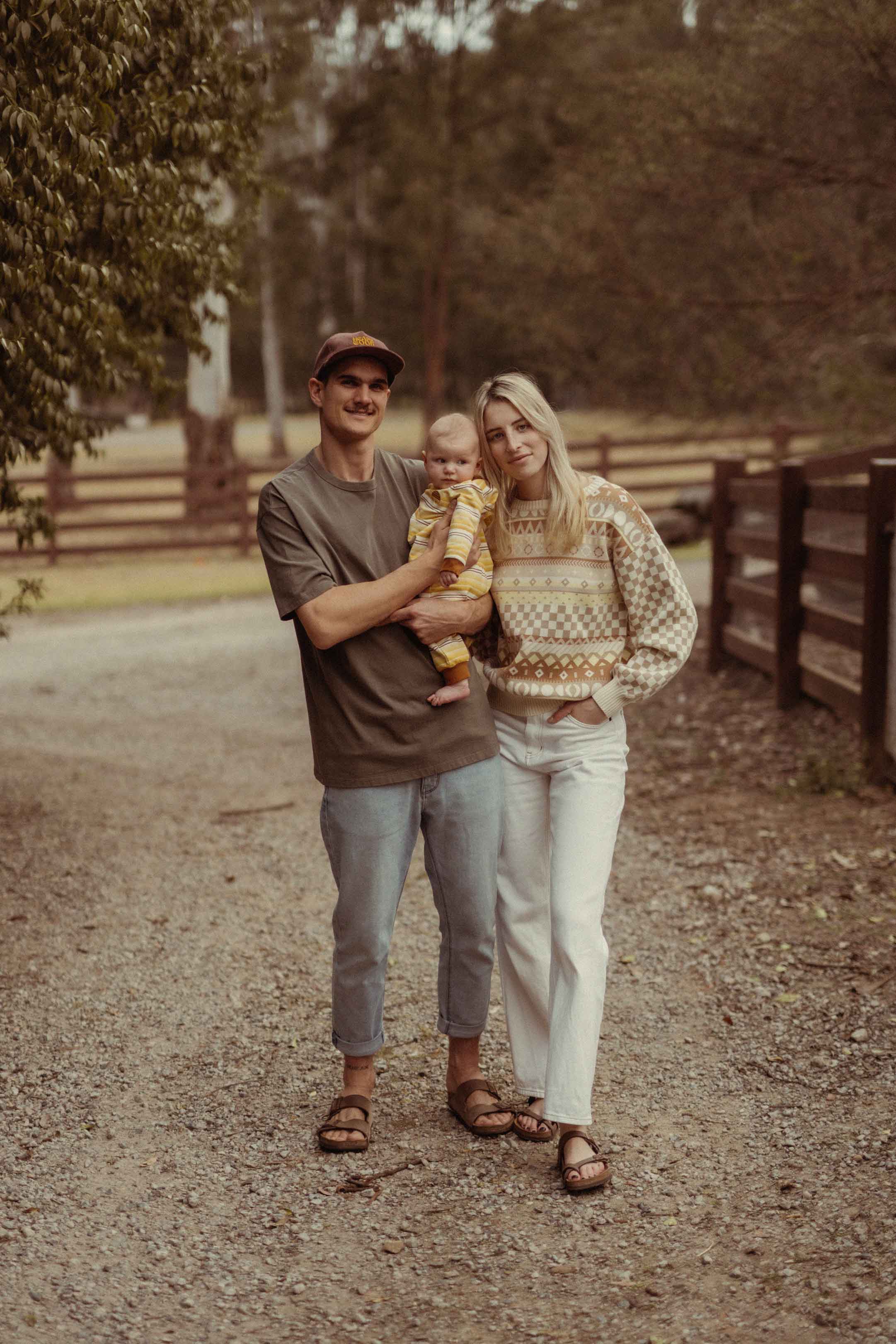 Step into the world of an old soul named Joey, as she invites us behind the lens into her family life on their picturesque property in the Hawkesbury. This gifted photographer (known as By Joey) shows us a glimpse into a life that is unapologetically her own.
WELCOME TO THE DREAMERS. 

COME INSIDE THE HOMES OF EVERYDAY FAMILIES AND BUSINESS OWNERS DOING LIFE THEIR WAY. 
____________
Hey Joey! Tell us a bit about yourself.
Hey! My name is Joey, and my little fam consists of my soon-to-be husband - Lachie, our 7-month-old daughter Goldie and of course, our beloved fur baby - Dusty. I am 23 years old, however, I honestly feel like I'm at least double my age! I have always been a bit of an old soul and often find myself drawn to old and vintage items, buildings, clothes and furniture. 
I'm a photographer and have been working for myself for about four years now. Ever since I can remember, I have always been creatively driven, so I guess it only makes sense that I found myself pursuing this. As for Lachie, he is very hands-on (lucky for me and my never-ending list of projects and ideas haha), but he is an electrician by trade and soon to be qualified refrigeration mechanic as well. Goldie is still figuring out who she wants to be, and Dusty is a qualified snack-taster, adventure buddy and ultimate lap dog - despite the fact he is a little too big for this role.
Where do you live? Tell us about home. 
We currently live in our newly built shed-house on a property in the Hawkesbury - a semi-rural area on the outskirts of Sydney. Both Lachie and I are from the Hawkesbury, and the property we live on is the one I grew up on, so it's very sentimental to me. There is something so special about getting to raise Goldie here too, and no place on earth will ever feel like home as much as this place does. 
We did a bit of travelling around Australia last year for a few months, which we fell in love with and plan to do more of in the future. It all started when I found an old 70's Viscount caravan on the side of the road one day for sale. All of a sudden got it in my head that we NEEDED to buy it, so I dragged Lachie to go see it and somehow convinced him to buy this thing. We named her Scout, and I just fell in love with her. It took us a good year to do her up, but it was the perfect Covid project and so rewarding, especially when we finally got to take her away. 
We travelled to South Australia and the lower part of Western Australia before we came home to prepare for Goldie. We are planning on travelling again in a few years as there is so much of Australia we are yet to see, and it's our dream to experience it as a little family.
We love the nostalgic vibes that your photos have. Please share with us your photography journey.
To be honest, I never actually set out to become a photographer, but rather it just came to be. After leaving school, I signed up for a degree at uni studying photography, only because I didn't know what the hell I was going to do with my life. It sounded kinda fun, and I had dabbled in it a bit in high school. Long story short, I ended up dropping out halfway through the degree as it wasn't what I expected, and I felt creatively it was very restraining and unenjoyable. 
However, I did learn some camera skills, and when someone I knew asked me to take photos at their engagement party, I (nervously) agreed. It honestly just took off from there as I shared the photos, and a lot of people started asking me to take photos for them. At the start I was taking photos of anything and everything, until I started getting super busy and could afford to really niche down. 
I now just take on family, motherhood, maternity and newborn shoots, as they are all things I am so passionate about capturing. I have evolved so much since first starting my business four years ago, and I am constantly looking for ways to improve and better not only my work but the experience I give my clients too.
You have a beautiful family. What's it like juggling a business and family?
Thank you! I feel like only now am I starting to get the hang of it. Before Goldie, I took on so much work that even without a kid, I was struggling to keep up. So limiting how many shoots I take on has definitely been an adjustment, not only to managing less work but also prioritising time with my girl and taking on the whole new role that comes with being a mother. It is important for Lachie and me that we make family time where we can. We do our best to be present and enjoy each other's company when he is home from work and do things together as a family on the weekends.
Heaps Good Cord Adult Cap - Acai
 AUD $49.00
Retro Stripe Organic Cotton Jumpsuit AUD $55.00 
What piece of advice would you give your younger self?
Ooh, good question. I think it would be to not care so much about what other people think. For a while there, I only ever made decisions based on impressing others, whether it was the people around me, my friends or my family. At the end of the day, I knew deep down what I wanted my life to look like, and I needed to let go of what I thought people would think of me for choosing those things.
Where can people find you?
You can find me on Instagram - my personal is @j.oe.y , and my business is @by__joey. Otherwise, my website is www.byjoey.com.au
Any favourite Banabae pieces?
This gorgeous vintage-style cot sheet that looks beautiful in Goldie's room.
This amazing cozy jumper.
Fair Isle Ladies Organic Cotton Jumper
This rug which I NEED to get for Goldie's room!
Lachie said he loves his 'Rad Dad' cord cap too!