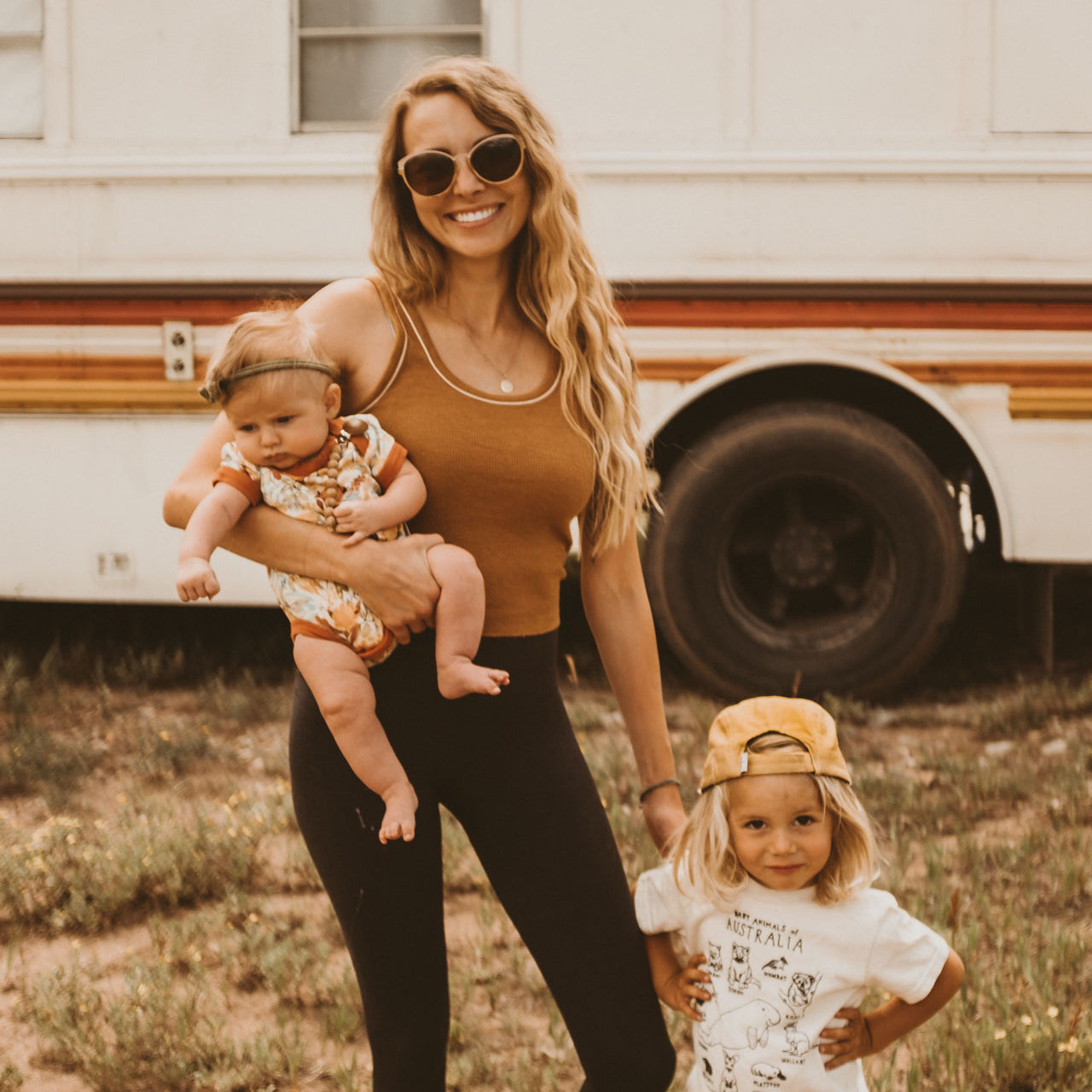 Meet Amanda Speraw, a Mother of two living the nomadic life in a converted school bus.
What's the date today? 
August 25, 2020
Tell us a bit about yourself?  
I'm Amanda.  A nomadic mama of two littles and married to my high school sweetheart.  I live in a school bus!
Where do you live? What do you love about it? 
We are nomadic and travel the United States.  We are currently in Colorado and it feels like home.  The mountains, the dry air, the wildflowers, the alpine lakes, the aspens, the hikes, the wildlife- there is so much I love about this area.
Who is in your family?

Dustin & Amanda (29), Ezra (3), and Maezyn (3 months).  We also have two pups-a Border Collie named Carter, and an Australian Shepherd named Maeble.
What has been the most surprising part for you so far in your motherhood journey?
Most surprising/exciting was making the decision to have another baby.  After Ezra, my love for him was so immense, but I suffered from postpartum depression.  I swore up and down I would never have another because I did not want to experience that mental/emotional pain ever again.  I was able to seek help and get better.  I became an advocate for other mamas with similar pain.  About 6 months after we became nomadic, we realized having another child would be such a blessing to our family!  
The most nerve-racking part of motherhood is all the big boo-boos my toddler gets.  He's quite brave and adventurous and we've already had some emergency situations I will never ever forget. 
What was most important to you when you were setting up your nursery? Has the space evolved over time?
Because we live in the bus, we needed to add some new storage spaces for her clothes and toys.  We also recently made the decision to redesign the top bunk area where her crib is.  Hoping to dec it out in beautiful Banabae! 
Do you have any tips for setting up your nursery?
If you live tiny, like us- whites and light beiges can really brighten up the space.  Then by adding accents of warm colors, you can bring the living space to life!
Do you have any self care tips or rituals you like to do? This may have been a little disrupted by covid… so maybe a little insight into how you are dealing with the isolation and adopting new rituals?
Honestly, I love when I can just sit down with a mango hard seltzer and watch my favorite show when the kids go to bed! Before covid (ugh.), I loved to take yoga classes as well! 
Do you have any reflections about isolation during pregnancy and whilst having a new born?
Oh gosh.  It was anything but easy on my mama heart. I had some big fears- What if I got sick and couldn't hold my newborn?  What if the hospital won't let my husband be with me during delivery? Who will take care of our newborn if we are horribly ill?  What if my newborn gets sick!?
I had to validate my fears.  They were real and not at all irrational.  I then had to tell myself I needed to take it day by day and that if I was faced with any difficult decisions, I would always choose what was in the best interest of our newborn.
We still live in quite a bubble.  Maezy has some breathing issues and requires supplemental oxygen.  She is considered high risk so we are still quarantine life over here!  Luckily we are able to get out in nature on the daily!
 Your Best mama hack or hacks?

Right now, my best hacks are for the toddler (3 year old) stage. The newborn stage is just all about survival and balance.
I recently started making observations instead of making demands.  Instead of asking my son to give the dogs water, I'll say something like, "It looks like the dogs need water." Then he gets to make the big boy decision all by himself.  He feels empowered by independence and decision making and will usually do the task without fight.
 We never make the subject of meal time a battle.  He gets to be the boss of when he is full and we don't do the "3 more bites" thing. Our only rule is that he has to try at least one tiny bite of everything on is plate.  He's becoming quite the healthy eater and meal times are enjoyable family times instead of a struggle.  Does he always clear his plate? Nope! But that's okay- he lets me know if he's still hungry before bed and I'll offer him the dinner he didn't finish or a healthy alternative.
Speaking of choices, those are a big part of our parenting style and I like to think they help us avoid some tantrums!  For example, instead of saying, "Get in the bath!" I'll say "It's almost bath time buddy.  Do you want bubbles or no bubbles?"  He is usually happy to have a say in the matter.  We try to avoid questions that we might not actually want the answer to.  Instead of, "Are you ready to leave?" we'll say "It's time to leave.  Do you want to read some books in the car or eat a snack?"
After his sister was born, we wanted to foster a healthy relationship/friendship between the two of them from the start.  We avoid blaming the baby for anything.  Example- if he is asking to play while I am nursing, I will say "I just need a few more minutes, bud then I can.  What do you want to play when I am done?"  instead of " I can't- I'm feeding your sister right now."  

Ezra was a HUGE mama's boy before Maezyn was born.  It's important for me to find just me and him quality time daily where we do whatever he wants.  Even if it's just for 10 minutes a day.  These actions have worked for us so far to prevent any possible resentment.
But my biggest advice to all moms out there is to trust yourself.  Listen to your mama gut.  With my first, I really struggled.  I didn't think I knew what I was doing.  Eventually, I started to see myself as a strong mother who trusted her and her baby's instincts.  It's made a world of a difference! I know that even though I make mistakes, I am a rockstar mom and the very best one for my babies.
     You can catch more of Amanda on instagram @thisisbus