EMILY GRENDON, LANGWARRIN, VICTORIA, AUSTRALIA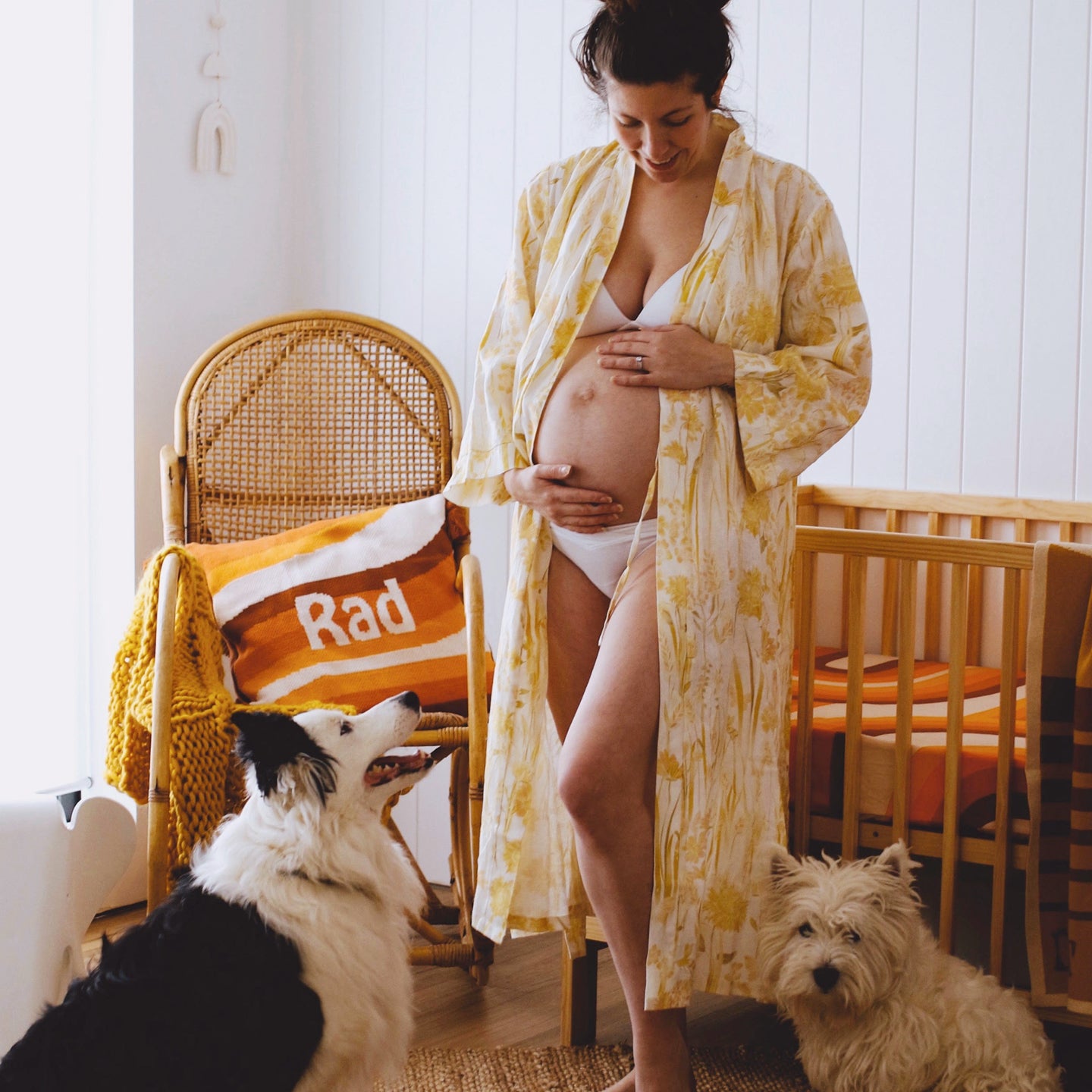 Meet Emily Grendon, first time expectant mum with a passion for creativity, photography and the good things in life.
What's the date today? 
12th August 2020 
Tell us a bit about yourself?  
I'm a first time mama, due this October! 
I work in the corporate world, however I've suffered with hyperemesis gravidarum the majority of my pregnancy so I've been at home much of this year. My true passion lies within being creative with photography, and all the good things in life. Family and friends, the 70s, music, summer and the beach, camping, NYC in the winter, writing, renovating and good food and wine.
Where do you live? What do you love about it? 
We live in Langwarrin, Victoria. We are just on the cusp of the Mornington Peninsula, where the summers feel endless and the winters are filled with foggy days and toasty winery tours. My husband and I bought our first home together not far from where we both grew up and we are currently renovating it from a 1980s brick, closed interior layout, to a mid century modern/scandi/sometimes boho dream - I guess you could call us eclectic!? I also love the fact that we are only a 20 minute drive from our family beach house in Balnarring, and under an hours drive from the big city lights of Melbourne.
Who is in your family?

My husband Olly, Baby G on the way, and our two pupas Tilly and Reggie. Tilly is a border collie and Reggie is a west highland white terrier - who thinks he is a border collie! 
What has been the most exciting part of pregnancy for you?
The most exciting bit is definitely feeling and seeing our baby move. Every time our baby moves, I forget the world and whats happening with COVID, I forget the HG, i forget it all. We just sit, completely entranced by this wonderful little life thats growing and moving inside me. 
Do you have your hospital bag packed? Anything particularly unique or special in it that you would like to share?
YES! I have a pair of very lush slippers, and a beautiful Banabae robe! I've also been told to pack a fan for labour, a water bottle with a straw, extra panadol and a long charger cord. 
Do was most important to you when setting up your nursery?
My own memories of my bedroom as child, were always places of wild imagination, big dreams, and endless creativity. The rooms my parents created for my siblings and I were just magic. So a room that encompassed those things was a must. Our nursery was the last room in our home to be fully renovated. It had old yucky windows and a bright green wall. We wanted to add a sense of calm by using white then adding in textural elements like the timber clad feature wall and the rug, then warmth from the raw timber in the furniture. Being that the room was so small, we had to be creative in the wardrobe so Olly built shelving so we could avoid squashing a dresser in the room as well. I LOVE using my hands and creating things and wanted as many home made touches as possible, so many pieces have been handmade by myself or my mum. We couldn't sway from some 70s styling, so naturally, we wanted Banabae EVERYWHERE! We're still collecting bits and pieces as we go and theres still so much room to grow once Baby G arrives!
Do was most important to you when setting up your nursery? 

Work within your space, be creative with your ideas and also be prepared for things to change. Our space was small so we had to incorporate another idea for storage. The wall shelves were originally on the opposite wall when we bought the house, right where we wanted our timber cladding to go. So to fit the smaller wall, we cut them down and then used the offcuts in the bathroom for shelving for Baby Gs washcloths and bath bits! I made the garland as I wanted something to drape grandly across the room but nothing that could be dangerous to a growing baby. 
Do you have any self care tips or rituals you like to do? This may have been a little disrupted by covid… so maybe a little insight into how you are dealing with the isolation and adopting new rituals?  
Writing for me, expressing my emotions through words, is definitely a big part of self care for me. I love to write and I find it an emotional and mental outlet as well as a creative passion. I also love to sit at my favourite beach, listening to the waves crash and the breeze rustle through the long sea grass. 
Do you have any reflections about isolation during pregnancy?
Isolation has had it's blessings and it's curses. It was much easier to keep our pregnancy a surprise and to share when we wanted to - because of course we couldn't see anyone for them to guess! But it also meant that time has largely been limited to only screen time with friends and family, and with the COVID restrictions on top of having HG, which is debilitating in itself, has definitely been hard. I'm so lucky to have such an incredible husband and two very happy little pupas to look after me. But I'm definitely a hugger and there really is nothing like a big cuddle from your loved ones.
What would be your ultimate future day out of isolation be?
The day that we can pile ourselves into our 63' falcon wagon, pupas in the back and drive down to our family beach house for Baby G's first day at the beach will be the ultimate day. It will be a day filled with cold beers, family and friends, oysters, sunshine, acoustic guitars and singalongs and most importantly, it will be the day those same memories I hold of my childhood growing up there with my parents, become the beginning of Baby G's memories with us.
Your best mama hack or hacks?

I haven't got any tried and tested mama hacks of my own just yet, but I've been told by many mama friends that walks do wonders! Getting out amongst nature with their kids is wonderful for everyone!