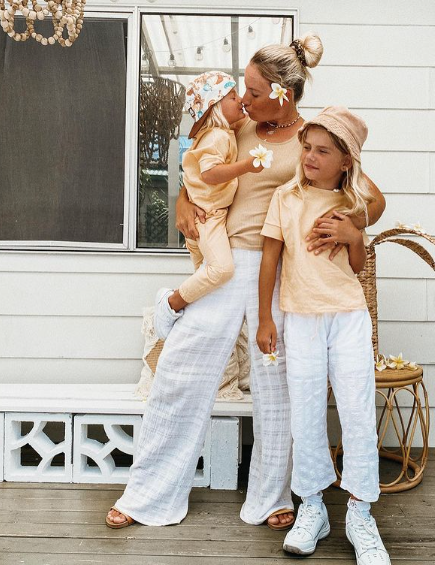 Meet Chenoa, a Mother of three living an adventurous life in the picturesque beach town of Lake Macquarie, NSW with her gorgeous kids Bay, Isla and Reef.
What is the date today?
It is January 1st, 2021.
Tell us a little about yourself.
I am a Mama to three, a wife and nurse. We fill our days with sleep ins, sand and salt water. My hubby works long hours during the week and I work Fridays and alternate Saturdays/Sundays on a surgical ward. Everyday I live I try to create memories.

Where do you live?
We live in Lake Macquarie, NSW on Awabakal land. We are 200m from an incredible salt water lake full of sandbars and a channel opening onto the Pacific Ocean - surrounded by awesome beaches. I absolutely love where we live and could talk about it all day, my favourite thing is the sunsets. The sun rises from the ocean and sets in the lake, it's magic!

Who is in your family?
I have been with my husband Justin since I was 15. Together we have our 10 year old son Bay, 7 year old daughter Isla and Reef, our youngest son who just turned 3.
What has been the most surprising part for you so far in your motherhood journey?
There has been lots of surprises. I don't think anything truly prepares you for motherhood but one of the biggest has definitely been the incredible change and growth that goes on within yourself.

What was most important to you when you were setting up your kids spaces?
One of my favourite thing in the world is kid's spaces. It was like something was sparked when I was pregnant with Bay. I want my kid's spaces to be fun with no limits. I want them to love them and feel like they represent them. We have a really laidback vibe and it definitely feels it!

Do you have any tips for setting up a home and kids areas space?
There are no rules; definitely involve the child and have some fun!
Do you have any self care tips or rituals you like to do?
I absolutely believe in manifesting. I don't follow anything specific but I set intentions by what I feel from within, and never stop dreaming - I still love going to bed, before I go to sleep I dream and manifest.

Your best mama hacks? 
Haha not many, I'm just winging it most days! Can that be a hack?!

You can follow along with the family's journey on Chenoa's Instagram @islabayandreef 

CHENOA'S FAVOURITES