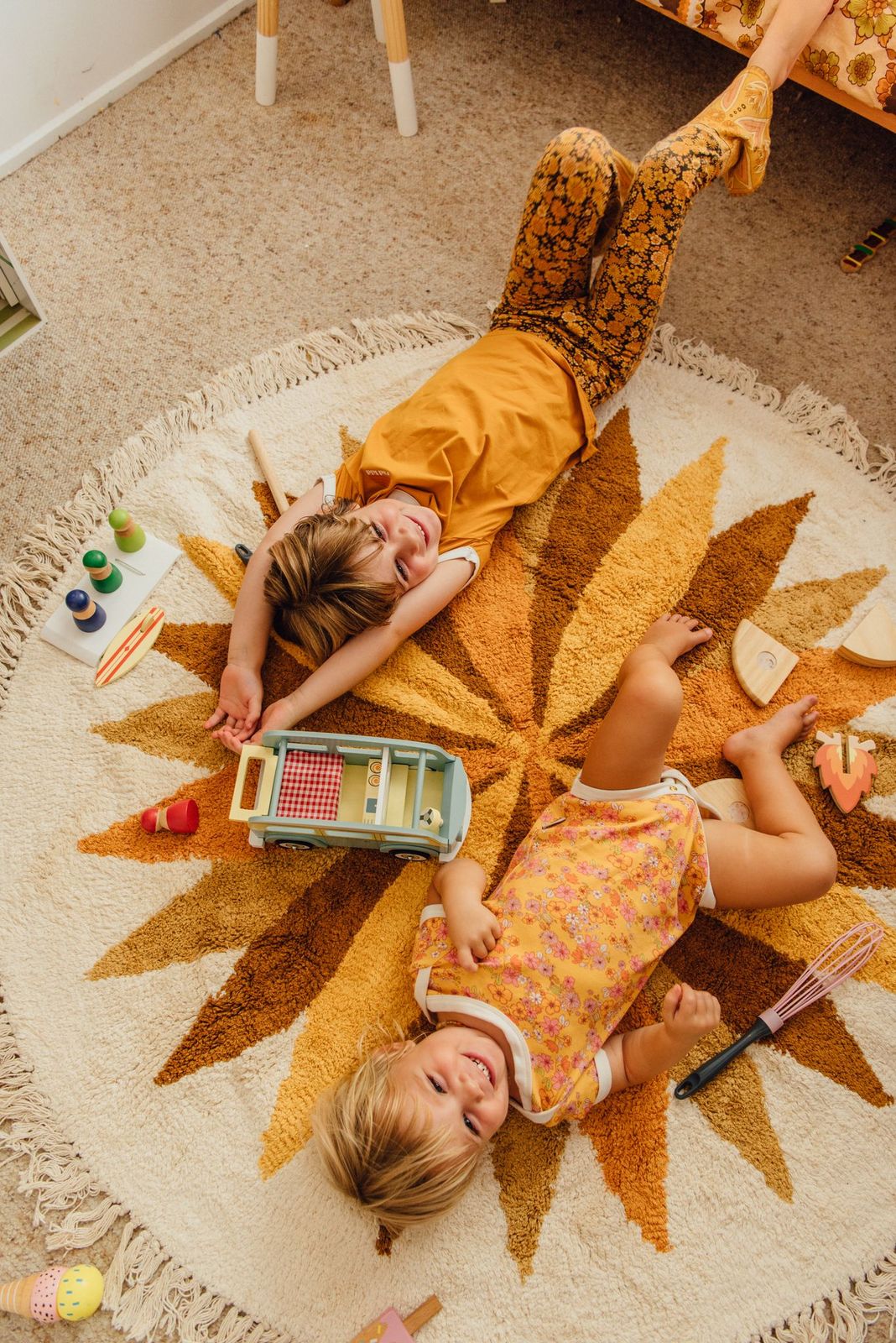 Meet Rose Madden, a creative & down-to-earth mother of two living in Tweed Head, NSW with her gorgeous girls Bella and Lola, hubby Ryan and golden dog Sugar.
What is the date today?
8th March, 2021.
Tell us a little about yourself.
I'm Rose! I co-own '70s fashion label Nine Lives Bazaar with my bestie Ness! It's a wonderful job and I absolutely love getting lost in the creativity of it all. I'm a lover of warm colours, all things 1970s and mid-century vibes. This year my family bought a 1978 Jayco camper and we try to spend as much time as we can getting away for long weekends camping, surfing, just being outdoors. The kids love it as much as we do and it honestly doesn't matter if we go half an hour down the road or all the way down to Crescent Head (our fave spot), it's always just the best time!
Where do you live?
I live in Tweed Heads, a beautiful region of northern NSW. We are surrounded by glorious beaches, rivers, fresh water creeks, and stunning hinterlands. The other thing I love about this area is the sense of community. I've lived here for 10 years and my husband went to school just down the road so it always feels like there's connections everywhere you go. Nothing beats a good community vibe!
Who is in your family?
My two little babes Bella Luna (4.5) and Lola Valentine (19 months), my husband Ryan and our gorgeous golden dog Sugar.
What has been the most surprising part for you so far in your motherhood journey?
Realising that I actually have a lot of patience! That no matter how hard I try, my house will never stay clean and my washing will always be referred to as Mount Washmore. That the thing about it taking a village to raise a child is insanely true - I couldn't do it without my family of friends. It's surprising to me that sometimes I don't entirely love being a mum - sometimes I prefer to go to work. But I guess that's because being a "mum" doesn't completely define me, even though it does now make up a lot of who I am. I also find it surprising the capacity for love your heart has, especially when it comes to your own children. It really does feel infinite. But of course, it surprised me how unrelenting being a mum really is. It's the biggest, most challenging job you can ever undertake. At times it can be mad, chaotic, frustrating and very intense. But, in between all that, being a mum is the sweetest, most rewarding and purely spectacular journey you can embark upon. It's beautiful chaos.
What was most important to you when you were setting up the nursery & bedrooms for your kids?
I wanted to make their rooms fun; a special place that reflects their little personalities. I think colour is important and simplicity is also key. Bella has her doll's house and a little kitchen in her room, so spends a fair bit of time playing in there (and keeping most of the mess in there too!) Let's be real, kids have a tendency to trash things, drawing all over them or stickering everything that comes in their path, so I didn't want to spend too much on anything I would be 'attached' to. That said, Banabae is akin to my soul, and the '70s prints and beautiful quality fabrics make my heart sing so I have definitely invested there. I basically give all my friends a Banabae item or two for their baby shower gifts -it's the ultimate starter pack for a beautiful nursery setup
What are your kids favourite bedtime books at the moment?
Bella is currently obsessed with Where's Wally, the interactive colour book Mix It Up, Mister Magnolia, Old MacDonald Heard a Fart (lol), and all the Pig the Pug books. Lola loves anything with animals - she is going through a mega Spot phase at the moment
Do you have any self care tips or rituals you like to do? What's the first thing you do once the kids are in bed?
The first thing I do once the kids are in bed is breath a sign of relief, haha. It truly does feel like the most hectic time ofthe day! Not quite self care, but I do love to listen to audiobooks while I clean. It makes the whole experience so much more enjoyable, I almost look forward to it! I LOVE getting lost in a good book and adore my book club with my girlfriends, even though my husband jokes all we talk about is sex, haha. Airpods are life, but be warned, your partner will hate it! I also feel like a glass of wine at the end of the day helps me really unwind and settle into the afternoon chaos that is bound to unfold. In winter I like to escape my household by having a bath, with wine. This lasts a good 5 minutes generally before someone barges in to blow out the candles and join me! Also, my girlfriends and I are having a ladies only, baby-free trip to Bellingen this weekend and we are all reallllly excited about that!
Your best mama hacks? 
Our MILF club! It's a tongue-in-cheek Facebook group we created for our mumma friends to meet up once a week - usually on a Friday. We lug the kids to the park or creek, or sometimes to a backyard or a bar for much needed end-of-week-champas. MILF hangs are my medicine! We all leave each week and text each other straight away after saying how good that catch up was for the soul. The kids get to play and the mums get to catch up, vent, be honest, and just feel like the best versions of ourselves for a little bit. But the Facebook page itself (which has about 30 mums on it now!) is a wealth of knowledge! There are little conversation threads on everything from sleep training, regressions, weaning, dinner recipes, hand me downs, best brands/must have items and meal trains for the newer mamas. It's a pretty magical little hub we have created. It's true that it takes a village - and my village is one of the brightest aspects of my life
You can follow along with the Rose's journey on Instagram @rosemadden_, check out the wonderful Nine Lives Bazaar here and follow their gorgeous feed @ninelivesbazaar.

ROSE'S FAVOURITES