Early Riser Bedding Collection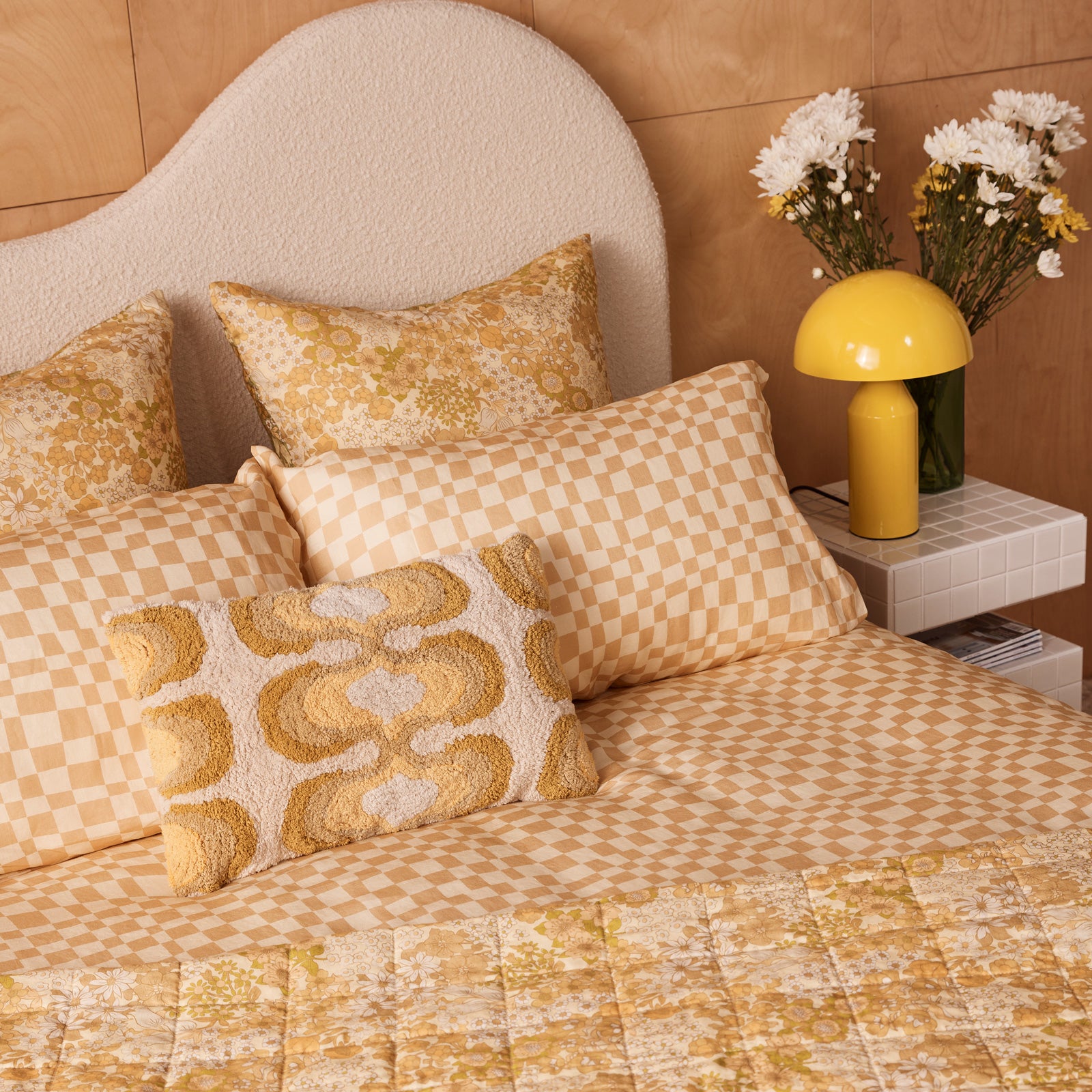 EARLY RISER


Get to know our new bedding range. The nitty gritty (and pretty!) details. From prints to fabric, we have all your questions covered.
Inspired by the colours of morning light and starting the day with a calm positivity. Our latest collection of prints is made to mix and layer through quilt covers, pillows and coverlets. All in Banabae's signature vintage vibe.
Retrograde:

A bold graphic of wavery lines in soft sunlight tones. Our Retrograde print is all about 70's nostalgia. Available in quilt covers and standard pillowcases.
Checkers:

An organic style check, in soft neutrals of beige and buttery cream. Our most versatile print is ready to mix, match and layer. Available in quilt covers and standard pillowcases. Paired with the petal puff print in euro pillowcases and coverlets.
Lemon Lime Stripe:

The softest citrus stripe that is sure to delight! This variegated stripe is available with the Sundaze Floral print in euro pillowcases and coverlets.
Petal Puff:

Mod 60's floral vibes in neutral cosmetic hues. Made for the sweetest of dreamers. Available in quilt covers and standard pillowcases. Paired with the checker print in euro pillowcases and coverlets.
Upsy Daisy:

You will wake up feeling fresh as a daisy in this meadow of flowers. Available in two colourways of buttery yellow and leaf green on coverlets and euro pillowcases. 
The Fabric: 100% French Flax Linen

Our new signature fabric features across both our adult's and kid's bedding ranges.  
 100% French Flax Linen is mid weight and will keep you cool in summer and warm in winter. Linen is soft and lustrous to touch (in fact, the more you wash and use, the comfier it gets), durable, thermoregulating and hypoallergenic.
In addition to all of this, it looks beautiful, sophisticated and luxurious.
Linen is a natural and sustainable fibre using less water and energy to produce than conventional cotton, and uses little to no pesticides in growing. The flax plant has a high rate of carbon absorption, its production is chemical-free, and on top of all that, it is biodegradable. All in all, this fibre is a great choice for you, your family and for mother earth.
This collection brings you quilt covers from Double up to Super King size. Perfect for any member of the family, from kids (King Single and Double beds) to adults (Queen, King and Super King beds). All quilt covers feature an invisible zip closure for easy fill and display.
The must-have bedding piece of the season. Quilted with a washed finish, all of your coverlets are double sided with complimentary prints. At 230cm x 230cm, they are the perfect throw over for any size bed, adding an extra layer of snuggly comfort.
Reversible European pillowcases add more versatility with complimentary prints on each size of the fabric. Create height with your bed arrangements, or great to pop on the floor in the kids room.
Each quilt cover comes in matching complementary pillow cases. These are also sold separately, so you can customise and mix and match to your heart's delight.
Standard Pillowcase: 50 x 75cm 
 Euro Pillowcase: 65cm x 65cm 
 Coverlets: 230cm x 230cm 
 Double Quilt Cover: 180cm x 210cm 
 Queen Quilt Cover: 210cm x 210cm 
 King Quilt Cover: 245cm x 210cm 
 Super King Quilt Cover: 270cm x 240cm


SHOP 'EARLY RISER' BEDDING COLLECTION
Retrograde Flax Linen Quilt Cover
 $219.00
Rad Mama Embroidered Standard Pillowcase
$45.00
Sunrise Sunset Tufted Throw Blanket
 $265.00
Rad Mama / Rad Dad Standard Pillowcase

 $45.00
Coverlet: Upsy Daisy Butter & Leaf Green

 $389.00
Coverlet: Sundaze Floral & Lemon Lime Stripe

$389.00
Read more from our blog - the brightside: