Slip, Slop, Slap, Seek, Slide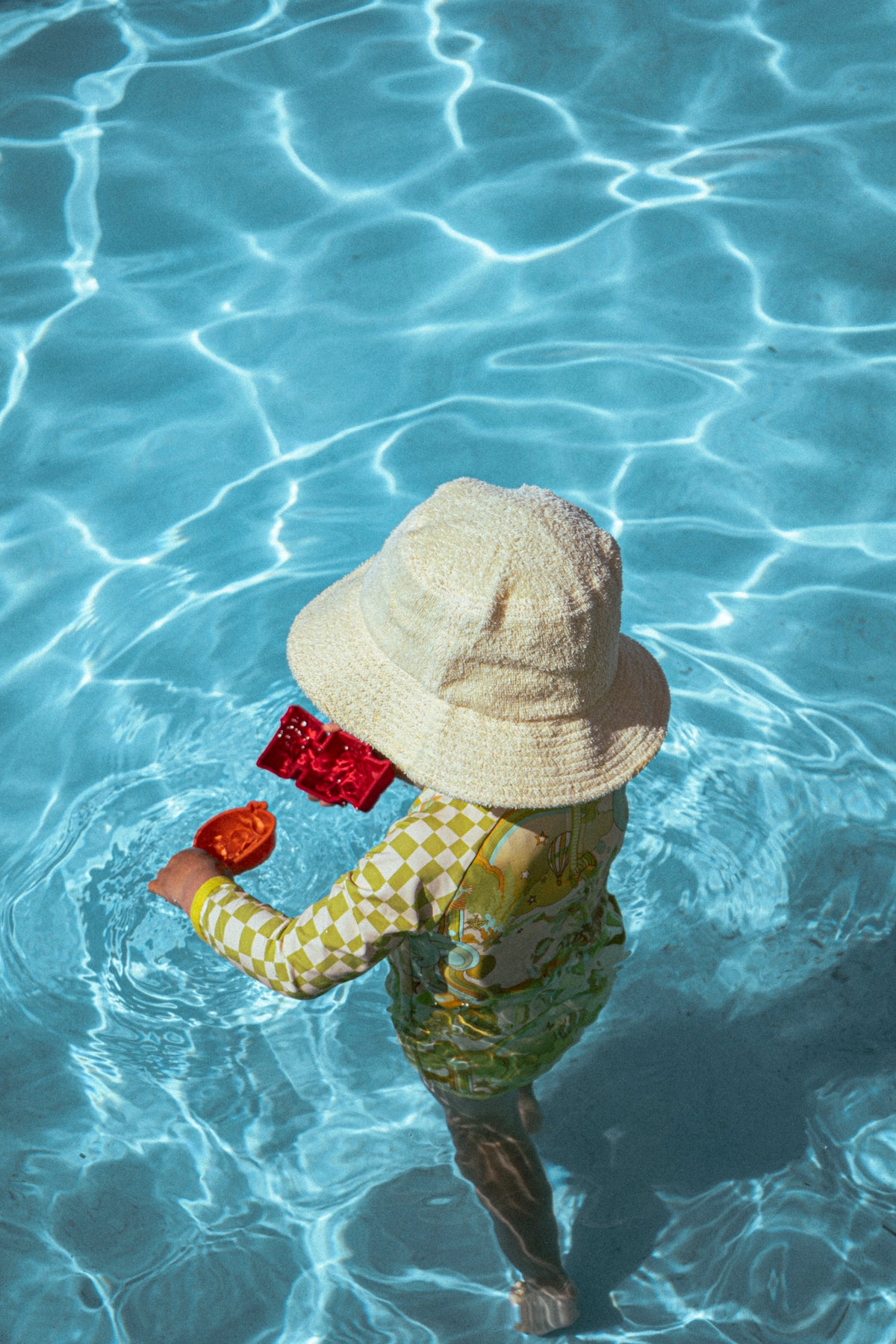 This rhyme has become slightly longer since we learned it at school ... so what is the new go-to guide for sun safety this summer? Avoiding harmful UV rays in the early years of childhood significantly reduces the risks of developing skin cancer later in life. Just follow these five simple steps every day for play outdoors.
1. Slip

Slip on a tee shirt or rash shirt to cover up in the sun. Children are required to wear clothing that covers the shoulders when attending day care or preschool. Choose apparel with organic fibres that are kind on the skin.
Beneath The Waves Rash Shirt
AUD $65.00
The Bright Side Ringer Tee - Kids
AUD $49.00
2. Slop
Slop on some sunscreen and reapply every two hours. We recommend Standard Procedure SPF 50 Sunscreen. Standard Procedure SPF 50+ is a powerhouse sunscreen designed to withstand the toughest elements. Its clean formulation and added Australian superfruits with antioxidants and Vitamins A, B + C make it the perfect formula for everyday wear on your face, body or children. Its's also reef safe protecting our beautiful oceans.
3. Slap

Slap on a hat, ideally one that has a full brim for ultimate sun protection. Our full-brim hats are made from cotton terry towelling that will keep your little one cool and comfortable on a hot summer's day. 
The Bright Side Terry Bucket Hat
AUD $39.00 
Rad Kid Terry Hat - Mint
AUD $39.00 
Rad Kid Lilac Fields Organic Cotton Bucket Hat
AUD $39.00
Rad Kid Terry Hat - Lemon
AUD $39.00
4. Seek

Seek shade, especially when the sun is at its hottest in the middle of the day. Take it easy on our Take A Day Trip Tapestry Blanket, designed for lazy days under the shade. 
Take A Day Trip Tapestry Blanket
AUD $129.00
5. Slide
Slide on some sunglasses (we love babymocs) with 100% UV protection and made from recycled plastic from our friends at Bam loves Boo.

BE PREPARED FOR IT ALL ...