Margaux Follis, Echuca, VIC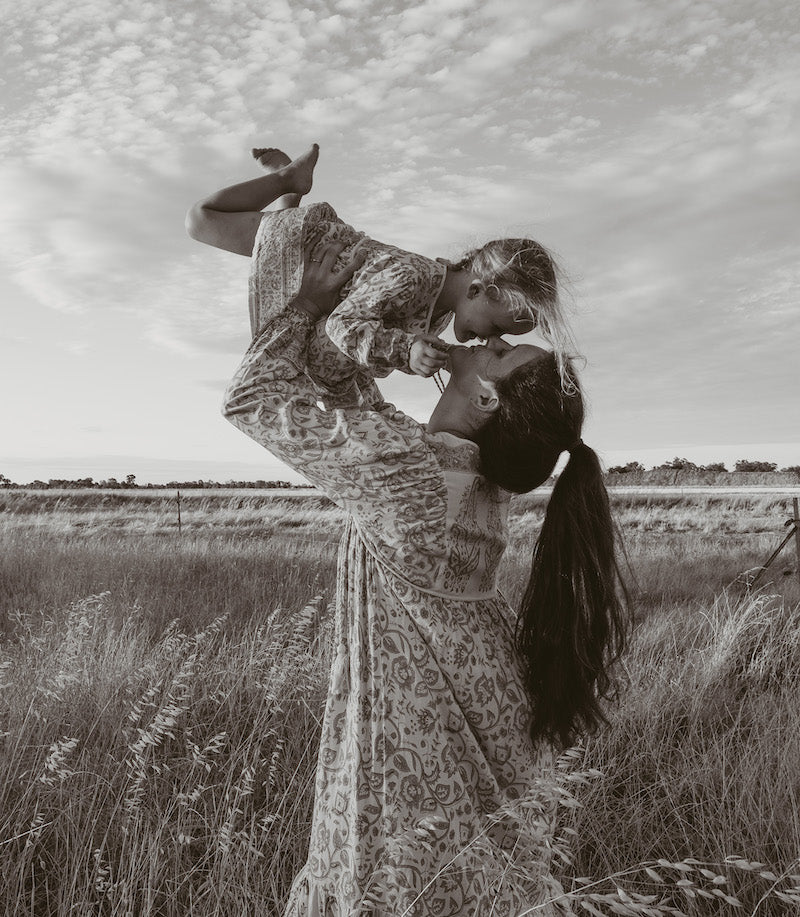 Meet the french folk.
Since Margaux left her French hometown of Lyon to travel Australia with her partner in crime of 13 years, the pair found the perfect fit with our atmosphere & mentality. Born with a natural talent for styling, Margaux's background in interior design has led to a new career as she enjoys family life in the rural town of Echuca, Victoria.
What is the date today?
22nd of November, 2021
Tell us a little bit about yourselves!
I am Margaux, 31, mum of two, Ambre and Lison, and I am French. We moved to Australia after falling in love with the country while travelling with a backpack 7 years ago. I used to be an interior designer and worked for companies all around Australia as a freelance before becoming pregnant with Ambre, what I thought would be a break in my career ended up being a complete change of career when I started posting photos on instagram so my family could see Ambre growing up.
Ambre (4 years old), Lison (20 months old) and Lucas, my partner in crime for 13 years now.

Tell us about your motherhood journey.

So much to say about motherhood, it's a big change that's for sure but I wouldn't see my life any differently now. It's tough sometimes, especially having no family around to help or support us but I get used to it and just manage the best way I can. I'm not saying I never struggle but I am getting much better at the whole motherhood juggle. My two daughters are my whole life and I never imagined I could love that much, my mum told me one day "you'll see how special it is", I had no idea at the time but I do understand what she meant and god she was right, being a mum is the most beautiful thing in the whole wild world, it's scary too but it's magical!
Where did you grow up and where do you spend your life now?

I was born and grew up in France, in a city called Lyon. It's a beautiful place but apart from having my family there I always knew I didn't belong there, so when the time came to choose between a life in France or a life in Australia, we didn't really think twice. There is an atmosphere here that we loved straight away, the mentality and wag of life was the perfect fit for us. We now live in rural Victoria, on the border of NSW, in a small town called Echuca. It's cute, but we dream about moving on the east coast somewhere where it's hot all year long and we can take the girls to the beach.
You're a styling force to be reckoned with, the way you bring colour & pieces together is beautiful. Where did you get this flair?

I must have been born with it, haha. It has always been my thing, styling, decorating.. I've also studied interior design so it might have helped a little bit but I guess I just have the eye for it, and the passion too.
When setting up your spaces, what is important to you?
I always aim for something cosy. I think the most important thing is to find a good balance between your tones and textures. Your space has to flow, everything must complete each other and work well together, it's all about a good balance.
Talk us through Ambre's room.
Ambre's room has changed a million times since we moved into our new house. I just cannot help it, I love change, I love moving things around but I really wanted her to have kind of two spaces in one - the "sleep" side and the "play side" where she has her own little desk, a book tower and dollhouse so she can play in there on her own. They are few pieces in there I really love, like her bed from
Poppys Little Treasures
, it's named after her and its stunning. The vintage desk is from marketplace, I fully refurbished it for her when we moved and she can sit at it for hours, colouring or playing with play dough. I always like to bring in little pinches of colour, especially in kids rooms, so I've made a little set up with a lilac arch for her desk and cute scallop wallpaper on the facing wall. I absolutely love the rugs in her room too, vintage moroccan rugs are my soft spot; I could use one in every room.
I honestly don't have any hacks, I just take things as they come, some people would tell you I am really unorganised and my life is messy but you know what? Just let the mess be, kids come with mess and they loooove mess so let life be messy.