Styling Guide - Retro Coastal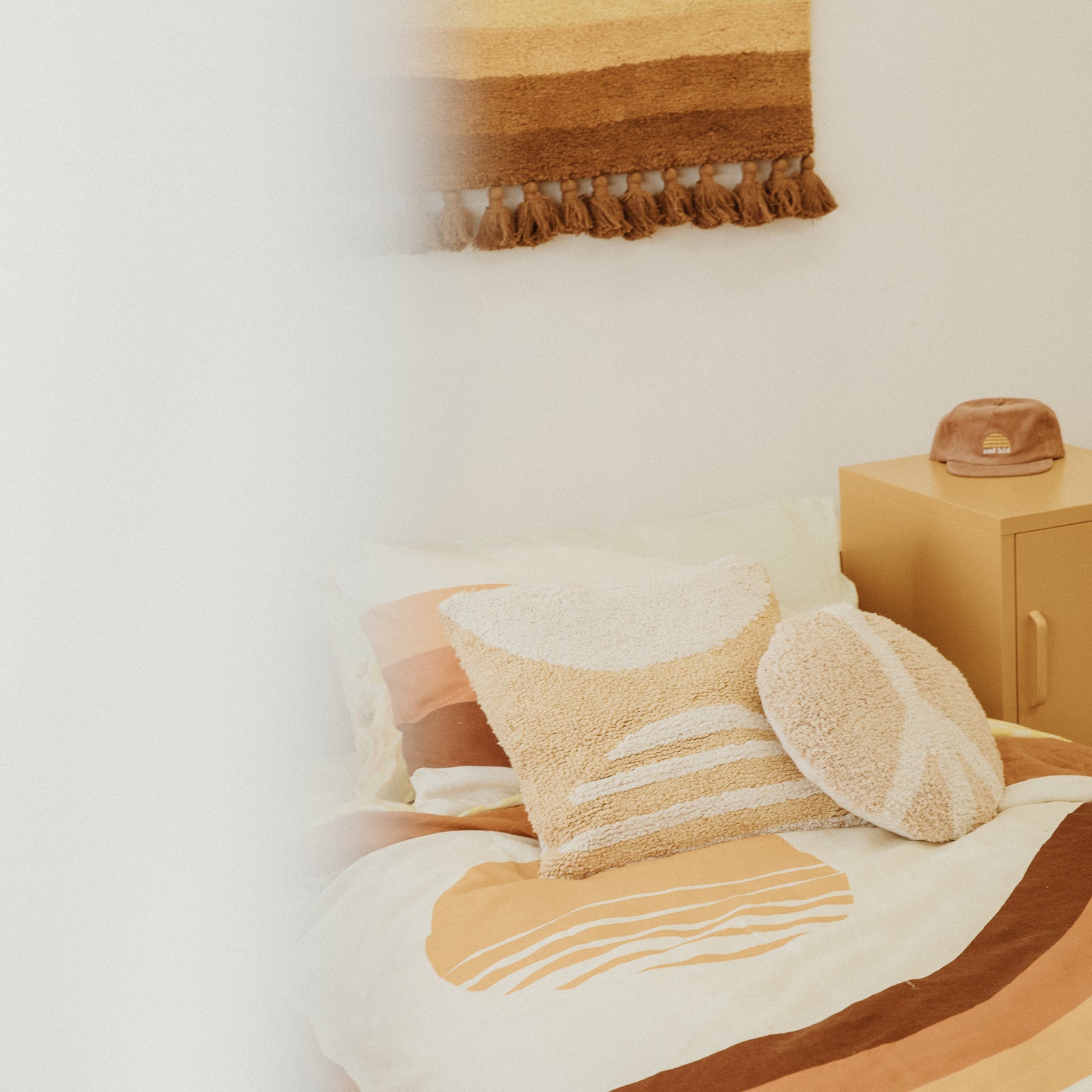 GRADUATING TO A BIG KID'S BED:
STYLING THE RETRO COASTAL LOOK
This styling guide is designed to make the transition from cot to bed a little more seamless. We share with you our favourite products to assemble a room that will make your little one feel instantly at home!
Take a trip Beneath The Waves with this cute retro-style print featuring seahorses, coral, tropical fish and submarines. 

Our ocean-themed bedding set is a far cry from navy nautical stripes and is aimed at appealing to children's imaginations as well as adding a playful touch to a bedroom. 
This print is filled with colour and whimsy and is suitable for children who love to imagine an underwater adventure. 
Our sheets are made with 100% French Flax Linen, designed to keep them comfortable all year round, and both fitted and flat sheet options are available.
Beneath The Waves Flax Linen Flat Sheet
AUD $99.00
Beneath The Waves Flax Linen Fitted Sheet
AUD $99.00
The Sunshine State quilt cover (pictured above) is a classic and gender-neutral design featuring an abstract sunset graphic with ocean aqua that provides a pop of colour. It has a retro surf-inspired style and is designed to create a cool vibe in a child's bedroom, making it a place they will enjoy spending time in!
Sunshine State Kids Quilt Cover
AUD $199.00
Mix it up with our Rad Kid, Sunshine State and Beneath The Waves pillowcases to create a fun and casual look for your kid's bedroom. Mixing these different designs can add a variety of colours, patterns and interests to the room's decor and will help you achieve that fun and retro feel!
Rad Kid Standard Pillowcase
AUD $45.00
Beneath The Waves Standard Pillowcase
AUD $45.00
Sunshine State Standard Pillowcase
AUD $45.00
Complete the 70's vibes with a variety of cushions in different textures and sizes to add interest and enhance the overall look. A combo of these cushions will be the final touch on a fun and playful bed to get your kid excited for bedtime!
Peace Tufted Cushion
AUD $139.00

Oblong Stripe Cord Cushion
AUD $89.00
Square Stripe Cord Cushion
AUD $89.00
Add a tufted layer to keep your child nice and snug for the cooler months. Our Sunrise /  Sunset stripe tufted throw blanket is the cosiest addition to the bedroom with its tonal sunny hues. This linear graphic pattern is perfectly executed in soft tufted stripes and made from 100% cotton and natural dies.

Say goodbye to boring walls by adding some fun retro wall art to the mix! Our new Sundial wall hanging comes in two size options - the large one making a great statement piece over the bed (pictured above) or the smaller one for tighter wall spaces. This art will be sure to add warm retro vibes with its sunny lemon and rich natural tones, designed to tie into natural woodgrains in furniture and fittings. 
Sundial Wall Hanging - Small
AUD $149.00
Sundial Wall Hanging - Large
AUD $249.00
Children spend plenty of time on the floor in their rooms. It's where they sit, play and lounge all day (and you with them!), so why not make that time super comfortable and cosy with our range of shaggy floor rugs?
Checkers Cotton Tufted Floor Rug
AUD $450.00

Flower Power Tufted Rug
AUD $399.00

Retrograde Cotton Tufted Floor Rug
AUD $429.00