Graduating To A Big Kids Bed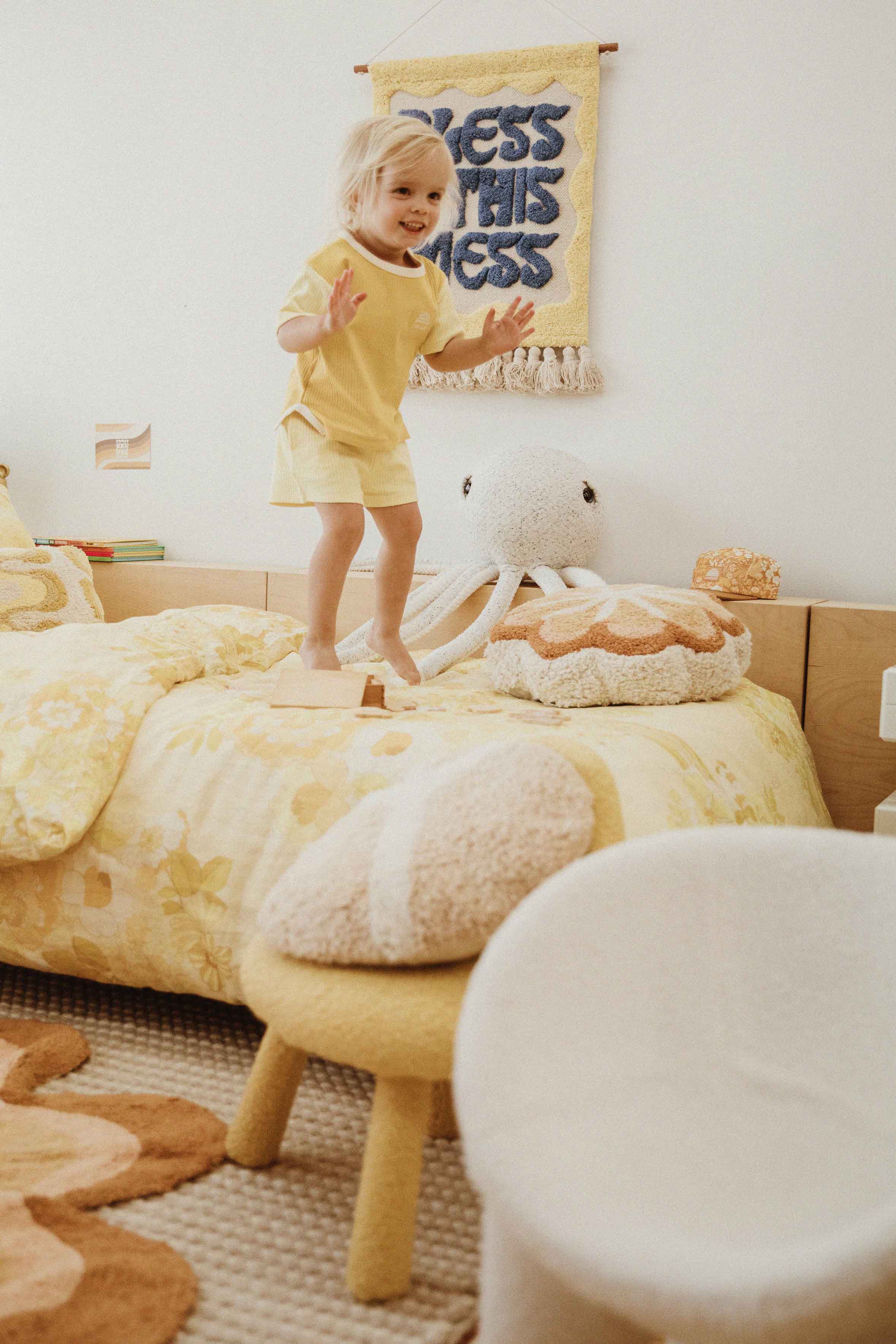 GRADUATING TO A BIG KIDS BED
Are you ready to say goodbye to the cot or co-sleeping and hello to the big kid's bed? Then read on and we promise you it won't be as scary as it sounds!
Start by preparing the child mentally for the transition. Let them know that they are growing up and getting a big kid bed. If you have a cot with an option to take the side off (pictured above), this is a great place to start. A little gateway to freedom but still within the comfort of their familiar sleep space. 
Gradually reduce the amount of time your child spends in the crib/cot over a period of a few weeks until they are only sleeping in the new bed. If co-sleeping (and space allows), you may want to start by bringing the new bed into your shared room so your child feels confident a parent is still nearby.

Sundaze Floral Flax Linen Fitted Sheet
AUD $99.00
Retrograde Cotton Tufted Floor Rug
AUD $429.00
Yin Yang Tufted Cushion
AUD $139.00
Night time wake ups and wandering can be a common concern for parents when transitioning to a big kid bed. It is likely this will occur around the transition, so make it a safe space. Beds with a low base/that sit close to the ground are ideal. They are the right height for little legs to hop in and out as well as making a fall out of bed less worrisome. If your child does wake up in the middle of the night or gets out of bed, it's important to address the situation calmly and consistently. A quick hug and some comfort, and then guide them back to bed without making a big fuss.
Sunkissed Splice Organic Ribbed Twinset
AUD $59.00
Flow State Flax Linen Fitted Sheet
AUD $99.00
Sunshine State Kids Quilt Cover
AUD $199.00
Create an inviting sleep space:
Make the new bed as inviting as possible by adding fun and comfortable bedding and pillows. You can keep it familiar by using the same sheets or quilt cover prints from their cot to their single bed. Maybe some fun new PJs for the big kid. Don't forget their favourite comforter or soft toy.
Create a consistent routine:
If your child is resistant to the new bed, try making it a fun and positive experience. Establish a consistent bedtime routine to help them understand that it's time to go to sleep and stay in bed. Read bedtime stories together in the new bed, and make the new ritual special and unique to their needs. 
Wild About Dads
AUD $22.95

Welcome to Country
AUD $24.95
The Very First You
AUD $21.00
Keep in mind that it may take some time for your child to adjust to the new bed, so be patient and understanding. You may also consider reaching out to your paediatrician or a sleep consultant for guidance. Most importantly, remember to celebrate this exciting new milestone with your child! A big kid bed means they are growing up and becoming more independent!



EXPLORE OUR NEW RANGE OF KIDS BEDDING:
Rad Kid Standard Pillowcase - Citrus Brights


AUD $45.00
Beneath the Waves Quilt Cover


AUD $199.00
Summer Blooms Quilt Cover


AUD $199.00
Lime Check Flax Linen Flat Sheet


AUD $99.00