The Brightside: Lamb Shank Ragu From Nurture The Seed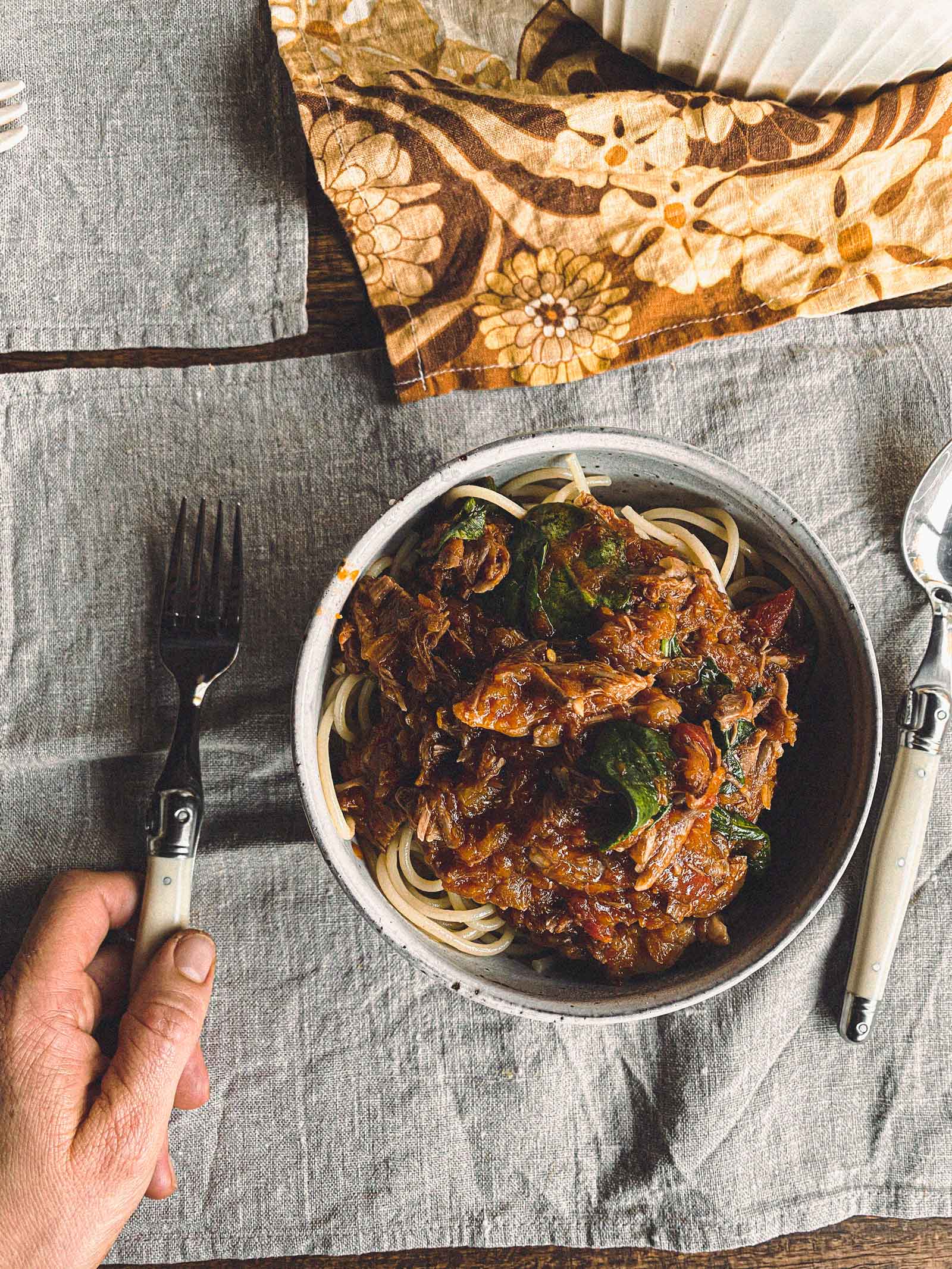 THE BRIGHTSIDE: LAMB SHANK RAGU
Here is Nurture The Seed author Renee Jennings take on a delicious Lamb Shank Ragu. This slow-cooked ragù is perfect for these cooler nights. Full of flavour, very nutritious and loved by adults and children alike.
- 1 tablespoon extra virgin olive oil 
- 3 lamb shanks (approximately 1.2kg total) 
- Sea salt 
- 1 onion, diced 
- 4 cloves garlic, crushed 
- 2 sticks celery, finely chopped 
- 2 carrots, grated 
- 3 sprigs fresh thyme or 1 teaspoon dried oregano 
- 3 tablespoons tomato paste 
- 2 cups bone broth or stock 
- 400g tin crushed tomatoes 
- 2 large handfuls baby spinach
1. Add the olive oil to a large heavy-based pot and place on a medium-high heat. Once the oil is hot, add the shanks with a good pinch of salt and sear on all sides. Once browned, remove the shanks from pot and set aside. 
2. Turn the heat down to medium-low and add an extra drizzle of oil. Add the onion and cook for 5 minutes, stirring occasionally. Next, add the garlic, carrot, celery and herbs. Sauté for 10 minutes. 
3. Add the shanks back into the pot along with the tomato paste, broth and tomatoes. Stir until combined. Turn the heat to low and simmer with the lid ajar for 4 hours or until the meat falls off the bone. Stir and turn the shanks occasionally whilst simmering. 
4. Once the meat is soft, pull it from the bone and mix it into the sauce. Remove the bones and season with salt and pepper. 
5. Just before serving, stir through the baby spinach. 
6. Serve on top of a butter bean mash or with your favourite pasta. 
 Note: You can make this in a slow cooker if you prefer. I'd still recommend browning the meat and sautéing the vegetables if you have time (these little things add a lot of flavour). Cook for 4-6 hours.
Nurture The Seed
By Renee Jennings & Georgia Gregory 
Your evidence - based guide to prenatal nutrition.

Shop our range of Homewares Napery:
Created sustainably using 100% French Flax Linen.
Kiss The Cook 100% Linen Tea Towel


AUD $35.00
Arabella Linen Napkin Set


AUD $65.00
Joni Rad Cook 100% Linen Tea Towel


AUD $35.00
Joni Rad Cook 100% Linen Apron


AUD $89.00
Wattle Wander Linen Napkin Set


AUD $65.00
Rad Cook 100% Linen Tea Towel


AUD $35.00
Know your fibres and shop sustainably.
Read about the benefits of choosing 100% French Flax Linen.