The Dreamers #73 - With Georgia, Kate and Finn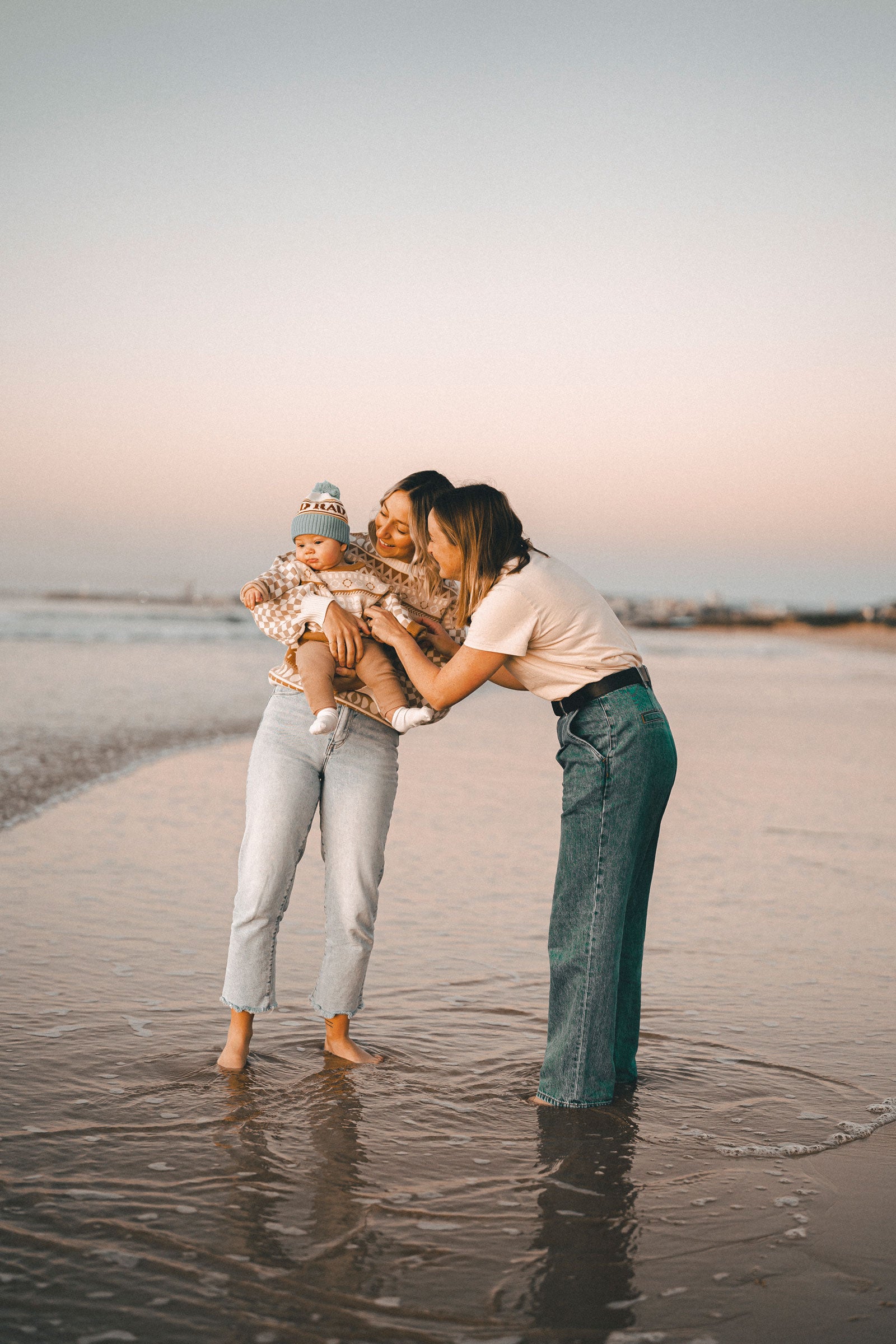 Say G'day to Kate, Georgia and the adorable baby Finn. A beautiful family of three living on the south coast of Sydney who have enjoyed a seamless journey into parenthood and appreciate every minute of it.
WELCOME TO THE DREAMERS. 

COME INSIDE THE HOMES OF EVERYDAY FAMILIES AND BUSINESS OWNERS DOING LIFE THEIR WAY. 
____________
Hey guys, whos in your beautiful fam?
Our family consists of our four-month-old baby Finn and his two mummies Kate and Georgia.
Where do you call home? Any special spots you can share with us?
We live amongst the escarpment on the South Coast of NSW. We love escaping outdoors and going for bush walks up the trails behind our house with our Golden Retriever Susan. We cannot wait until Finn is old enough to jump on a bike - there is an abundance of mountain bike trails and running trails to explore up here.
Fair Isle Knit Jumper - Ladies
Now AUD $79.50 
Fair Isle Knit Jumper - Kids
  Now AUD $49.50 
Rad Kid Tee Faded Black
AUD $49.00 
Rad Dad Cable Knit Jumper - Espresso
AUD $108.75
Congrats on the little one, what was the journey into motherhood like? 
At the start our journey was confronting and emotional because we didn't know how successful our fertility journey was going to be or how long it would take to fall pregnant. We were lucky enough to fall pregnant on our first try of IUI – we were over the moon! Progressing through pregnancy we were very excited. We did anything to keep us occupied. When Kate was 6 months pregnant, we drove across the country to Western Australia to get married. Whilst travelling our house was being fully renovated ready for the arrival of baby Finn.
What has surprised you most about being a new parent?
We both found ourselves to have become less stressy and take each day a lot slower. Finn has slotted himself into our little life so easily – it's like he was made for this World. We always said we never wanted to change the way we live when we had children – and we have stuck to that. We get up at sunrise to go for a surf or walk along the beach, go camping down the coast and we are currently planning a 4 week road trip up to QLD.
Do you have any advice for same sex couples looking to start a family? 
 Take your time to explore your options and ask lots of questions. Every family building journey is unique, what works for one couple might not work for another.
What are your favourite Banabae pieces? 
Finn's cot is on a high rotation with Banabae cot sheets, we love the quality. Kate lived in the linen dressing gown throughout her pre- and post-partum journey.
SHOP BANABAE RANGE FEATURING SUSTAINABLE FABRICS:
Rad Kid Intarsia Knit Beanie in Organic Cotton
AUD $39.00
Rad Mama Organic Cotton Tee
AUD $55.00
More Kindness Unisex Tee in Hemp/Organic Cotton

AUD $59.00
You Grow Girl Cap in Organic Cotton
Now AUD $36.75