The Brightside: Setting up a Montessori style bedroom space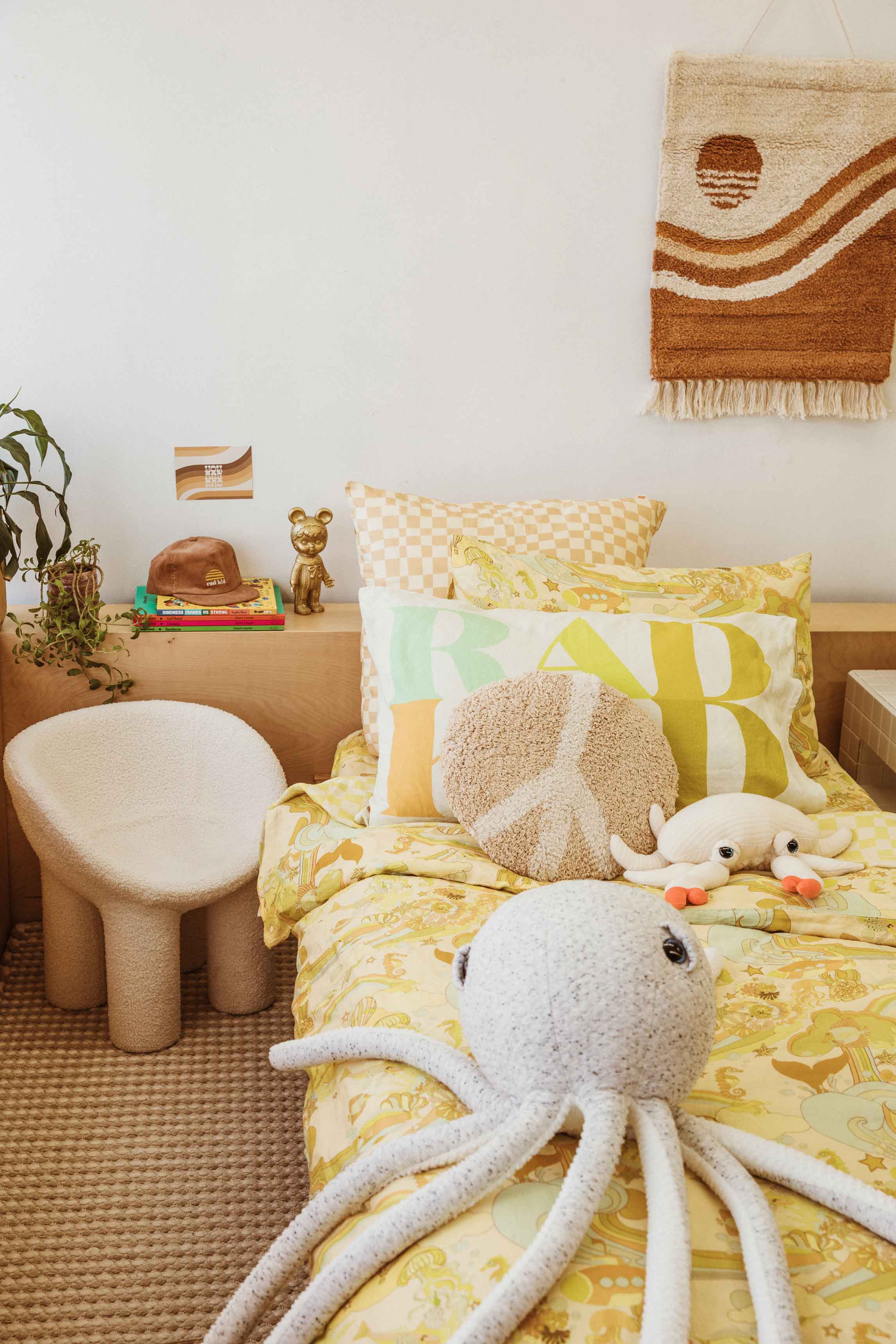 SETTING UP A MONTESSORI STYLE BEDROOM SPACE

When you walk into a Montessori classroom, it is immediately apparent that the space has been designed with the child's needs in mind. To set up a bedroom space your little one will love and cherish, we need to look at the space through their eyes. The Montessori Toddler book has become a bit of a favourite in the Banabae office, and we are now using it as our bible for styling kids' rooms. In fact, quite a few of us have decided to do some room rearranging this weekend!
Here are eight tips for setting up a bedroom space, Montessori style, that your rad kid will love!

This is one of the most important principles for encouraging independence. Find small furniture your child can manage without help. For example, a mattress or toddler bed low to the ground so they can easily climb in and out themselves. Also try kid size chairs for reading, resting, or playing with friends. We love the range of kids furniture from Cowrie and Conch.
Use colour and print to spark their imagination. Display art and plants at the child's height for them to enjoy.

Have activities and materials set up ready for them. This will make it easy for them to help themselves. A full-length mirror at the child's height will aid in independent dressing.
If the room allows, arrange activities on shelves they can see rather than in boxes. A small space by the bed for activities when they wake will also encourage independent play.
Displaying only a few activities at a time helps the child's concentration. Display only a small selection of activities they are trying to master so they don't feel overwhelmed.
6. A place for everything and everything in its place
Toddlers have a strong sense of order. When everything has a place, they learn where things belong and in time will learn to put them away. For the bedroom, a small wardrobe and low shelving spaces will aid this.
7. See the space through their eyes
Get down to the child's height to see what it looks like from their perspective. This may help you arrange the space more appropriately. Look through safety goggles too – are there any tempting loose wires or electrical plugs?
Create storage that is out of the child's sight and easy on the eye (floor to ceiling cupboards, an attic space, hidden storage containers). Store most of the child's activities here and then rotate them onto the child's own display shelves and play areas when they are looking for new challenges.

Our favourite new furniture for kid's rooms:
To style our latest collection, we collaborated with Cowrie and Conch. A fellow small Aussie business owned by rad mama Kylie. 

Cowrie and Conch create the most beautiful furniture for minis. Aiming to bring creativity and fun to your children's spaces and push the boundaries of traditional kid's furniture. 
Kylie believes all children have their own sense of style and personality which should be reflected in their living spaces. 
We adore their range of confetti tables and chairs made from recycled plastic. They are pleasing on the eye and on the environment.



TO HELP GET YOU STARTED...
The Montessori Toddler


AUD $34.95
Summer Blooms Quilt Cover


AUD $199.00 (single)
Flower Power Tufted Rug


AUD $399.00
Retrograde Tufted Cushion


AUD $145.00
Beneath the Wave Standard Pillowcase


AUD $45.00
Sunkissed Splice Organic Rib Twinset


AUD $59.00