The Dreamers #53 - With Chris Hope From Same Wave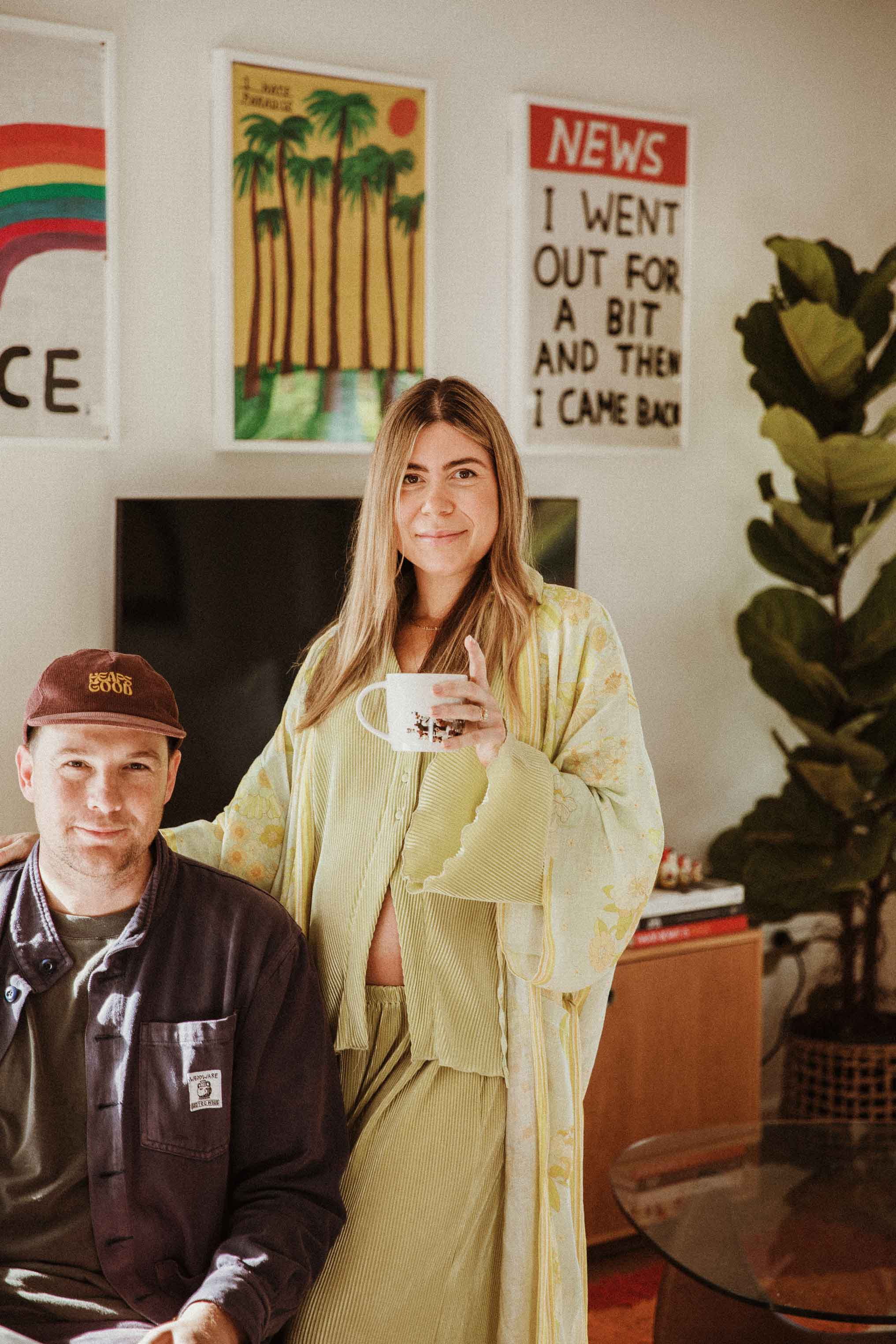 Meet graphic artist Chris Hope, more commonly referred to as "Hopey". He is the creative mind behind Same Wave - a business creating custom graphics for well-known brands. Banabae recently collaborated with Chris in the production of the happy sunny illustrations for our new The Brightside range. 
WELCOME TO THE DREAMERS. 

COME INSIDE THE HOMES OF EVERYDAY FAMILIES AND BUSINESS OWNERS  DOING LIFE THEIR WAY. 
____________
Hey gang! Tell us about your beautiful (almost!!) family of three. 
The Hope gang is growing! At the moment, it's my fiancé Carla and I, and our dog 'Patti Smith'. We met in the Inner West of Sydney and lived in an old hat factory until we got the pooch and made the sea change. Life is infinitely better. 
Where are you from, and where do you now live? 
I'm from Tauranga, New Zealand. Carla's from The Shire. We now live in Bulli on the South Coast of NSW. We are just a short walk to the dog-friendly 'McCauleys Beach'. We're really happy here. It's a nice community under a mountain which reminds me of back home - but smaller. There is heaps of charm here and good people. 
Tell us about 'Same Wave'. 
It's a creative solutions business for brands with similar qualities. I went out on my own last year after years of working in lifestyle fashion. I really like the variety of clients, choosing the fun projects I want to work on and the freedom to beach or golf on a sunny day! It has given me way more of a work/life balance. The odd late night on the tools for a round of golf in the morning suits me well. 
We were so keen to collaborate with you on our new Brightside graphics. How was it working on this project? 
Yeah, thanks! I was excited to work with you too. It's great to work with locals. We see the 'Rad' stuff most mornings when we're out and about. I liked the brief, so that's always a good start - nice and upbeat and good for the groms. The pieces turned out pretty fun. I'm looking forward to seeing Hopey Jr. in it all.
Did you find inspiration from the bright and sunny (when it was sunny!) South Coast of NSW? 
Inspiration for this one came from the iconic 80's health campaign 'Life, Be In it'. They were promoting Aussie families to get outside and exercise. A family of suns seemed like a fun move. Suns and smiles are recurring themes in a lot of my work. I've been thinking about some sunny days all year, and I'm looking forward to La Niña finishing before Christmas. Just in time for our baby boy. Maybe he's good luck. 
You are about to have a new little rad fam member. When will he be here? 
We're expecting our first little man, Baby Hope, in mid-December. We're really excited to meet him. I'm hoping he's got a nice sunny disposition like his cousins. I genuinely can't wait. 
What is your favourite part about being in the creative profession space? 
I like making stuff and seeing it finished and enjoyed at the beach, golf course or pub. I'm also a big fan of collaborating with friends and celebrating the wins. Speaking of … 
Heaps Good Cord Adult Cap - Acai

AUD $49.00
Sundaze Floral Light Kimono Robe
AUD $179.00
Retrograde Tufted Cushion

AUD $145.00
Sunrise Loop Back Cushion Cover - Yellow
AUD $145.00
Rad Kid and Sunny Organic Cotton Sock Pack

AUD $35.00
Head in the Clouds Hemp/Organic Cotton Fitted Cot Sheet
AUD $89.00