The Brightside: Nurture The Seed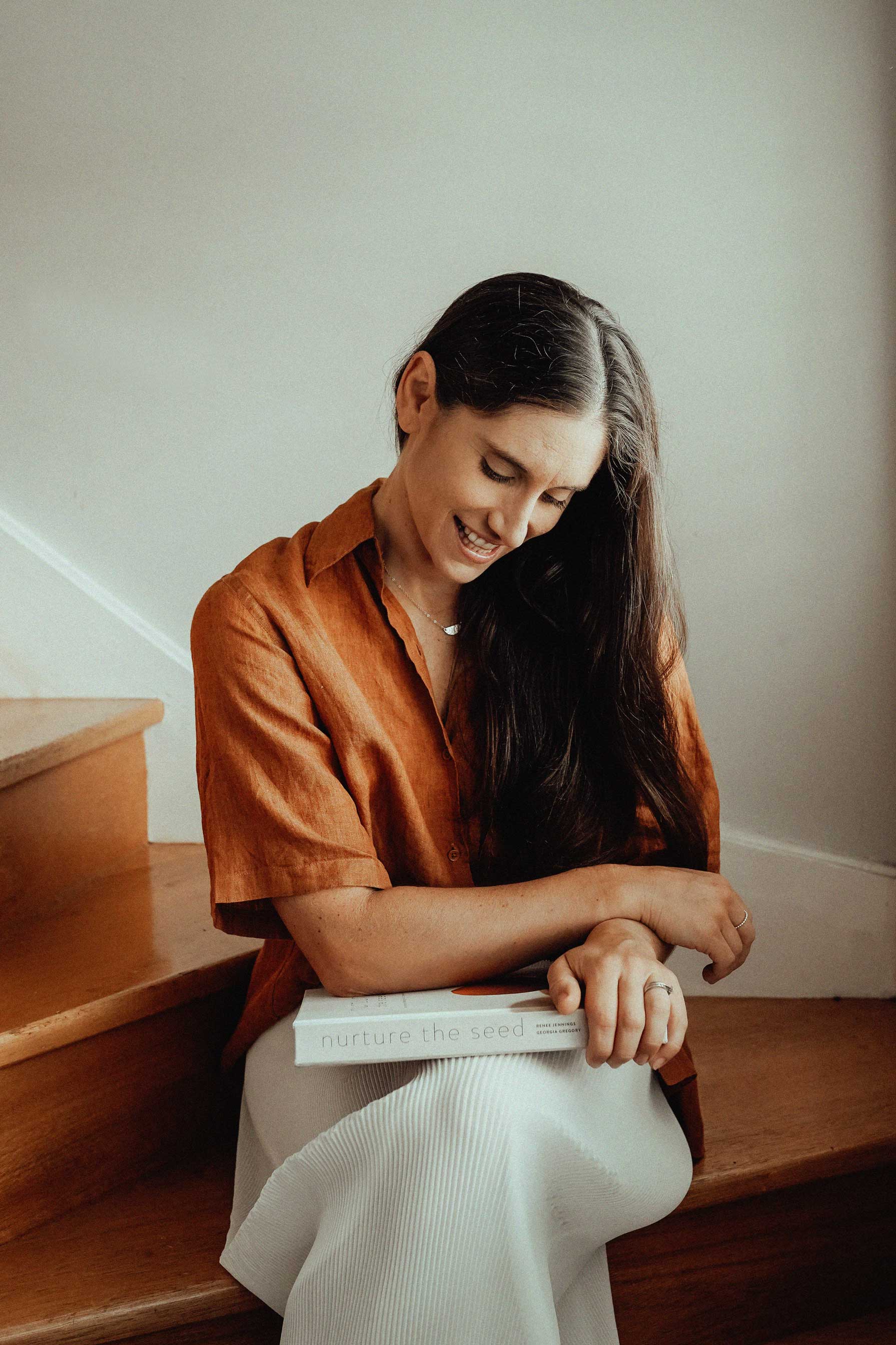 THE BRIGHTSIDE: NURTURE THE SEED
Renee Jennings is a mama of two who is passionate about all things food, nourishment and cooking. With a focus on eating fresh, local and nutrient-dense wholefoods, Renee shares her delicious recipe hacks both online, through her practice and in her book - Nurture The Seed.
 Nurture The Seed was created in response to the current Australian guidelines for pregnant women, which are somewhat outdated. "We are constantly baffled at the misinformation and over-caution that has been associated with pregnancy nutrition. 
Our goal is to build upon current guidelines with evidence-based research, helping mothers eat nutritious food with confidence." Renee says.

We are such fans of Renee and her co-author Georgia's mission to reframe pregnancy and postpartum eating in a positive light (focusing on what we can and should eat rather than what we can't) that we knew it was a book that belonged on our shelves!   
 Along with the book now being available in-store and online, we thought it was a great opportunity to work with Renee and share with you some of her wholefood recipes on a monthly basis. For now, though – let's get to know this passionate foodie and mama of two.

Hi Renee, please tell us about yourself and your family.
I am a mother of two energetic children, Norah (4) and Freddie (2), and wife to Waz. We live on the NSW South Coast in Wollongong and absolutely love our community and the fact that we are right on the beach! I am a passionate home cook and love connecting with people through food. This stems from my upbringing, where food and cooking were central to my family (and still is).   
 Professionally I am a clinical dietitian and nutritionist. I worked in the hospital system for almost ten years, however I always knew it wasn't for me. It wasn't until I fell pregnant with my first child that I developed a love (or should I say obsession) with prenatal nutrition. 
These days, I barely call what I do for a job 'work' because I honestly love what I do. I spend a lot of time researching, writing and doing recipe development, whilst also working in private practice. My sole focus is educating and nourishing women throughout their pregnancy.
Salty Soul Ringer Tee
AUD $49.00
Salty Soul Cotton Terry Playsuit
AUD $49.00
Salty Soul Bassinet Sheet/Changing Pad Cover
 AUD $69.00
How did Nurture The Seed start?
In a very roundabout way! I had wanted to write a book about prenatal nutrition since my final year of uni. Fast forward eight years when I had my first child, and I finally put pen to paper. I didn't consider myself a competent writer, so I joined forces with my good friend, Georgia Gregory, who is a very competent writer, to say the least. About a year into writing, when we discovered it was going to take us many more years to finish, we acknowledged that our passion project needed an official identity. 
We wanted to start sharing some of the research we were discovering and build some connections. And hence our business, 'Nurture The Seed' was conceived, and four years later, our book
Nurture The Seed
 was released. 
What is your goal for Nurture The Seed?
To empower pregnant women with the knowledge and skills to nourish themselves throughout their pre-conception, pregnancy and postpartum journey. I want to close the gap between our current government prenatal nutrition guidelines with new evidence-based research and shift the focus from the foods you can't eat in pregnancy to all of the wonderful whole foods that you can eat.   
 When I think bigger picture, I hope that Nurture The Seed can be part of a movement towards improving the health and wellbeing of future generations. Nutrition during the first 1000 days (the period from pre-conception through pregnancy and into toddlerhood) has been shown to impact chronic diseases, allergies, learning abilities, metabolic health, immunity and more. I want Nurture The Seed to be an educational platform where people can learn how to nourish themselves with nutrient-dense food that are simple to prepare and enjoyable for the whole family.
What inspires your recipes?
I have always loved reading cookbooks for fun. So, I guess a lot of my recipes are inspired by some of my favourite chefs/cooks - Yotam Ottolenghi, Hetty McKinnon, Jamie Oliver - and of course, my mum! I am also inspired by my children, who spend a lot of time in the kitchen with me.
Do you have a go-to recipe for a busy week?
Plenty! Our longstanding staple is the Kitchari recipe from my book. It's a gently spiced rice and lentil dish that only requires one pot, no chopping and takes 30 minutes to cook. Other family favourites include lentil and mince Bolognese, soba noodle salad, lentil soup, Dahl, tray bakes, frittata or a seriously hearty salad. Many of these recipes can be found in my book!
Nurture The Seed

By Renee Jennings and Georgia Gregory. Your evidence-based guide to prenatal nutrition.

Available at our new store in Thirroul!
Shop 1, 282 - 298 Lawrence Hargrave Drive, Thirroul NSW.

Or purchase your copy of the book via our website:


EXPLORE OUR RANGE OF SUNNY SUSTAINABLE NURSERY WARES:
Little Sis Organic Cotton Onesie


AUD $45.00
Salty Soul Bamboo / Organic Cotton Swaddle


AUD $49.00
Playmat / Cot Quilt: Checkers & Beneath The Waves


AUD $165.00
Rad Kid Tufted Wall Hanging


AUD $149.00
Sunny Daze Floral Organic Cotton Blankie


AUD $129.00
Checkers Linen Fitted Cot Sheet - Beige


AUD $89.00