The Brightside: Kitchari With Coconut Sambal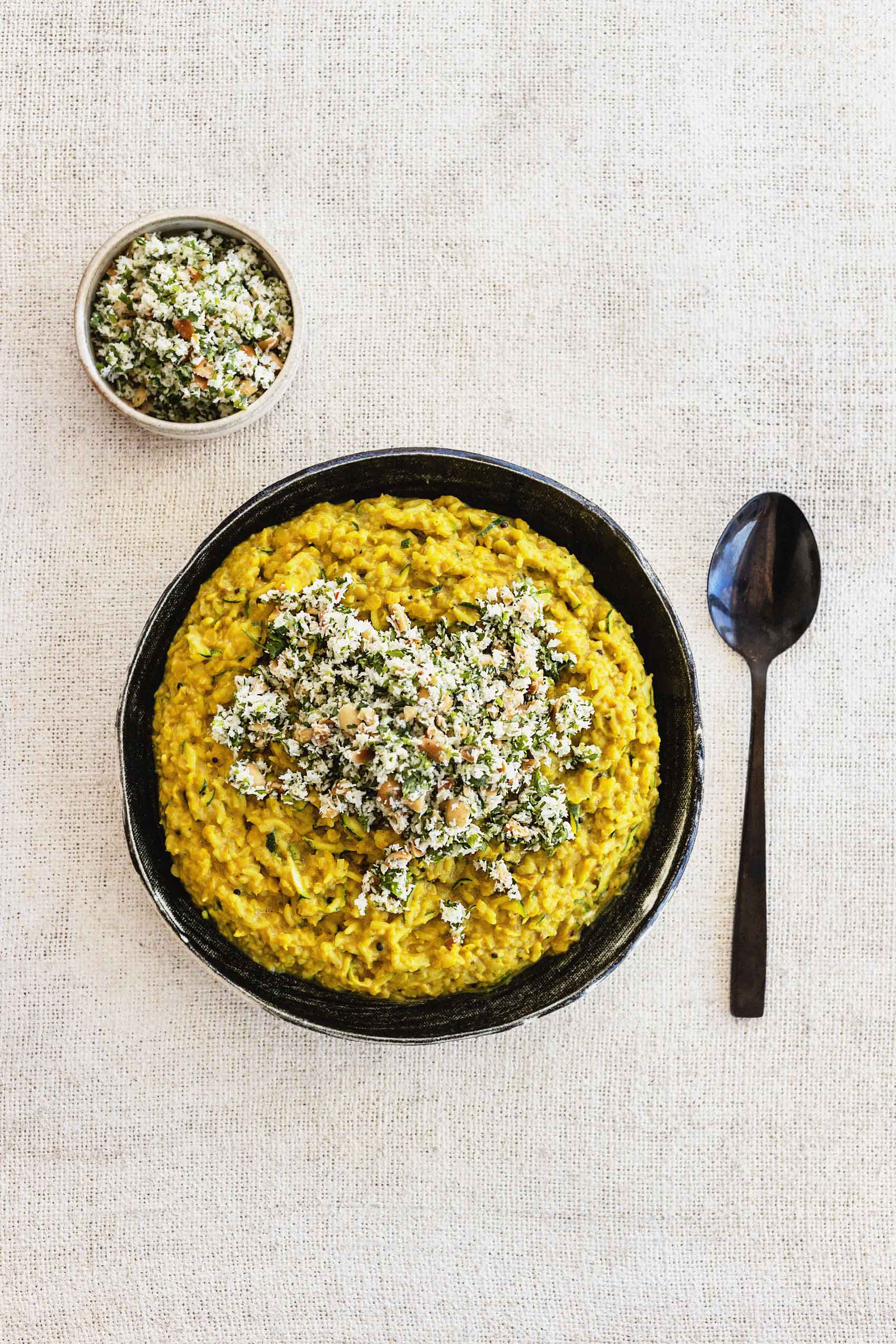 THE BRIGHTSIDE: KITCHARI WITH COCONUT SAMBAL
Renee Jennings, co-author of Nurture The Seed, shares with us her delicious kitchari recipe with a side of coconut sambal. This wholesome and nourishing meal is the perfect one-pot meal to leave the whole family satisfied.

Kitchari With Coconut Sambal
Serves 4  |  Freezer Friendly

If you're not familiar with this dish, kitchari (also known as khichdi) means 'mixture'. It usually consists of two grains (in this case, rice and lentils) and is gently spiced, warming and very comforting. 
This recipe is really simple, with only one pot and no chopping required. Perfect for pregnancy, postpartum or for the whole family to enjoy.
Serve with a delicious coconut sambal as the perfect accompaniment.
- ½ cup basmati rice 
- 1 cup yellow split lentils 
 - 2 tablespoons butter or extra virgin olive oil 
- 3 cm knob fresh ginger, grated 
- 1 teaspoon black mustard seeds 
- 1 teaspoon ground cumin 
- 1 teaspoon ground turmeric 
- 1 cinnamon stick or ½ teaspoon ground cinnamon 
- 3.5 cups vegetable stock or bone broth 
- ½ cup coconut milk
- 1 large zucchini, grated
- ½ cup desiccated coconut 
- ⅓ cup toasted peanuts, roughly chopped 
- ½ cup packed coriander leaves and stems, finely chopped 
- Juice of 1 lime
- 1 red chilli, finely chopped (optional)
1. Wash and rinse the rice and dal/lentils. Leave aside. 
2. Add the butter/olive oil to a large heavy-based pan and place on a medium heat. 
3. Add the ginger, cook for 1–2 minutes, then add the mustard seeds. Cook for another minute or two until the seeds are fragrant and start to pop. 
4. Add the cumin, turmeric, cinnamon and stir. 
5. Add the rice and lentils to the pan, stirring to coat in the spice mix. 
6. Add the stock and coconut milk. Bring to a boil, then reduce to a simmer. Simmer for 15–20 minutes, stirring occasionally until the rice and lentils are tender but not mushy and most of the liquid has been absorbed. 
7. Add the zucchini and cook for a further 3–5 minutes or until soft. Season with salt. 

________
 Meanwhile, prepare the sambal. 
1. Place coconut in a small bowl, cover with boiling water and leave to soak for 5 minutes.
2. Drain the coconut (squeeze out excess water by pushing down with a spoon on your strainer) and put it in a bowl. 
3. Mix in all other sambal ingredients and season with salt. 
________
Serve kitchari in a bowl and top with the coconut sambal.
Nurture The Seed

By Renee Jennings and Georgia Gregory. Your evidence-based guide to prenatal nutrition.

Available at our new store in Thirroul!
Shop 1, 282 - 298 Lawrence Hargrave Drive, Thirroul NSW.

Or purchase your copy of the book via our website:


EXPLORE OUR RANGE OF HOMEWARES NAPERY:
Arabella Linen Napkin Set


AUD $65.00
Joni Rad Cook 100% Linen Apron


AUD $89.00
Rad Cook 100% Linen Tea Towel


AUD $35.00
Arabella Linen Table Cloth


AUD $149.00