The Dreamers #55 - With Studio Kokomo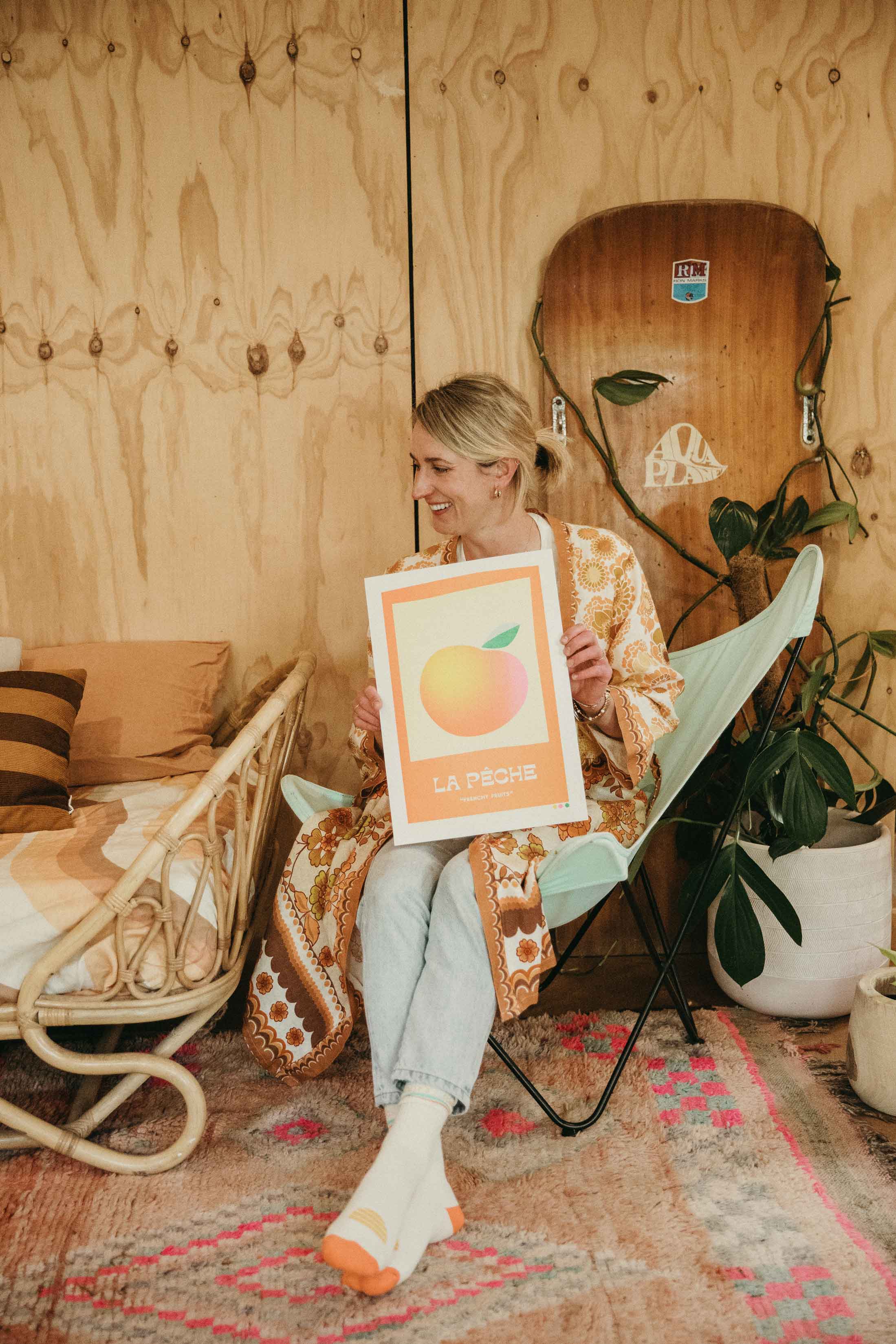 Meet our latest Dreamer Claire Grocott from Studio Kokomo. Claire is a keen-as-mustard Graphic Designer who is all about vibrant colours, typography with character and playful graphics with a touch of nostalgia. Claire takes us into her home studio in her retro beach shack in Bundeena, and shares her latest collection of fruity prints created using a Reso printer.
WELCOME TO THE DREAMERS. 

COME INSIDE THE HOMES OF EVERYDAY FAMILIES AND BUSINESS OWNERS  DOING LIFE THEIR WAY. 
____________
Hi. I'm great. The sun is shining, the flowers are blooming… it's an optimistic time of year.
Tell us about your beautiful family - furry friends included!
The humans are me, my husband Chris, and our kids - Frankie, 10, and Theo, 8. Then there's Lady, our black border collie x lab, and Squishy, our tabby cat. We also have some feathered friends! Snowy, Fluffy, Ruby, Rubiks and Annabelle are our hens, but our brood is growing. We have some fertile eggs incubating and due to hatch in a couple of weeks!
We live in Bundeena, on Dharawal country, in a shack which we've slowly been making our own since we moved here 12 years ago. It has been transformed from a dark and pokey little house to a home filled with colour, plants and natural light. I love it here.
Tell us about the iconic Bundeena. It is situated between winding roads, the jungle of the Royal National Park, and beautiful Sydney.
We really live in a little slice of paradise! There are world-class bushwalks, magical whale-watching spots, and four gorgeous beaches, all within 10 minutes of our front door. The sense of community here is so special, and the local primary school is wonderful. I feel so privileged to be able to raise my family here, surrounded by nature and community.
You own a design studio, Studio Kokomo, and run it from your retro beach shack. How is it balancing work with the beach so close?
The balance is awesome. Chris and I take Lady to the beach for a run before work most days. Chris then heads to work in the city, and I get the kids off to school then sit down at my desk. My studio looks out over my sunny garden, so I definitely don't feel trapped inside. If I need a midday leg-stretch, I'll often stroll along the beach up to the shops to grab a coffee. I actually think being so close to the bush and the beach is vital for my productivity, creativity and wellbeing.
You have recently started designing Riso prints. WE LOVE THEM. What inspired this project?
I'm obsessed with Riso. It's kind of like a digital method of screen printing using a special printer called a Riso printer, invented in Japan in the early 1980s. There's lots to love about how the prints look. They use specialist inks that come in super vibrant, saturated colours, and their lo-fi nature results in unexpected texture and character. 
This method of printing is also much gentler on the environment than many other conventional methods, as it doesn't require much power and uses rice-based and soy-based inks rather than toxic inks and toners. 
 I'm currently working on a 'Frenchy Fruits" series of prints. So far, the series includes "La Pêche", "Les Myrtilles" and "La Pastèque". I thought fruit would be a fun theme to concentrate on to explore the colour possibilities of Riso. And everything sounds better in French!
Any exciting plans for the summer?
Well, I'm really hoping for some sunshine, as our last two summers have felt like total wash-outs. So fingers crossed it will involve endless early morning dips, sticky mango and watermelon fingers, lazy days at our favourite shady beach spot, naps on the daybed, and a steady stream of friends coming and going throughout the day. Not exciting, but heavenly.
Studio Kokomo
Risograph printing is a beautifully low-fi process that results in texture and perfect imperfections. These are not crisp, digital prints - and that is why they are so charming!

Joni 100% Linen Robe

AUD $179.00
Square Stripe Cord Cushion
AUD $89.00
Rad Kid Tee - Faded Black

AUD $49.00
Old Mate Cord Kids Cap - Black
AUD $39.00
Rad Mama and Floral Check Ladies Organic Cotton Sock Pack

AUD $45.00
Sunrise Sunset Tufted Throw Blanket
AUD $265.00
Oblong Stripe Cord Cushion

AUD $89.00
Flow State Flax Linen Flat Sheet
AUD $99.00