The Dreamers #74 - The Koenig House With Michele Dupras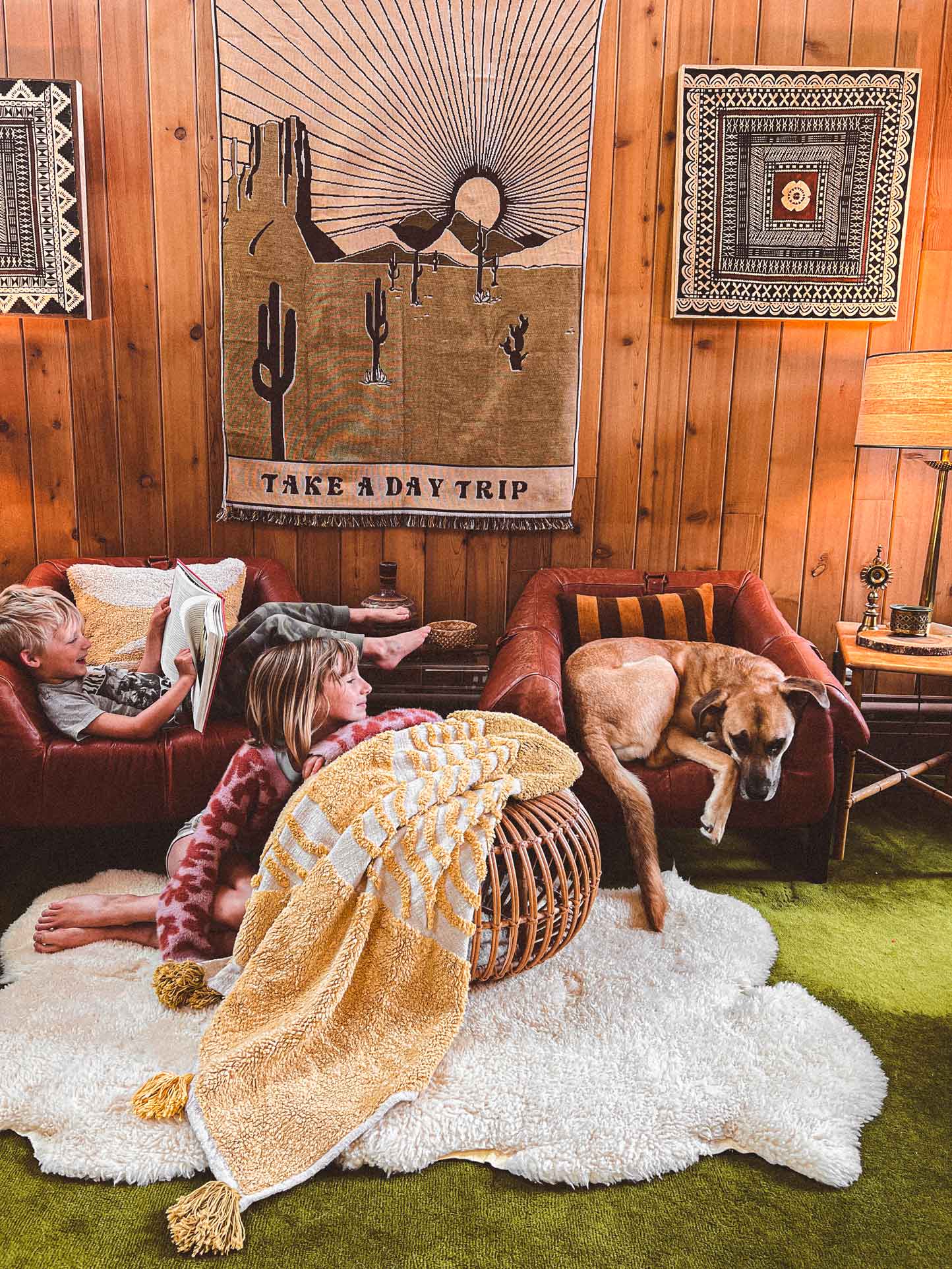 Michele Dupras is the proud owner of The Koenig House. Built in 1963 and featuring tall wood walls and towering windows, this unique abode provides a constant source of creative inspiration for its owner as she works to restore this rare beauty. 
WELCOME TO THE DREAMERS. 

COME INSIDE THE HOMES OF EVERYDAY FAMILIES AND BUSINESS OWNERS DOING LIFE THEIR WAY. 
____________
Hey Michele! Tell us about your fam?
We are a family of 5 + one big hairy dog. My husband and I met 20 years ago and couldn't be more opposite. He's the analytical scientist, and I'm the wandering artist. I've been lucky to have him holding down the corporate path while I've been able to pursue my entrepreneurial dreams. 
We live in a remote part of the Upper Peninsula of Michigan, right on the south shore of Lake Superior. It takes a special mindset to thrive in this area. The winters are long and very snowy, but the short yet magical summers make up for it. Whether hiking, biking or skiing, we enjoy getting outside throughout all the seasons. I've spent the last two years restoring a 1962 Shasta travel trailer, and I'm looking forward to finally being able to take it out camping this summer!
If we were in Michigan, where would you recommend we visit?
When many people think of Michigan, they think of Detroit, but Detroit is eight hours south of us! One of the best parts of Michigan is the Great Lakes. We live on Lake Superior, which is very cold and deep. In other parts of Northern Michigan, you can visit Lake Michigan, which is generally warmer and more inviting. 
Not far from where we live in Marquette, you can travel to Munising to visit Pictured Rocks National Lakeshore, or down near Traverse City, you can visit the Sleeping Bear Dunes. One of our favourite spots is The Keweenaw Peninsula and Fitzgerald's Restaurant. You'll be shocked that such a fabulous place exists in the middle of nowhere. 
If you are a mountain biker, our small towns of Ishpeming and Negaunee boast hundreds of miles of amazing singletrack, and they even groom it for fat bikes in the winter! When it comes down to it, Michigan is known for outdoor activities and the four seasons, from beautiful waterfalls and beaches to 300+ inches of snow and ski resorts. This place is an outdoor rec paradise no matter where you go.
We LOVE following along The Koenig House. Tell us where it all started.
After owning brick-and-mortar design boutiques and a ceramics studio for the better part of 15 years, I sold my businesses in 2020 to pivot into building a real estate brokerage. One of the listing calls was for the Koenig House. My partner and I had no idea of what we were walking into when we arrived with a market analysis to meet with the owners. From the second we stepped in the front door, I was immediately hit with overwhelming emotion. 
I've been a lover of mid-century design and architecture my entire adult life. I instantly knew this place was special. My business partner and I looked at each other, and he whispered, "You're buying this place." I nodded my head in agreement. 
The owners were 90 and 95 and were finally convinced by their family to downsize from the five-bed, four-bath, 4,000-square-foot house they built in 1963. This was the home they raised their family in, and I'm sure 60+ years of memories made it hard to leave. The following day after our initial tour, I called up the family to discuss what a privilege it would be for me to become the second owner of the home with the intention to honour and preserve the Koenig's and the architect's original vision. 
The home had been untouched since the 60's and was the definition of a true time capsule home. I couldn't bear the thought of someone coming in to modernise it with no respect for its historical significance. I made a promise to honour its integrity and consider myself a steward of the home. Since buying the home two years ago, we have been working on an extensive exterior restoration. Even if this house is what some might consider a "money pit", I am happily throwing all my money into it. It's definitely become a labour of love.
Rad Mama Embroidered Standard Pillowcase
AUD $45.00
Rad Dad Embroidered Standard Pillowcase
AUD $45.00 
Sunshine State Standard Pillowcase
AUD $45.00 
Square Stripe Cord Cushion
AUD $89.00 
Sunrise Loop Back Cushion Cover - Yellow
AUD $145.00
Sunscape Tufted Blanket
AUD $265.00 
Being lovers of all things vintage, we love your style. Where does your inspiration come from?
Thrifting and visiting antique stores has always been my therapy. I'm not only addicted to the thrill of the hunt but also to learn about the stories that objects carry. I only buy things for my home that I love, and I'm obsessed with finding pieces that are one of a kind. This is what makes my home truly unique. It could be the craftsmanship of the object that draws me to it or perhaps the feeling that the object provokes. 
I collect a lot of art and handicrafts from different cultures around the world. I appreciate the time and skill that goes into these craft objects, many of which serve no purpose beyond their beauty, and I enjoy honouring that beauty by displaying it in my home. I also love the vintage utilitarian objects that were many times made not only for their desired purpose but also ornamented to be beautiful as well. To me, it's like the cherry on top of buying a functional piece. I love playing with colour, texture and pattern in my home … and you can't forget about the plants! Being in an area where we have snow for seven months out of the year, I need to be surrounded by green!
Take A Day Trip Tapestry Blanket
AUD $129.00
Talk us through your favourite part of the Koenig House.
My favourite part overall of the Koenig House is the fact that I get to live in a place that creatively inspires me. When you really observe the design of the home, you come to realise that every element was designed intentionally. I think intention is lacking from so many modernly built homes. 
The layout places every room in the home in an area that makes the most of the natural light from the way the sun travels through the sky throughout the day. The bedrooms are located in the East so as to wake from the rising sun but not be kept awake by the fact that the sun doesn't set till 10:30 pm in the summer. The butterfly gully roofline with transom windows on both the east and west walls allows light to illuminate every room throughout the day. I also love the fact that I get to live in a home with a "catwalk" because I've always dreamed of that. 
The design decisions the Koenig's made in the 60's feel very timeless and modern to me. I love that the home feels very connected to nature, and the energy flows so well between our inside and outside spaces. You almost feel like you are outside when sitting in the main living room with its green carpet and 30' tall wood walls, and towering windows. I've yet to find anything I really don't like about the home.
Do you have any advice for people pursuing their passion projects?
This is a hard question because I feel like passion and logic don't always go hand in hand. It's a lot of hard work and sometimes involves compromises you wish you didn't have to make. At the end of the day, anything is possible. Be ready to put in the work and expect success to be 10x harder than you initially think. When I was younger, I used to say, "failure is not an option," but as I've grown older, I now realise that failure (at some point) is inevitable. What matters is how you pick yourself up from that failure and LEARN. Like John C. Maxwell said, "Fail early, fail often, but always fail forward." I still have lots of lessons I'm learning.
Any favourite Banabae products?
I am obsessed with any of the French flax linen bedding. The pillowcases are so soft! I mean, who doesn't like linen? Linen is the ultimate luxury, and to have it in such beautiful retro-inspired prints!?! LOVE! I also love the Sunscape Tufted Blanket. It's so warm and cosy.
Sunrise Sunset Tufted Throw Blanket
AUD $265.00

Checkers Shaggy Tufted Cushion
AUD $165.00

Checkers Crochet Cushion Cover
AUD $149.00
Checkers Standard Pillowcase Set
AUD $89.00