The Brightside: Nut-free Muesli Bar From Nurture The Seed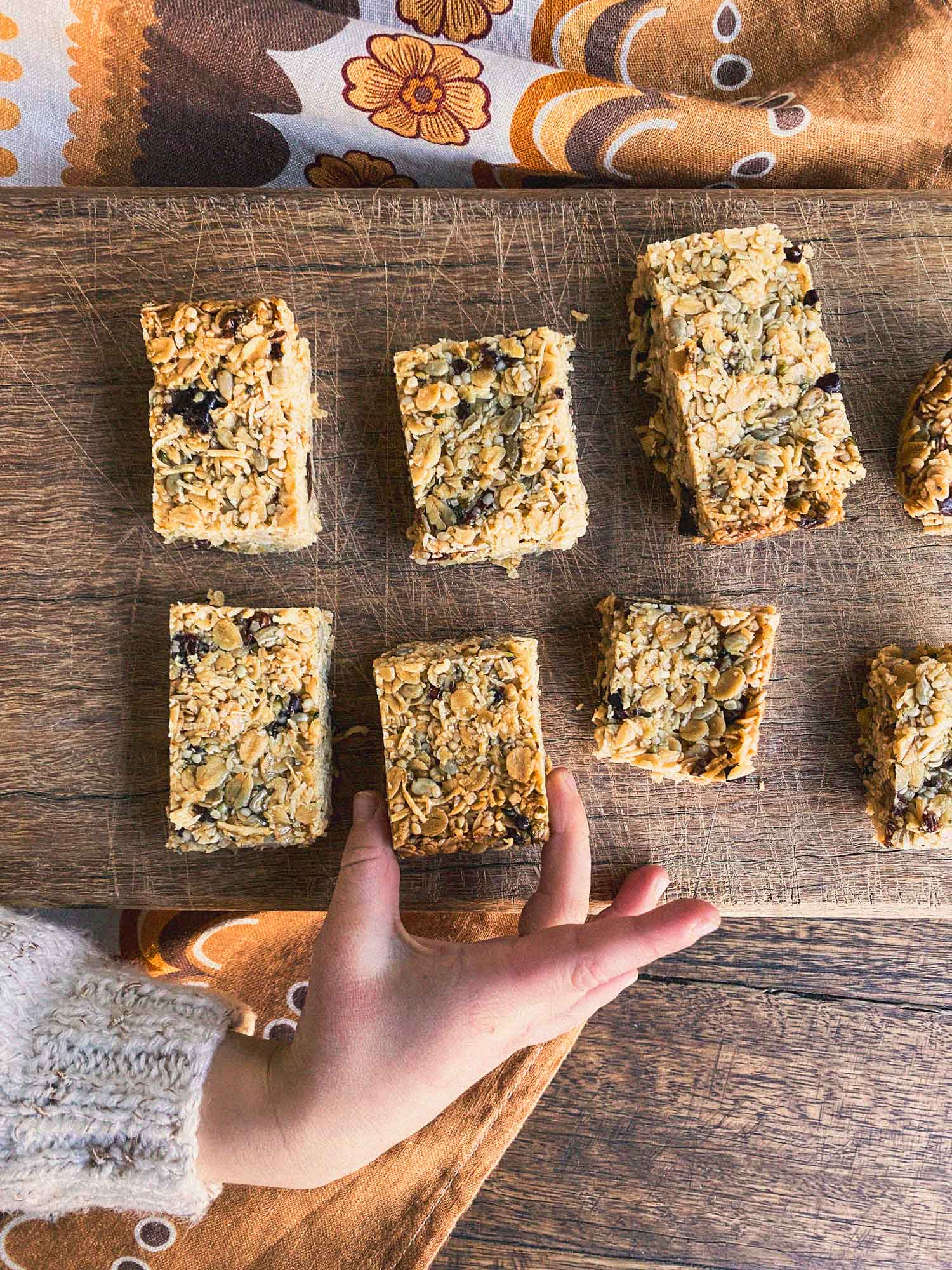 THE BRIGHTSIDE: NUT-FREE MUESLI BAR
The perfect Plastic Free July addition to your child's lunchbox. A package free slice that is incredibly rich in nutrients to give long-lasting energy. Oh and delicious too! Recipe from Nurture The Seed.
- 2 cup oats 
- 1/2 cup hemp seeds 
- 1/2 cup shredded coconut 
- 1/2 cup sunflower seeds 
- 1/3 cup carob nibs (or dark chocolate chips) 
- 1/3 cup dried fruit (sultanas, cranberries, chopped dates, chopped apricots) 
- 100g butter 
- 1/2 cup honey 
- 1 tablespoon tahini
Kiss The Cook 100% Linen Tea Towel
AUD $35.00
Joni Rad Cook 100% Linen Tea Towel
AUD $35.00
Rad Cook 100% Linen Tea Towel
AUD $35.00
1. Preheat oven to 160 °C. Line a square cake tin (approx. 18cm x 26cm) with baking paper. 
2. Place oats, hemp seeds, coconut, sunflower seeds, carob nibs and dried fruit in a large bowl. If you're using dark chocolate, do not add it now. Leave aside. 
3. Melt butter, honey and tahini in a small saucepan. Cook on low-medium heat until frothy on top, stirring occasionally. 
4. Add to dry ingredients and combine. If using dark chocolate, add now and fold through. 
5. Transfer the mixture into the prepared tin. Press down firmly using the back of a wet spoon or your hands so it is packed in really tight (the tighter, the better to prevent a crumbly slice). 
6. Bake for 25 minutes or until lightly golden on top. Remove from the oven and allow to cool completely in the tin. 
7. Slice and store in your fridge in an airtight container.
More package free snack recipes on the blog:
Sweet Potato Muffins
Read more
Choc-chunk Banana Loaf
Read more
Healthy Nut-Free Muesli Bar
Read more
Shop sunny, sustainable homewares:
Arabella Linen Table Cloth


AUD $149.00
Wattle Wander Linen Napkin Set


AUD $65.00
Joni Rad Cook 100% Linen Apron


AUD $89.00
Arabella Linen Napkin Set


AUD $65.00