The Solution to Fussy Eaters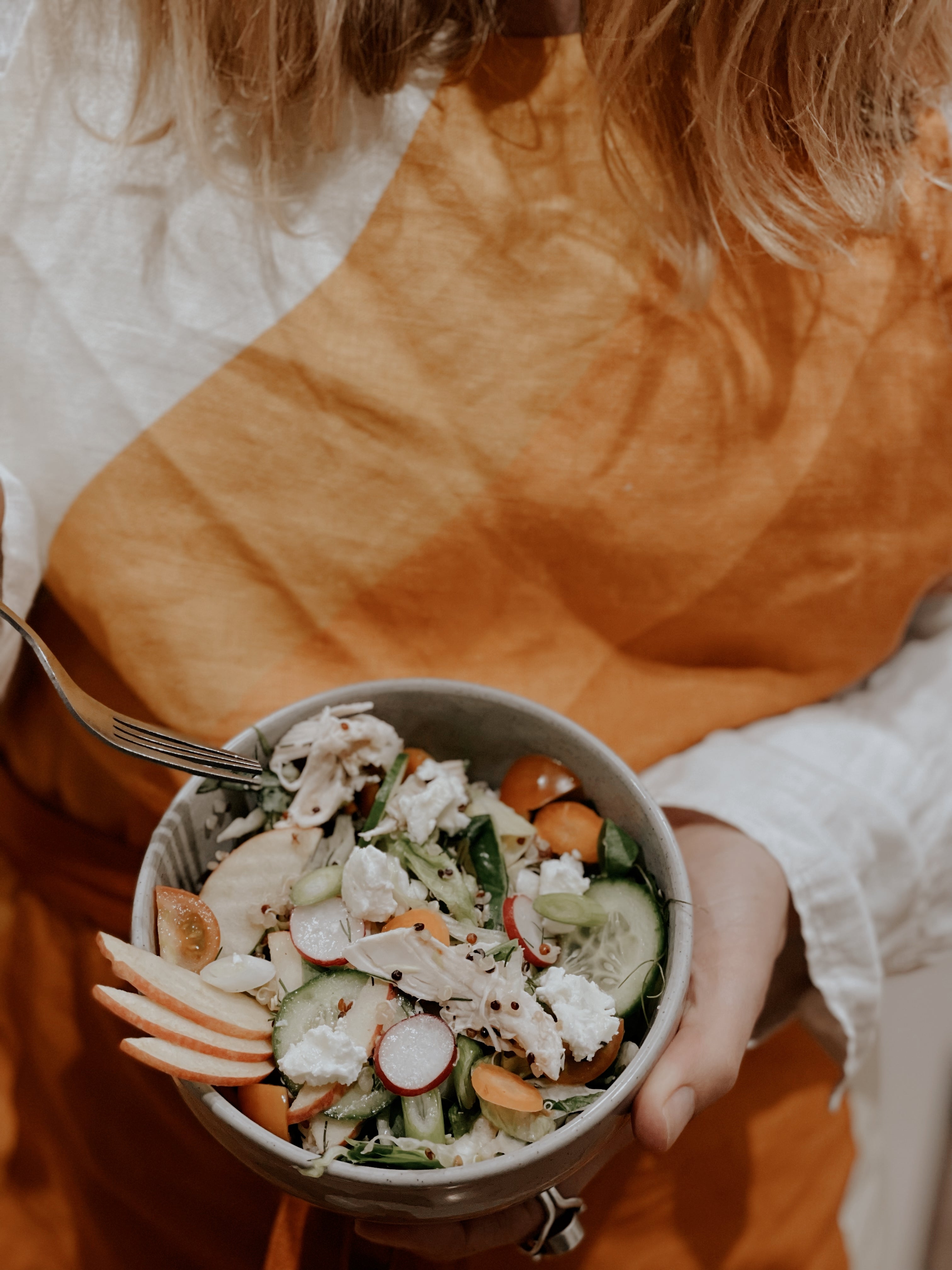 If you have fussy eaters like me  - a pick and mix plate is probably your go to for weeknight dinners.
Its important to remember that a child's palette is different to ours and will take time to mature. So how do we encourage them to make healthy eating choices?
Eliminating stress at the dinner table is key for this.
By breaking a meal down into separated ingredients with a couple of 'safe foods' thrown in for good measure we are giving our kids freedom of choice whilst modelling good eating habits. Yes – the broccoli may often remain on the plate at the end of the meal but if we consistently offer healthy foods (without pressure) the idea is that the kids will eventually give them a try.
We hear you - who has the time or patience time to cook separate meals every night?!
Here are a few options for combining those pick and mix plates into delicious meals for the more mature palettes in the family…. nearly all of these include cherry tomatoes /carrots or peas – my toddlers go to healthy options.
MEXICAN NIGHT
The base: Beef mince (preferably grass fed) cooked with diced onion, grated carrot and Mexican spices. You can use a packet mixture or easily make up your own from pantry staples.
Deconstructed
Veges and fruits: Corn, avocado, cherry tomato,carrots (steamed for bub/toddler), Avocado
Grain: Buckwheat ( I cook a bunch of this every Sunday in bone both and save portion sizes in the freezer for later in the week)
Protein: Mexican spiced beef Mince
Reconstructed:
Combine diced tomato with red onion lime juice and season for salsa
Mash up a quick guac with avocado, fresh coriander, lime, cumin, salt and pepper
I also added in some black beans I had quickly heated in the pan with ground coriander, cumin, dried oregano.
Throw it all into a burrito wrap or combine like I have here for a delish burrito bowl garnished with fresh coriander and lime
ITALIAN NIGHT
The Base: Pesto pasta . Fresh pesto is a breeze to make in the food processor by combining a bunch of basil with pine nuts or almonds, garlic, olive oil, parmesan or pecorino cheese and a small squeeze of lemon.
Deconstructed:
Veges: Carrot, Roasted capsicum, broccoli baked with shaved parmesan, cherry tomatoes
Grain: Pesto pasta
Protein: here I've used tuna but we usually have a stash of meatballs in the freezer my kids also love.
Reconstructed:
Combine pesto pasta with the chopped tomatoes and roasted capsicum
Add in some freshly pitted olives and top with prosciutto or crispy bacon bits.
EASY MID WEEK DINNER
The Base: BBQ chicken. This is a go to easy summer meal. We grab a BBQ chicken on the way home from work and combine it with delicious seasonal salad ingredients. I slice everything on the mandolin for a nice thin pieces.
Deconstructed
Veges and fruit: carrot, cherry tomato, sliced cucumber, sliced apple, and a small offering of iceberg lettuce and sliced radish
Grain: Quinoa (I cooked ours in a low salt chicken stock for extra flavour)
Protein: some shredded bbq chicken.
Reconstructed:
Combine all the ingredients into a large salad bowl, add some extra greens like watercress , baby spinach or sliced kale. Add lots of fresh herbs (I used mint and dill. Basil, parsley, coriander also work great) dress with olive oil, a splash of apple cider vinegar and season. Top with some creamy goats cheese fetta or a dollop of natural yoghurt to finish