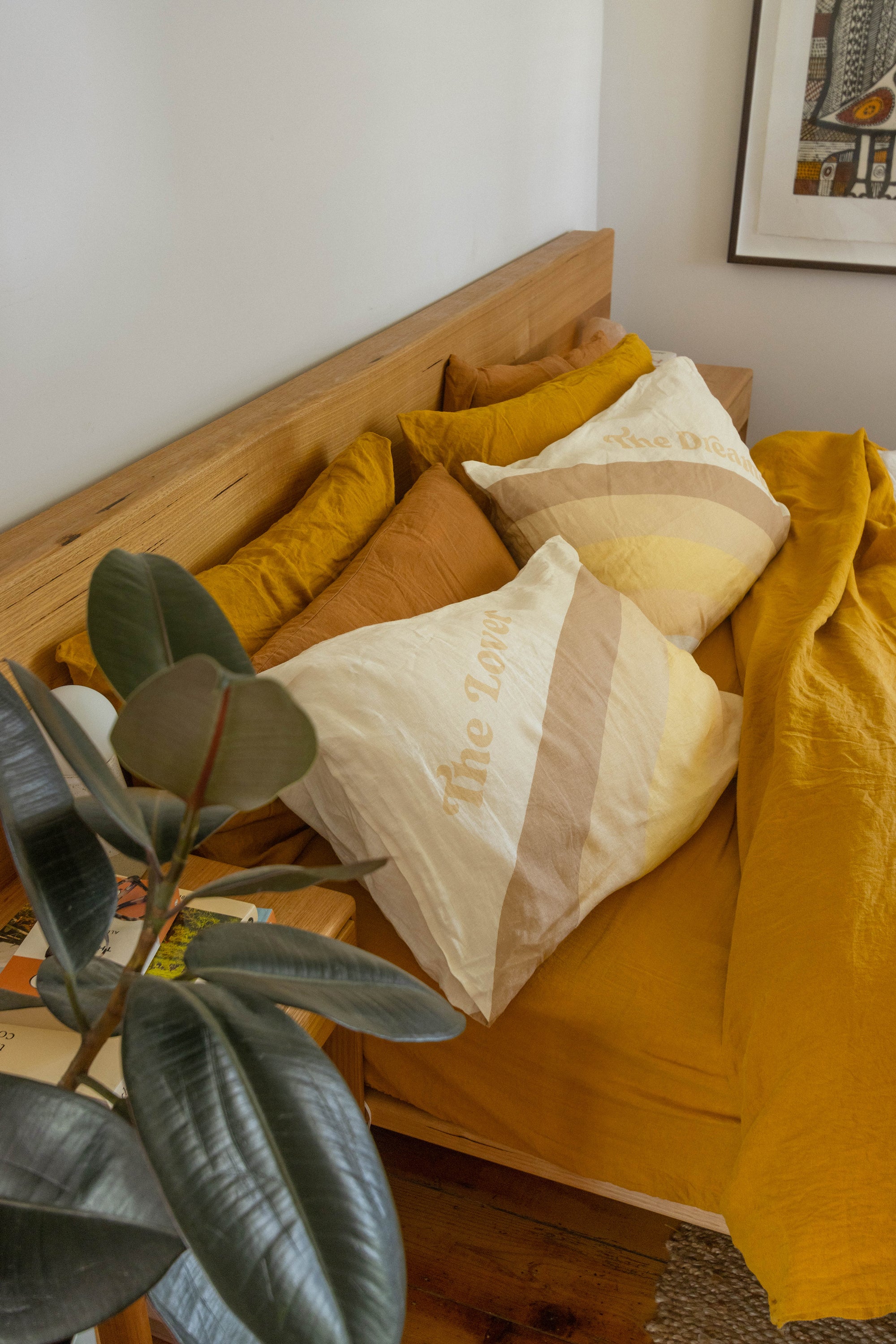 Meet Al + Imo. A creative duo from the Surf Coast of Victoria. 

These big dreamers are all about spending quality time with each other, while running their successful furniture and lifestyle brand.
What is the date today:
It's Sunday the 13th Feb 2022. It's a beautiful sunny afternoon! We have guests arriving in about half an hour to celebrate my (Imo) 31st birthday. We've set up big blankets and pillows in the backyard, and lots of food prepped and ready to go! 





Tell us a little about yourself?
We're Al + Imogen; husband and wife, lovers, parents, business owners and big dreamers! We run a furniture and lifestyle brand called Al + Imo. 

Where do you live? What do you love about it? 
We live on the Surf Coast of Victoria, about 10 minutes from iconic Bells Beach. We love coastal life and spend a lot of our time at the beach! The Surf Coast seems to have attracted a lot of creative people so we have a great community of inspiring people around us - it's a really great place to live and grow a family. 
Who is in your family? 

We have myself, Al, our beautiful 10-month-old daughter Marigold "Goldie", and our puppy Edwina.
What has been the most surprising part for you so far in your motherhood/dadhood journey?
I would have to say how naturally everything has come. The leadup to us becoming parents was all research, reading and asking for advice, then Goldie was born and instinct just kicked in. We ditched all of the books and just went with the flow. It's true when they say 'parents know best'.
     What was most important to you when you were setting up the nursery? Has the space evolved over time?

As furniture designers / makers we always knew we'd want to build our own nursery furniture. We wanted to create timeless heirlooms that we could pass down through our family.  We also wanted to create pieces that could stay in the house past the baby years. 
We designed the rocking chair to suit the furniture in our house, so when Goldie grows out of breastfeeding it can be moved into any room in the home, like our lounge or my studio. The change table tray is removable and you're left with a lovely set of drawers.  
 The cot was the final piece of furniture we wanted to make for Goldie's Nursery. We were sure that she would arrive before it was finished, but just as I saw the final pieces come together, my contractions started. The next day I laboured at home while Al sealed the cot, and we had it set up in her nursery just in time for her arrival.  
 We designed the cot so that the base can be adjusted to two different heights and the rails can come off for when she graduates to a big girl bed (unless we're blessed to welcome another addition and if that's the case, we'll design her a new kids bed).  Then all of the smaller items like the bookshelves will work great in Goldie's room as she grows up - we'll just switch the baby books for teen magazines… ha! 
Do you have any tips for setting up your nursery? 
Tick off the F's - Functionality, Fun and Future. 
 Functionality - Make sure you have a change table set up at a height that works well for you. There's nothing more back-breaking than leaning over to change nappies! We did a bit of testing of different heights before we designed our change table tray and drawers. Also having all of your things at arms reach is super helpful, like nappies, wipes, creams etc - particularly when they start wriggling and you need to keep one hand on them at all times!  
 Fun - I love walking into Goldie's nursery, it's full of colour and prints and it's just a really fun bedroom to be in! There's a trend to have super neutral nurseries all beige and grey which is beautiful but I'm such a fan of colour - and I couldn't think of a better room to do it in! Walking in there is like walking into sunshine, which is great - particularly on a cold winter's day! 
 Future - We're big believers in buying once and buying well, so if you can purchase pieces that can be used past the baby years - we're all for it!
Do you have any self-care tips or rituals you like to do?
Our rituals would be coffee in bed and sunrise beach walks together as a family. I love to have a banana smoothie every morning, Al meditates, has a home gym and surfs. We both like to keep active and eat a wholefoods diet - food is life and we both love to cook!

Your best mama/dad hack or hacks?

Whether we're going through a really challenging week or an unbelievably smooth week (you know the ones where you feel like you're just nailing it as a parent) we try to remember that everything is temporary and to embrace that moment right there. 
It is very easy to get anxious about what's to come, especially apps notifying you trouble is coming AKA developmental leaps. Like they say (and by 'they' I mean every parent ever and your Instagram algorithm when you're pregnant or a new parent) - 
 "The days are long, but the years are short".