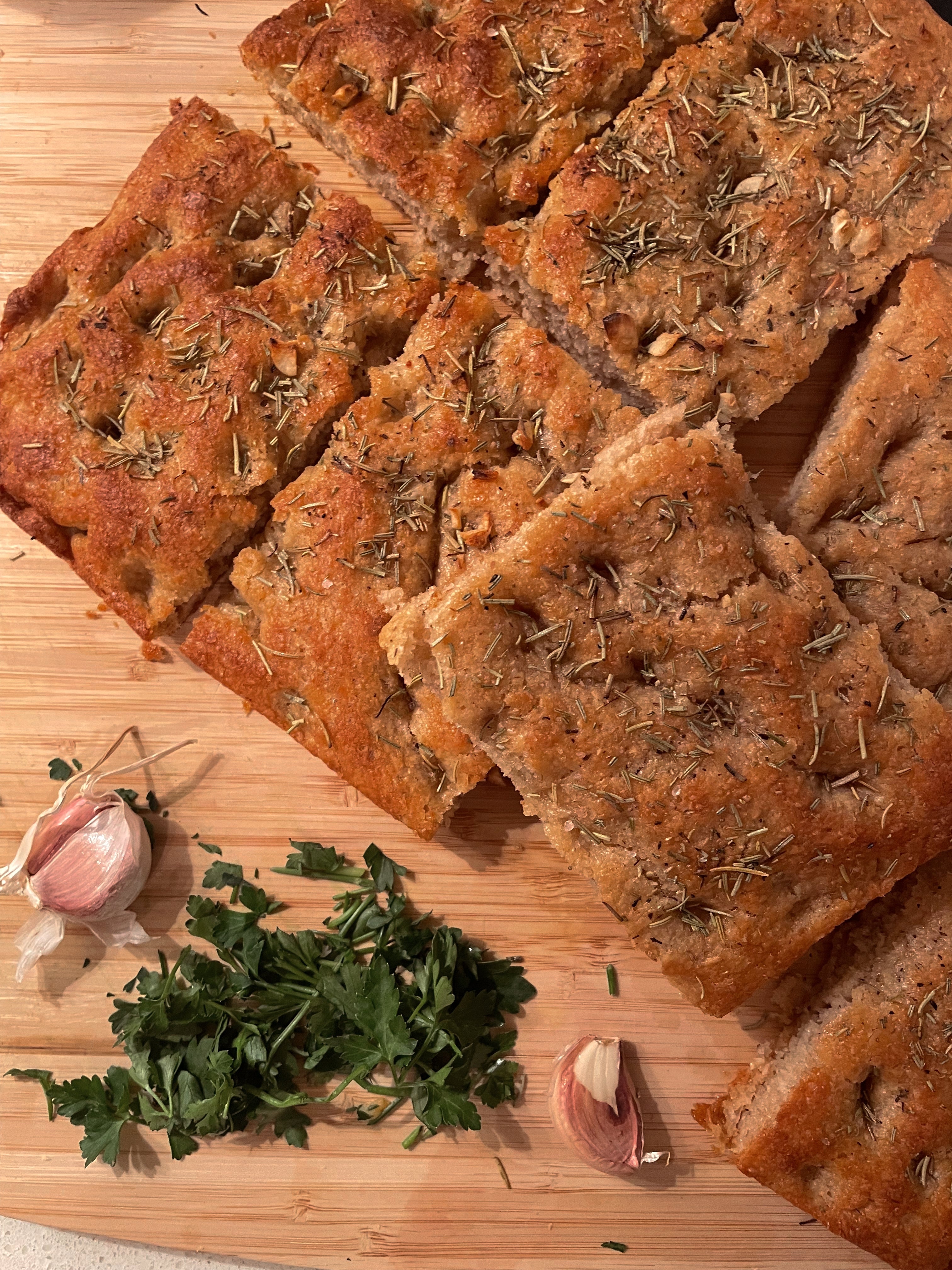 If you have some time to spare we guarantee you have the ingredients needed to make this easy, fun and absolutely delicious focaccia to keep you and the kids happy and full and your house smelling of warm bread.
Ingredients;
- 7 tablespoons of Extra Virgin Olive Oil, plus extra for your hands and the pan

- 5 cups (625g) of plain/all purpose/bread flour

- 2 teaspoons of honey or sugar

- 1 packet (2.5tsp) of dry active yeast

- 1 tablespoon of table salt for mixture,
1 tablespoon of flakey salt for on top

+ whatever you'd like to add on top! We added rosemary and garlic.
Method;
1. Mix the honey/sugar in a bowl with the yeast and 2.5 cups of warm water, leave to bloom
2. Measure out your flour into a large bowl, add the table salt and stir
3. Once your yeast is foamy/creamy, add it to the flour mix. if your yeast mixture doesn't foam up, it isn't active anymore and your bread won't rise!
4. Use a rubber spatula to mix until a wet but firm dough forms
5. Grab a bowl/pot double the size of your dough and oil the bottom & sides
6. coat the dough in oil and pull the ends into the center to create a ball
7. Cover your dough with a lid or warm tea towel and leave in a warm spot to rise until it is doubled in size, about 3-4 hours!

If you make it ahead of time, you can cover it with cling wrap & leave it for 8-24 hours in the fridge to rise.
8. Once risen, oil some oven trays and gently transfer your dough. Fold the corners into the middle until a rectangle shape forms. Leave to rise until the dough has again doubled in size, roughly 1-4 hours depending on how warm your kitchen is.
9. Once risen, its time to add some dimples! Lightly oil your hands and press your fingers into the dough down to the bottom of the pan
Add about 2 tablespoons of olive oil and now it's time to get creative! Add your ingredients on top, from rosemary to olives, and bake at 230 degrees celcius on the top rack for 30 minutes or until the top is golden brown.