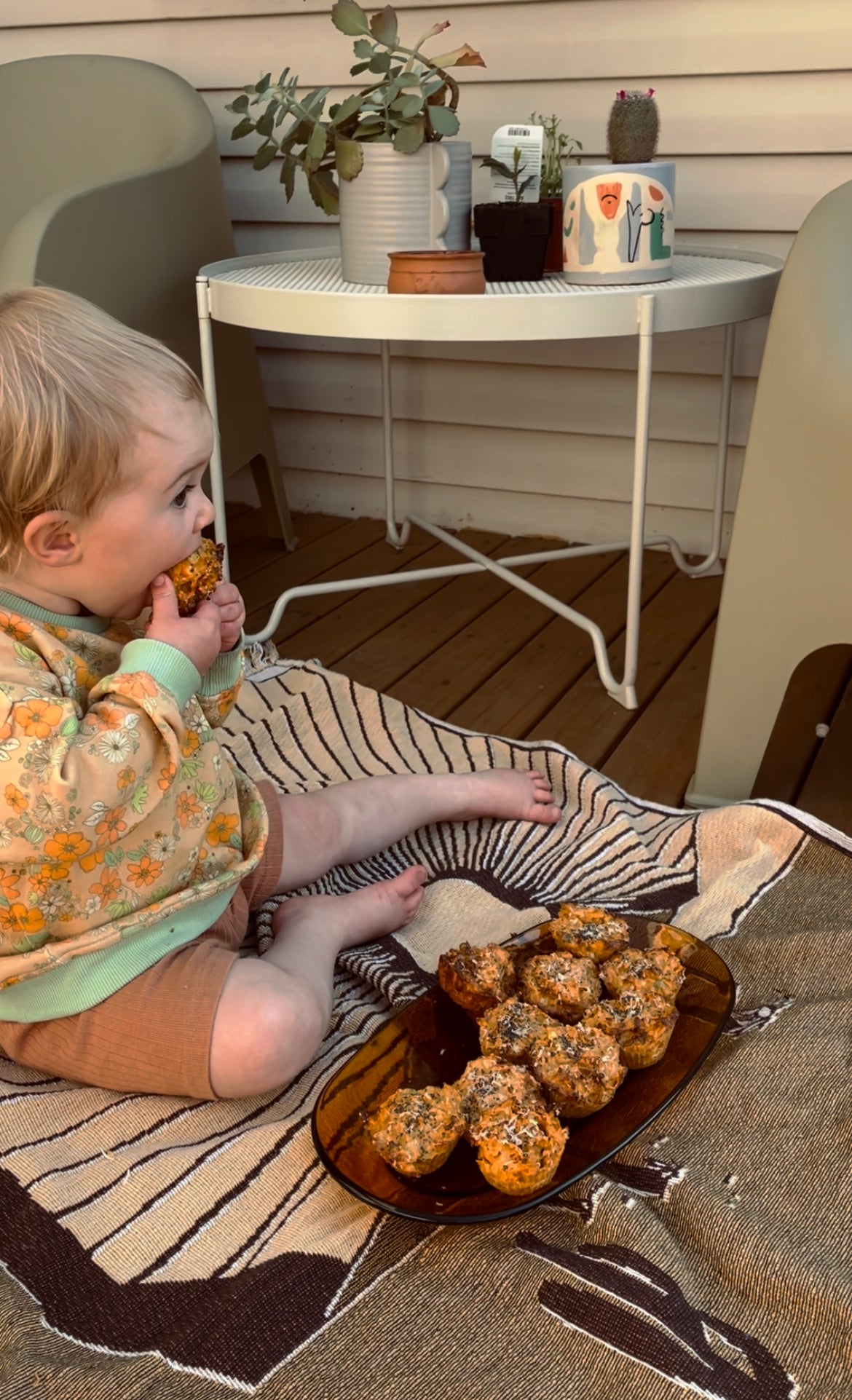 These delicious snacks are one of the weekly 'go to' recipes in my family. Savoury muffins are a great way to get an extra serving of veg into the kids meals and you can switch out the sweet potato for any veges you have on hand (butternut squash, zuchini, or throw in some corn)
I'm slowly introducing small amounts of dairy into my daughters diet as she is able to tolerate it. So for the many of us whose bubs have/had a CMPI (the worst!) This is a great recipe for easing toddlers into eating small amounts of dairy.
Ingredients:
- Olive Oil

- 600g of sweet potato or butternut squash

- 4 spring onions

- 6 large eggs

- 3 table spoons of cottage cheese (or you could switch this out for silken tofu)

- 250g wholemeal self raising flour

- 50g parmesan cheese (We used percorino which is sheeps milk derived rather than cows milk)

- A sprinkling of seeds to finish - poppy/chia/sunflower/flax…whatever your heart desires
Method:
1. Grate the sweet potato into a large bowl
2. Slice the spring onions and add them in to the bowl along with the eggs, cottage cheese, flour and parmesan or pecorino. Mix until combined
3. Evenly divide the batter into muffin tins - this batter is extra sticky and tends to stick to traditional paper patties so we use silicon cupcake molds. Otherwise I recommend cutting baking paper into squares and lining with oil.
4. Sprinkle with seeds of your choice and an extra grating of parmesan/percorino cheese
5. Bake at 180 degrees for about 45 min - best served warm!
They are also freezable - so you can always have some on hand for lunch box emergencies – WIN!
Like this recipe? make sure you are subscribed to our emails for more! Like this tasty & easy
foccacia