KATE MORGAN, TOWRADGI, AUSTRALIA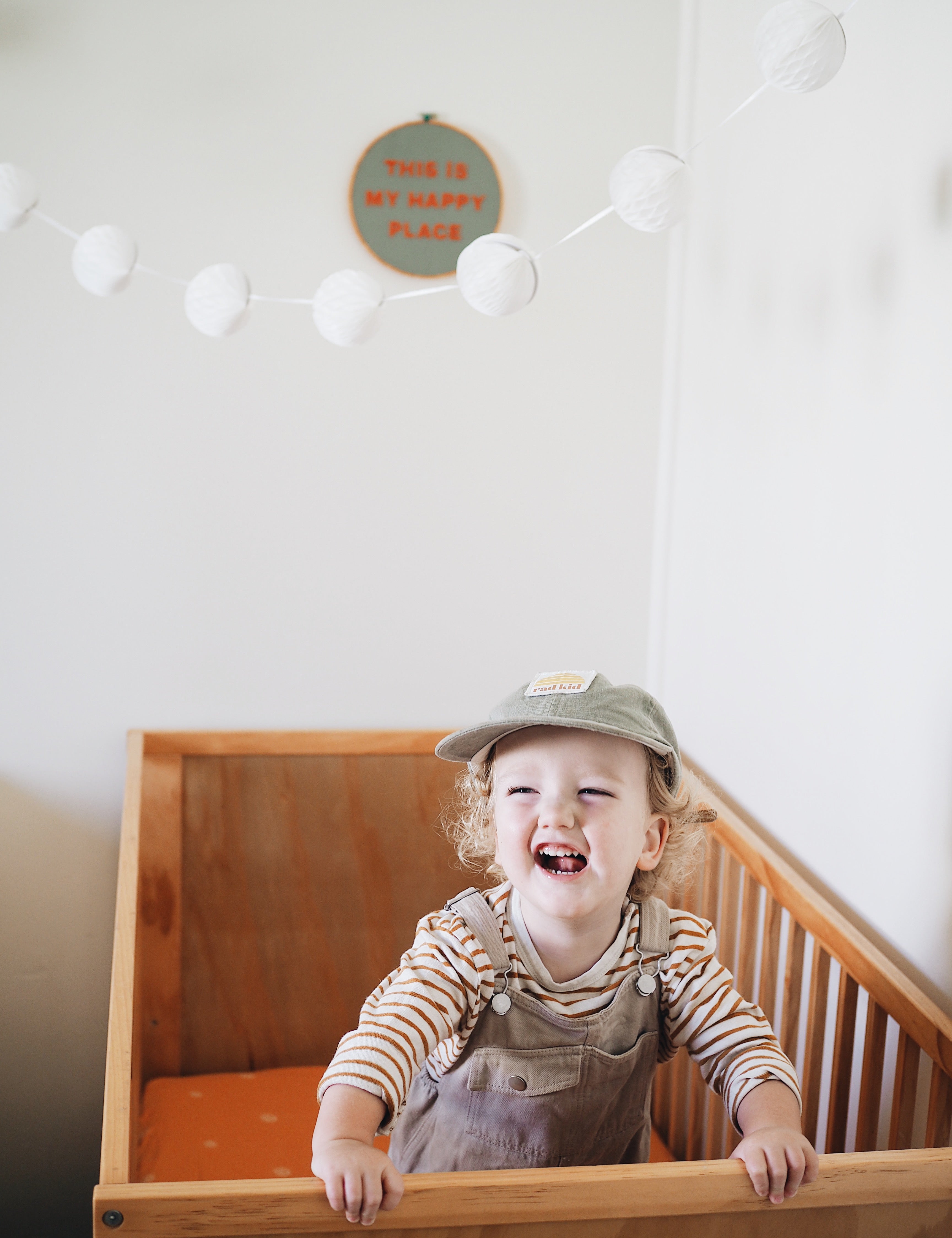 Meet Kate Morgan, graphic designer, wife and mama. 
Kate shows us through her nursery space and talks to us about embracing the slow life and motherhood during isolation.
What's the date today? 
19th April 2020 
Tell us a bit about yourself?  
I'm a graphic designer who loves spending time with my little family, going on coast trips (when we can manage it), afternoons by the sea, and basically anything crafty. Love a good G&T on a summers day and cooking meals to share with family and friends.
Where do you live? What do you love about it? Who is in your family?
We just recently moved to a little place called Towradgi. I love that it's coastal and quiet, yet really close to everything! 
Who is in your family?
I'm married to Kyle and we have a son, Zeke (2yrs), another little babe on the way, and two dogs, Zephyr and Kodak. 
What has been the most surprising part of motherhood for you?
How many emotions I am capable of feeling on any given day. I can feel in love, frustrated, happy, worried, cranky, energetic, tired, lonely, loved, and so much more. It's just an overall incredible journey and I think I've mainly found it surprising how much my little person thinks the entire world of me. It's pretty great really.
What was most important to you when you were setting up your nursery? Has the space evolved over time?  
Our space has definitely evolved over time. Before Z was born, his nursery was very 'beige'. Over time, it's become an explosion of colour and a direct reflection of his personality. That's what's most important to me. Allowing his room to be a place where he can feel most himself and most at ease. He loves playing in there. He is definitely not a 'beige' kinda kid.
Do you have any tips for setting up your nursery?
Make sure it's practical! In those early days, there's nothing worse than having a space that's beautiful, but not functional. You need somewhere to be able to change your baby, somewhere to feed them, and somewhere for them to sleep. Of course, the aesthetic of the space is important too, but just make sure it's function over form! 
Do you have any self care tips or rituals you like to do? This may have been a little disrupted by covid… so maybe a little insight into how you are dealing with the isolation and adopting new rituals?  
One thing I swear by is making sure when you put your baby to bed, you also put away all their things (toys, messes from the day etc). This means that when your babe is asleep, your space is transformed into a 'grown up' space again and you have a chance to breathe and feel a little bit like yourself again. As for isolation techniques.. I'm doing my best to really live in the moment and take each day as it comes. I'm finding a real joy in the forced slowing down of our everyday routine. We've planted a new veggie patch, we're doing craft most days, watching movies, building forts, riding bikes/scooters/skateboards, and just enjoying all the things we love to do, in isolation style. 
Do you have any reflections about isolation? 
I think my main reflection would be that it has really opened my eyes to the lack of effort I was putting in previously as a mum. I feel like I got a little lazy, and instead of trying to do things that I knew Z would enjoy, I was just dragging him along to whatever I enjoyed, whether he liked it or not. I really hope we, as a community, as a country, as a world full of people, take some of the things we learn in isolation, and bring them with us into our new way of life when this is all over. I for one, will definitely be making sure I put more effort into spending quality time with my kids and family. 
What would be your ultimate future day out of isolation?
I just want to invite all our friends over for a big celebration. Where we can all hug and high-five and stand closer than 1.5m from each other!
What are your best mama hacks?
Reset at the end of each day. Don't worry if you had a bad mum day! Tomorrow is a new day, and another chance to try again!