SHARNEE THORPE, HASTINGS POINT, AUSTRALIA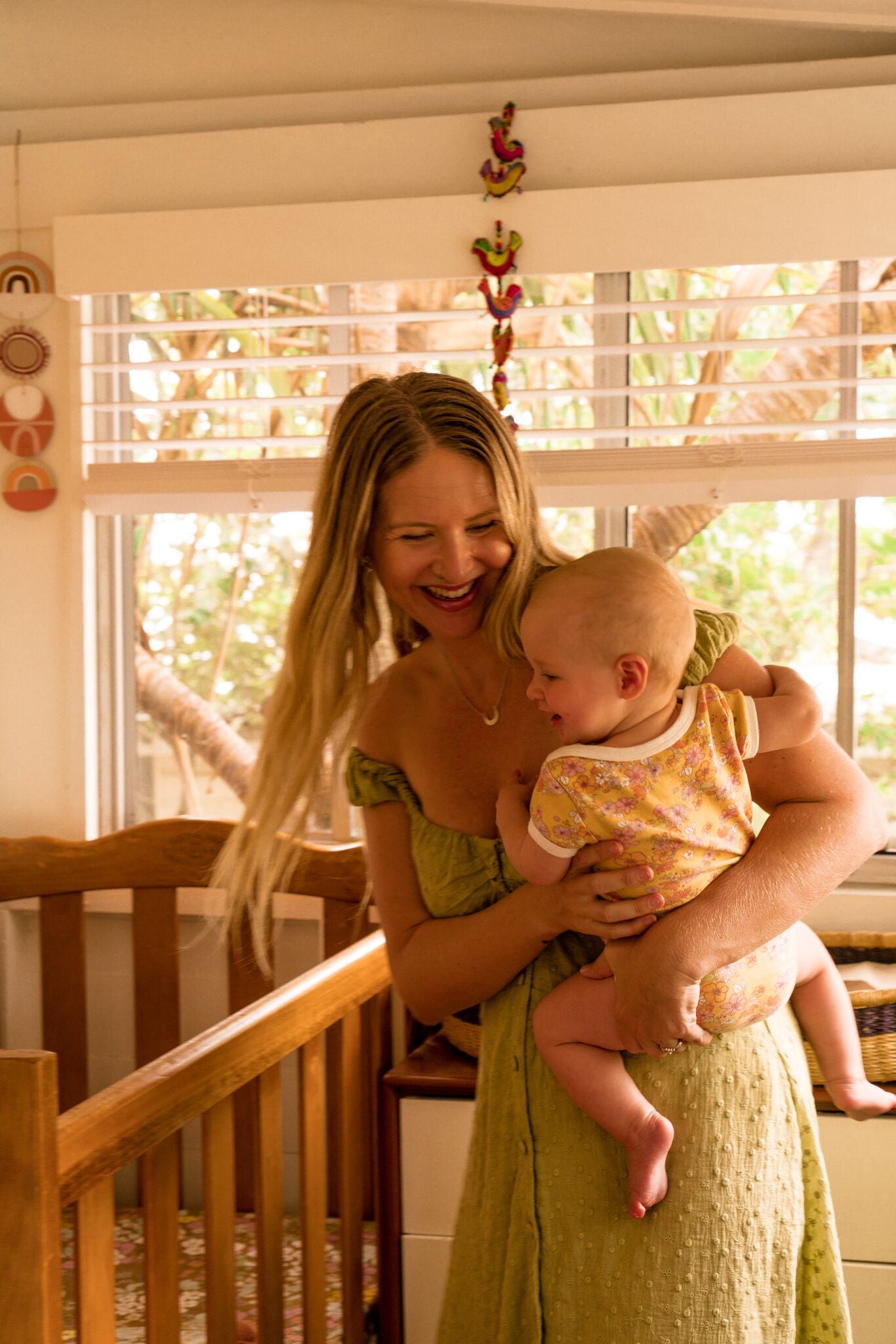 Meet Sharnee Thorpe, mama, wife, textile designer and owner of The Wandering Folk. We spoke to Sharnee about her life these days managing motherhood and business as a first time mama along with her mama hacks and how she set up her nursery.
What's the date today? 
 26th Of April 2020 
Tell us a bit about yourself?  
I'm Sharnee, I'm 33 years old, I'm addicted to hunting through op shops for vintage, painting flowers, yoga in our treehouse and camping in nature somewhere quiet. I studied Textile design over 8 years ago and worked in a leading print studio in Sydney for a few years before going out on my own as a freelancer. I started my own business Wandering Folk so I could have some creative freedom and now its almost 5 years old, I have 2 staff and a beautiful design studio, showroom & warehouse in Byron Bay, where I work 2 days a week.
Where do you live? What do you love about it? Who is in your family?
 Hastings Point in Northern NSW, I grew up here, Literally on the same property. Its across the road from the beach and back onto a creek that leads to the ocean, and our backyard is a tropical jungle. It's a pretty magical place. My husband and I renovated a little 100 year old beach cottage that is on the front of my parents property (they still live in the back house) its really amazing to be back here. Its such a beautiful sleepy little coastal town.
Who is in your family?
My husband, Arthur and my 9 month old Daughter Velvet Ray. 
What has been the most surprising part of motherhood for you?
 I think the adjustment from my busy life of achieving a thousand things a day and being quite an independent person which I loved, to now having this little being who is 100% dependant on me. Motherhood has been more challenging than I thought but when that little face looks up at me I just melt, a mothers love is the most extraordinary thing in the world, Velvet will never know how much I love her until she becomes a mother herself.
What was most important to you when you were setting up your nursery? Has the space evolved over time?  
My hand painted flower mural on the wall haha! I always wanted to paint a wall mural on my kids wall but didn't realised quite how time confusing it was. I started painting the flowers 2 weeks before my due date. I took this time off to relax and step away from the business before Velvet was born. Luckily she came 5 days late so I did actually have some relaxing days before she arrived. I love vintage furniture so I wanted to have all second hand furniture for her room, I was hunting on marketplace for ages until I found my set of drawers, they are pretty fun! I also had to be smart about the use of space as its such a tiny room, so every little bit of the room has been planned to maximise space, shelves on the walls for her toys & baskets to put nappies in and hooks for hanging
Do you have any tips for setting up your nursery?
At first I thought we didn't need a babies room, she would just have a bassinet and cot in our room, as our house is quite small and I didn't want to give up our sunroom that was my favourite room in the house for the baby haha. But now her room is my new favourite room in the house. My tips are you totally need a baby room! They have so much stuff! But you don't always need to buy new furniture or spend a lot of money setting up your nursery, think about the main things you need to make your life a bit easier when your new little bub arrives. Some drawers, a cot, some shelves and a chair. Its totally worth making sure its all finished before the bub arrives, as there is no time after, even though Velvet was sleeping in a bassinet in our bedroom until 6 months, her room was set up ready to use for changing & all ready when we moved her in there.
Do you have any self care tips or rituals you like to do? This may have been a little disrupted by covid… so maybe a little insight into how you are dealing with the isolation and adopting new rituals?  
 I had a pretty great routine going before covid, I was going to yoga class's 2 times a week, mum & bub Pilates and Fridays were spent at the beach with my amazing mama group that kept me sane, I miss these mum hangs the most with the isolation.
Do you have any reflections about isolation? 
 Hmmm my life has not changed very much, Velvet is only just 9 months and still has 3 naps a day, so I was home most of the time and would go for walks and swims across the road at the beach which luckily I'm still able to do as its very quiet here. I think it has made me really appreciate just how amazing normal life was before all of this happened and ill never take simple things like giving my beautiful friends a hug for granted ever again.
What would be your ultimate future day out of isolation?
A day at the beach with all my beautiful mama friends, op shopping for some fun vintage gems, followed by a wine when all the babies are asleep.
What are your best mama hacks?
An hour of power clean up after the baby is asleep so you can start the day with a clean house, I actually really enjoy hanging the washing out at night, I get to look up at the stars and just take a moment to be still. Always try to have your own time away from the baby so you can re set and miss them, it makes me a better mum.