Shop Talk #04 - Black Salt Co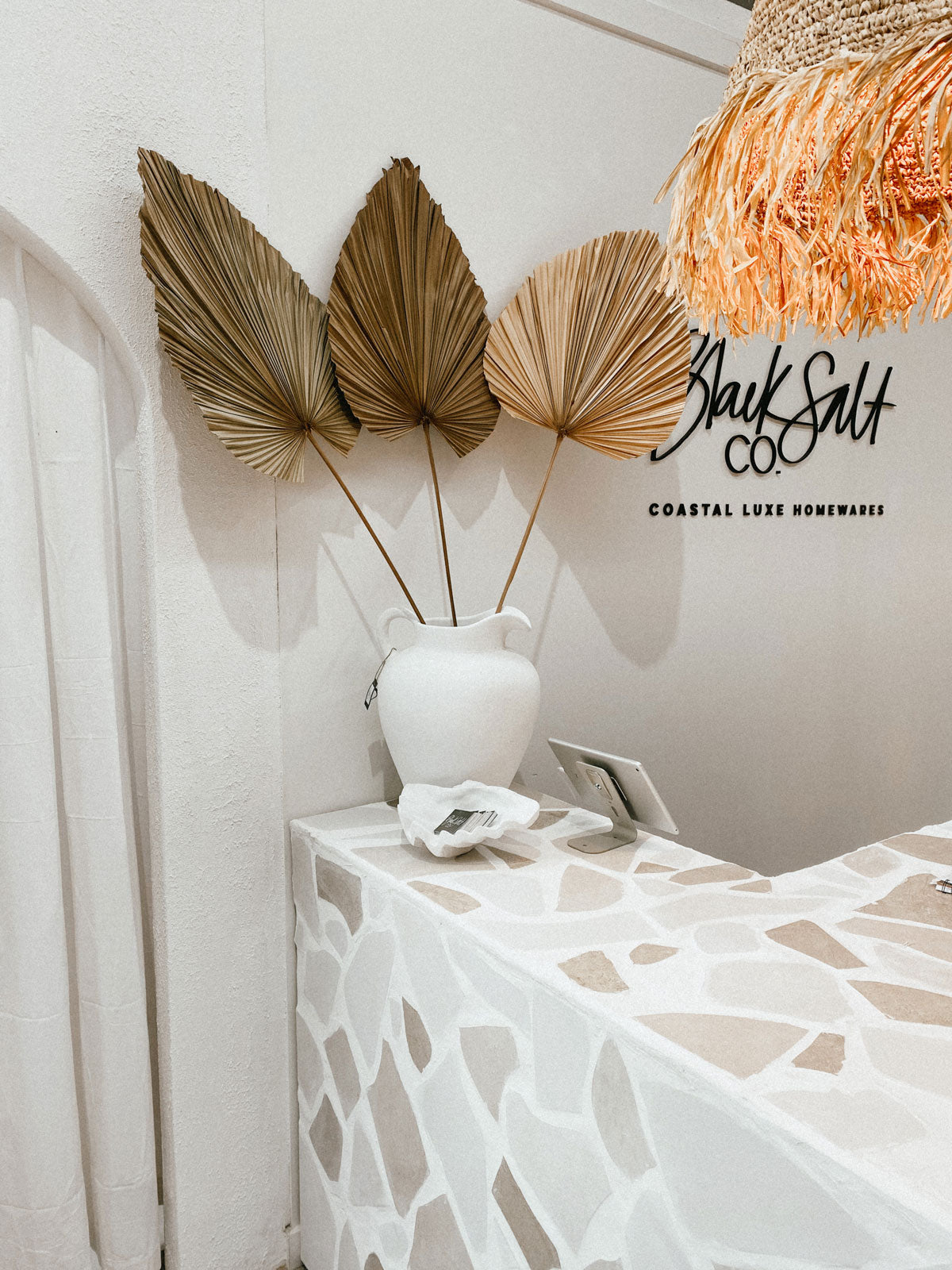 Welcome back to Shop Talk! For our latest edition we chat with the owners of Black Salt Co, whose shop features coastal luxe homewares, furniture and lifestyle brands.


 Black Salt Co have headquarters in Bali and Torquay, Victoria.
WELCOME TO SHOP TALK. 

COME INSIDE THESE BEAUTIFUL STORES WHERE WE MEET THE OWNERS, TALK ALL THINGS INTERIORS AND LIFESTYLE RELATED, AS WELL AS GET A GLIMPSE OF THEIR STUNNING PRODUCTS ON OFFER. 
____________
Tell us a bit about yourself and your family.
We are a family of six! Myself Amber, my husband Todd, our three kids - Arizona, Rocky and Ziggy, and my mum Gaga, all live and work together as part of Black Salt Co. We are based in Bali as our HQ is there, but our head office shop and showroom are located on the surf coast of Victoria in Torquay. 
The store is based in Torquay, Victoria. What's that like? Plenty of surfing?
Loads of surfing! Surfing capital! We are lucky enough to have lived here most of our lives, and anyone that has been to the surf coast will know there is something special about this area. It's a very magnetic and grounding place with a beautiful sense of being off the grid. When you're exploring spots like Bells Beach, Point Addis and Roadknight, you could walk or sit for hours, taking it all in. We love the rugged coastline, the beautiful cliff tops and of course, the surf! Our kids are lucky to have grown up in such a special part of the world.
Sun Kissed Ribbed Organic Cotton Long Sleeve Onesie
AUD $45.00
Rad Kid Classic Organic Cotton Onesie
AUD $45.00
Spearmint Ribbed Organic Cotton Short Sleeve Onesie
AUD $39.00
What inspired you to start Black Salt Co?
Black Salt Co began when I had just had my daughter, Arizona. My mum was living in Alice Springs, and we talked her into moving to Torquay to be close to us. It wasn't very hard, considering Arizona was the best bribe! We got chatting about business ideas and how we could combine travelling, homewares/design and family into something exciting and fulfilling. 
That is when Black Salt Co was born in 2016. Since then, we have expanded into our Torquay shop/showroom, warehouse and Bali HQ. Our incredible team in our Torquay shop run the world! Absolute girl power! In Bali, we run the production side of things and world-schooling our three 'rad kids' along the way. (Banabae's motto had to be included!)
Little Bro Organic Cotton Onesie
AUD $45.00
Honey Bunch Bamboo / Organic Cotton Swaddle
AUD $49.00
Big Sister Organic Cotton Ringer Tee
AUD $49.00
We love that your furniture is hand-crafted in Java, Bali and Morocco. Why is this so important for the brand?
As we love to travel and visit new and old, we love traditional craftsmanship, something that has a tale to tell and things that are unique and one-of-a-kind. We love when you go on a holiday, and you bring back that one special item, something that has such meaningful memories or a feeling. Our collections are exactly that. We want to bring those special moments and pieces to your home and space. Something that you can show off and display with a tale to tell. Create a space that is exactly you!
The Lover / The Dreamer Pillowcase SET - Buttercream
AUD $89.00
Love Child Short Linen Robe
AUD $159.00
Joni 100% Linen Robe
AUD $179.00
How do you source/find the products to stock in Black Salt Co?
Having our own in-house furniture and homewares brand, we really wanted brands that complemented our look. Our brands in store are like-minded businesses that share the same ethics, style and feel that love in spaces. We don't take homewares too seriously. We don't want to be a 'boring' shop, we want fun, brightness, colour, textures - something for all personalities no matter your style or budget. Whenever we style our Banabae goodies in the store, it instantly feels groovy!
Ripper Hemp Tee
AUD $59.00
Rad Dad Tee - Tan
AUD $55.00
Old Mate Cord Adult Cap - Moss
AUD $49.00
Rad Dad Organic Cotton Crew Sock Pack
AUD $45.00
Rad Dad Cord Spliced 5 Panel Cap - Espresso
AUD $49.00
Old Mate and Ripper Organic Cotton Crew Sock Adult Pack
AUD $45.00
Rattan is one of your main sourced materials. It's beautiful! Could you tell us more about this?
Rattan is one of our original and most used materials in our furniture and homewares collections. We love the look and lightness it brings to any room, and we mostly love the adaptability of styles, no matter your aesthetic, rattan will always pair back (in our opinion anyway!). Sustainability is an extremely important factor for us, and we love that rattan is the fastest natural wood, meaning that it helps to preserve forests and is 100% biodegradable that breaks down naturally. Most importantly, our products are made to last and to reuse and recycle. We want you to pass on to generations to come and be kind to Mother Earth.
Any exciting plans for Black Salt Co this year you can share with us?
We have a very exciting AW23 range coming this May to in-store and online called 'Postcards'. This collection is possibly one of my favourites. Postcards is inspired by tropical lands, people and oceans all over the world. It is an eccentric, relaxed capsule that will take you to an island paradise. We hope you love this new range as much as we do! Our summer collection is also very busy in the works. Think Amalfi coastlines, California dreaming and island shacks - aloha!
Follow us on Instagram to see all our news, updates and arrivals @blacksaltco

SHOP BANABAE PRODUCTS FOR THE WHOLE FAMILY:
Sunrise Sunset Tufted Throw Blanket
AUD $265.00
Rad Team Ladies Organic Cotton Jumper - Pink
 AUD $129.00
Sea Garden Splice Organic Rib Twinset
AUD $59.00
Heaps Good Hemp Tee - Adults
AUD $59.00
Honey Bunch Ringer Organic Cotton Onsie
AUD $45.00
Rad Mama Cord Cap - Espresso
AUD $49.00