TAHNEE CARROL, CRONULLA, NSW AUSTRALIA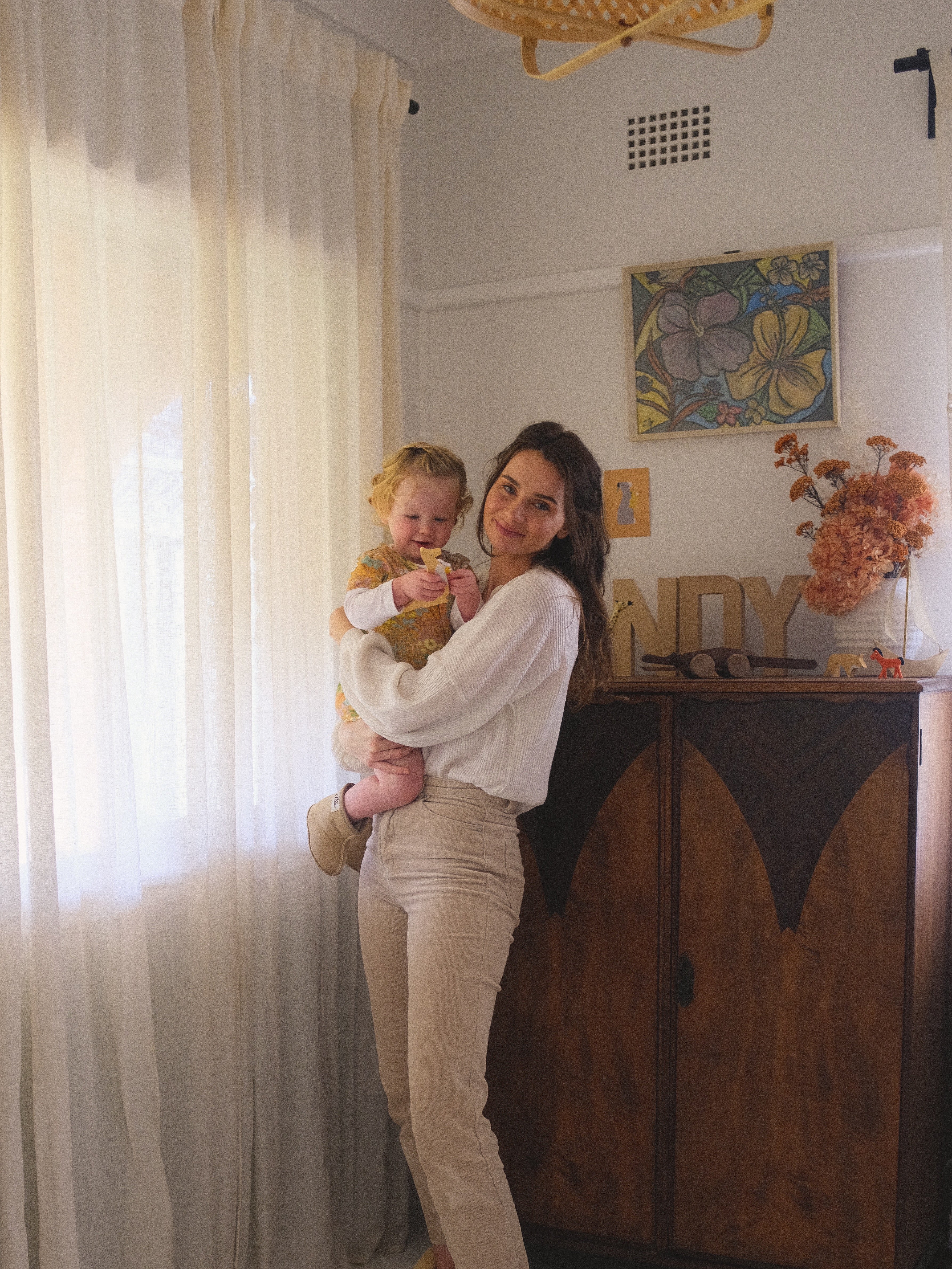 Meet Tahnee Carrol.
Mum, Interior Stylist and part owner of photographic agency Citizens of Style. 
What's the date today? 
12th June, 2020 
Tell us a bit about yourself?  
My name is Tahnee, I'm 31 and Mum to a curly-haired little girl. I'm an Interior Stylist and have had my work featured in leading Australian and International publications and am one half of photographic agency Citizens of Style. I'm what some would call a plant enthusiast and also a little obsessed with ceramics.
Where do you live? What do you love about it? 
We live in Cronulla, in the home I grew up in. It was an old run-down home that we've been fixing up over the last year or so. I love that we can see the bay from our house and how close we are to the national park. It's important for us to be able to immerse ourselves in nature so we can reset when life seems a struggle, so where we are is the perfect place.
Who is in your family?
My fiancé, Wade, our 1.5year old daughter Andy, my 12 year old brother Charlie and our boisterous pup Rue. My mum passed away 2.5years ago and since then Wade and I have been raising Charlie, with help from my brother Tyrone as well.
What has been the most surprising part of motherhood for you?
I just cant believe how clever they are, some of the stuff Andy does and she cant even speak full sentences yet, it just blows my mind.
What was most important to you when you were setting up your nursery? Has the space evolved over time?  
I really just wanted to create a warm and comforting space, I started with an earthy palette as my base then we decided we wanted to give it a little more something, something and painted the lower third of the walls in an olive green limewash paint, which totally made the room.
Do you have any tips for setting up your nursery?
I found that we really didn't need much in the beginning, storage is key though, and when they get to the curious toddler age you really need to be able to hide things away or you'll end up with baby powder scattered all over the house! Another good tip is to pick a colour palette and roll with that, I love using natural timbers and neutral colours as a base and bringing colour in with textiles and artwork.
Do you have any self care tips or rituals you like to do? This may have been a little disrupted by covid… so maybe a little insight into how you are dealing with the isolation and adopting new rituals?  
I mean I use to do so much! Yoga, the gym, swimming, art classes, then I had a baby haha so now I mainly just spend time in the veggie garden and we're slowly starting to be able to hang with friends and have play dates again, I feel like just being around my friends is so good for my health.
Do you have any reflections about isolation? 
Being at home didn't really bother us so much, we'd spent so long renovating that it was nice to have the time to complete the small jobs that kept getting put off and really get the garden going. Home schooling my brother was torture with a toddler, but I'm just going to push that memory all the way to the depths of my brain and never think about it again!
What are your best mama hacks?
For any first time Mum mastering the art of breastfeeding, you need to get your hands on a Mumasil Milk saver, it changed my life and I ended up getting one for all of my pregnant friends, every one of them praised it! Look it up!