The Brightside: Easter Breakfast - Banana Ricotta Pancakes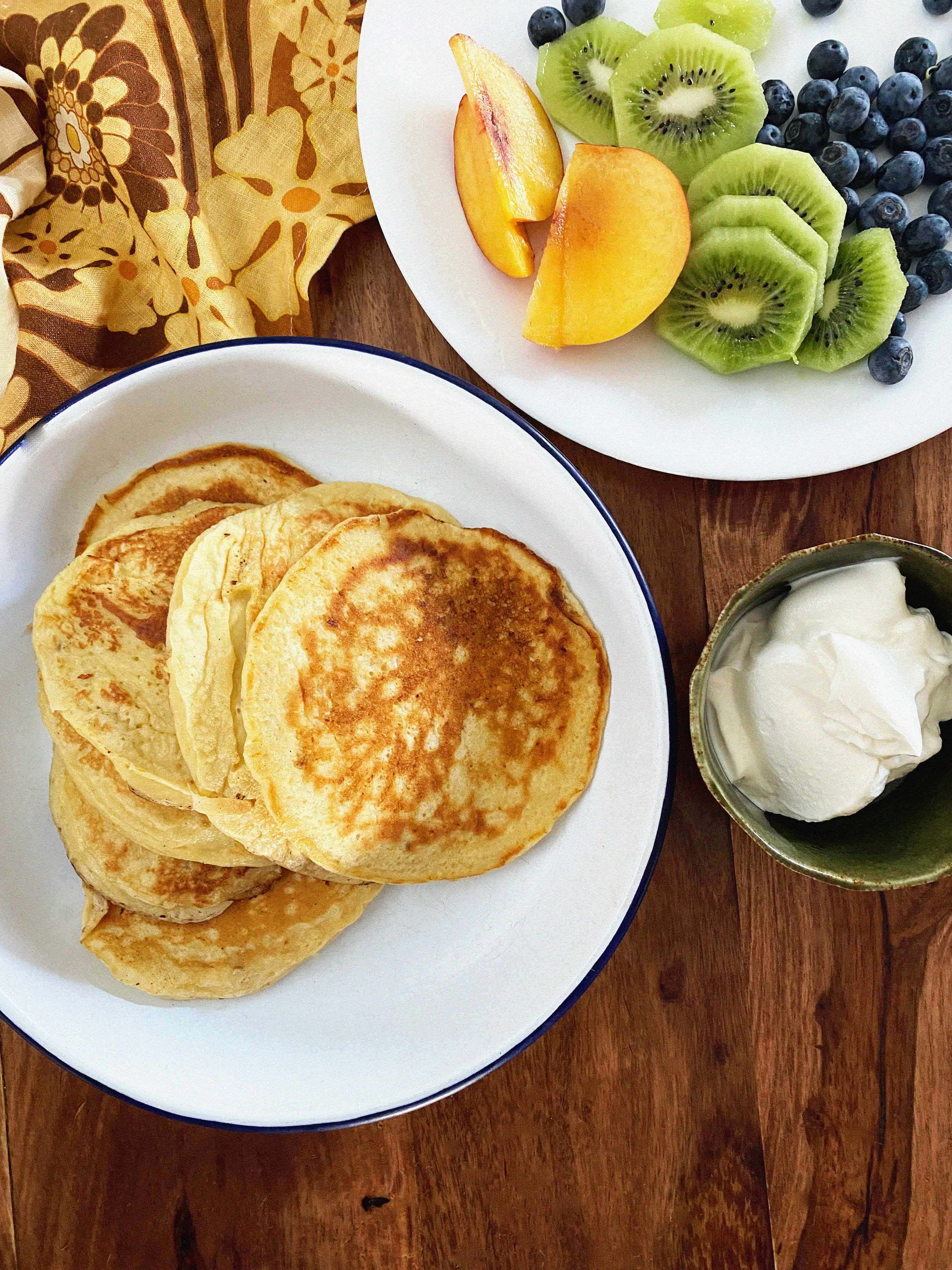 THE BRIGHTSIDE: EASTER BREAKFAST WITH BANANA RICOTTA PANCAKES 
Co-author of Nurture The Seed, Renee Jennings shares with us her favourite pancake recipe for Easter. These pancakes are light and fluffy yet also high in protein and many other nutrients. They are naturally sweet and will keep you and your little ones feeling full and satisfied. A great way to start your day.
- 250g fresh ricotta 
- 3 eggs, whisked 
- 1/3 cup of milk of your choice 
- 1 large ripe banana, mashed 
- 1 tsp vanilla essence 
- 1/2 cup spelt flour (regular flour or buckwheat flour work too) 
- 1 tsp baking powder 
- 1-2 tablespoons olive oil or butter for cooking
1. Whisk ricotta, eggs, milk, banana and vanilla together in a bowl. 
2. Add flour and baking powder and mix through until a smooth batter is formed. 
3. Heat a large fry pan with a teaspoon of the olive oil/butter over a low-medium heat (if you cook them at a hot temperature, the outside will cook, but the middle will be wet and undercooked).  
4. Pour batter into the pan to your desired size (I like to make three small pancakes in the pan at a time).  
5. Fry pancake until golden (approximately 2-3 minutes on each side). 
6. Serve hot with Greek yoghurt and fresh fruit.
Nurture The Seed

By Renee Jennings and Georgia Gregory. Your evidence-based guide to prenatal nutrition.

Available at our new store in Thirroul!
Shop 1, 282 - 298 Lawrence Hargrave Drive, Thirroul NSW.

Or purchase your copy of the book via our website:


EXPLORE OUR RANGE OF HOMEWARES NAPERY:
Kiss The Cook 100% Linen Tea Towel


AUD $35.00
Joni Rad Cook 100% Linen Apron


AUD $89.00
Rad Cook 100% Linen Tea Towel


AUD $35.00
Arabella Linen Table Cloth


AUD $149.00