The Montessori Guide to Setting Up a Nursery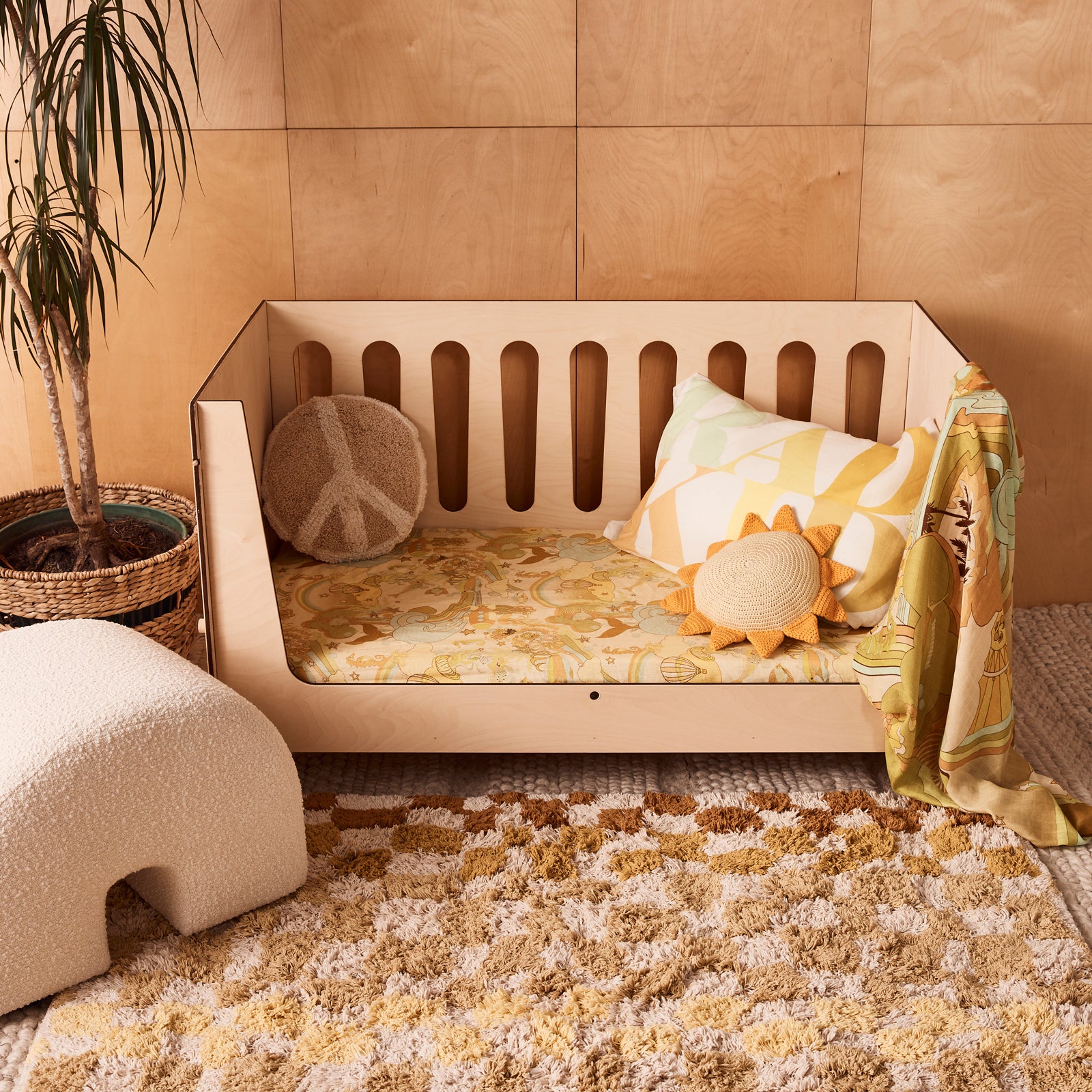 THE MONTESSORI GUIDE TO SETTING UP A NURSERY
You'd be forgiven for feeling mildly overwhelmed when it comes to preparing a space for a new baby. As Ariel once put it, "I've got gadgets and gizmos aplenty!" 
 Babies don't need that much, is the overarching message when it comes to setting up a nursery space Montessori style. 
The Montessori approach aligns with the idea that less is more. Buy only what we need, and keep things simple and beautiful. 
 I love the old saying, "buy once, buy well". When you invest in higher-quality products, these special items are designed to go the distance and can be passed down to other family members after your baby has grown up. 
 This nursery guide is all about creating a fuss-free, safe, loving and positive space for your baby to grow, learn and play. To help you along this journey, we have narrowed it down to the essentials items needed for a warm and inviting nursery space.
We also share with you our quality nursery products, made from sustainable natural fibres, that are designed to last.
1. A thin bassinet mattress or Moses basket: 

For newborns - 0-3 months.
Invest in good quality fabrics that are plant-derived rather than synthetic fabrics. Synthetics include polyester, acrylic and nylon, and it's these fibres that shed tiny bits of plastics when washed, called microfibres, that end up in our oceans. 
For this reason, Banabae chooses to use natural fabrics in our products. Our range of bassinet sheet / changing pad covers is made from high-quality French Flax Linen. 
Our swaddles are made from a beautiful blend of 70% Bamboo and 30% Organic Cotton. 
Summer Bloom Bamboo / Organic Cotton Swaddle
AUD $49.00

Sundaze Floral Bassinet Sheet / Changing Pad Cover
AUD $69.00
2. Cot or floor mattress:

For sleeping after three months.
Your baby's wriggling and breathing may be keeping you awake at night, and it might be the time to make the big switch from a bassinet to a cot. This transition may take anywhere from a few days to several months, but try your best to stick to a consistent routine, to help reassure your baby through this period of change. 
 Our Honey Bunch Bassinet Sheet / Changing Pad Cover embraces the natural properties of hemp. It is hypoallergenic and has thermoregulating properties ensuring maximum comfort for bub. Hemp is also highly durable, so it can be rolled around on and washed for years to come.
Our Sunny Daze Floral Organic Cotton Blankie is made from 100% GOTs certified organic cotton, and is a handy item to have in the nursery to keep bub warm on a cool night. 
Sunny Daze Floral Organic Cotton Blankie
AUD $129.00
Honey Bunch Hemp/Organic Cotton Bassinet Sheet/Changing Pad Cover
AUD $51.75
3. A floor mat or rug: 

For movement and tummy time.
It's important for infants to have daily tummy time as part of their development. It helps to strengthen their head, neck, arms, and shoulders. As they grow into toddlers, time on the floor will be spent playing with them and having plenty of fun! 
Make the floor a comfortable place to be with our range of lush shaggy tufted rugs.  Our rugs use 100% cotton and natural dyes and are designed to brighten up and bring joy to any space for years to come.
Flower Power Tufted Rug
AUD $299.25
Retrograde Cotton Tufted Floor Rug
AUD $321.75
Checkers Cotton Tufted Floor Rug
AUD $225.00
4. A mobile

Black and white or high-contrast mobiles are best for newborns. They also provide visual stimulation for the baby as they start to process the world around them. A mobile also starts to become a familiar sight that provides a source of comfort.
5. Low shelving to display activities

Make sure age-appropriate activities and books are accessible to the baby/toddler by storing them on low and open shelving and rotating items regularly to spark their interest. Having these activities accessible will encourage play and independence as the baby grows curious and gets on the move. 
Bees Are Our Friends
AUD $19.99
Australia Map Puzzle
AUD $24.95
Scientists Are Saving The World
AUD $29.99
6. A changing pad mattress

This does not need to be a station if space is an issue. A simple changing pad mattress can be moved anywhere needed around the home, with changing essentials stored in a basket nearby. 
 Our new range of bassinet sheets / changing pad covers are as cute as a button. They feature fun prints like our Beneath The Waves, which is digitally printer on French Flax Linen and is Oeko Tex certified. 
 Or take a trip to the Aussie bush with our Australiana-inspired Banksia Bloom print. Bursting with banksias, tea trees and flannel flowers on a mustard gold ground. Made from soft and durable hemp/organic cotton, this is one versatile fitted sheet.
Beneath The Waves Linen Fitted Bassinet Sheet / Changing Pad Cover
AUD $69.00
Banksia Bloom Fitted Bassinet Sheet / Changing Pad Cover
AUD $34.50
7. Storage 

Showing your little one that there is a place for everything (and everything in its place) teaches them where everything belongs and hopefully by the time they become toddlers – an understanding of how to put things away. Storage can also be used to put toys and activities out of sight/ reach that can later be rotated when the baby is looking for a new challenge.
8. Beauty in the space

Instead of having blank white walls, add interest and warmth to the nursery space by displaying art, photos of the family and plants at a low height for the baby to explore as they grow more curious about the world around them.

Our range or wall hangings are all about fun and good vibes, as they feature retro print, tufted cotton, embroidery and tassels. Who doesn't love tassels!
ABC Harvest Canvas Wall Hanging
AUD $149.00
Rad Kid Tufted Wall Hanging
AUD $149.00
Peace Balance and Positivity Tufted Wall Hanging
AUD $159.00
Lastly – it is important to provide a safe space for your baby. Perform a safety check by getting down on the floor and viewing what the baby can see and reach. Remove anything we don't want the baby to touch or things that obscure their vision or safe movement around the space.
The Montessori Baby

A parent's guide to nurturing your baby with love, respect and understanding.

Cowritten by Montessori Toddler author Simone Davies and fellow Montessori educator Junnifa Uzodike.

Shop Now


EXPLORE OUR RANGE OF NURSERY WARES:
Playmat / Cot Quilt: Checkers & Beneath The Waves
AUD $165.00
Beneath The Waves Organic Cotton Onesie
AUD $45.00
Checkers Linen Fitted Cot Sheet - Beige
AUD $89.00
Little Sis Organic Cotton Onesie
AUD $45.00