The Brightside: Healthy Nut Free Muesli Bars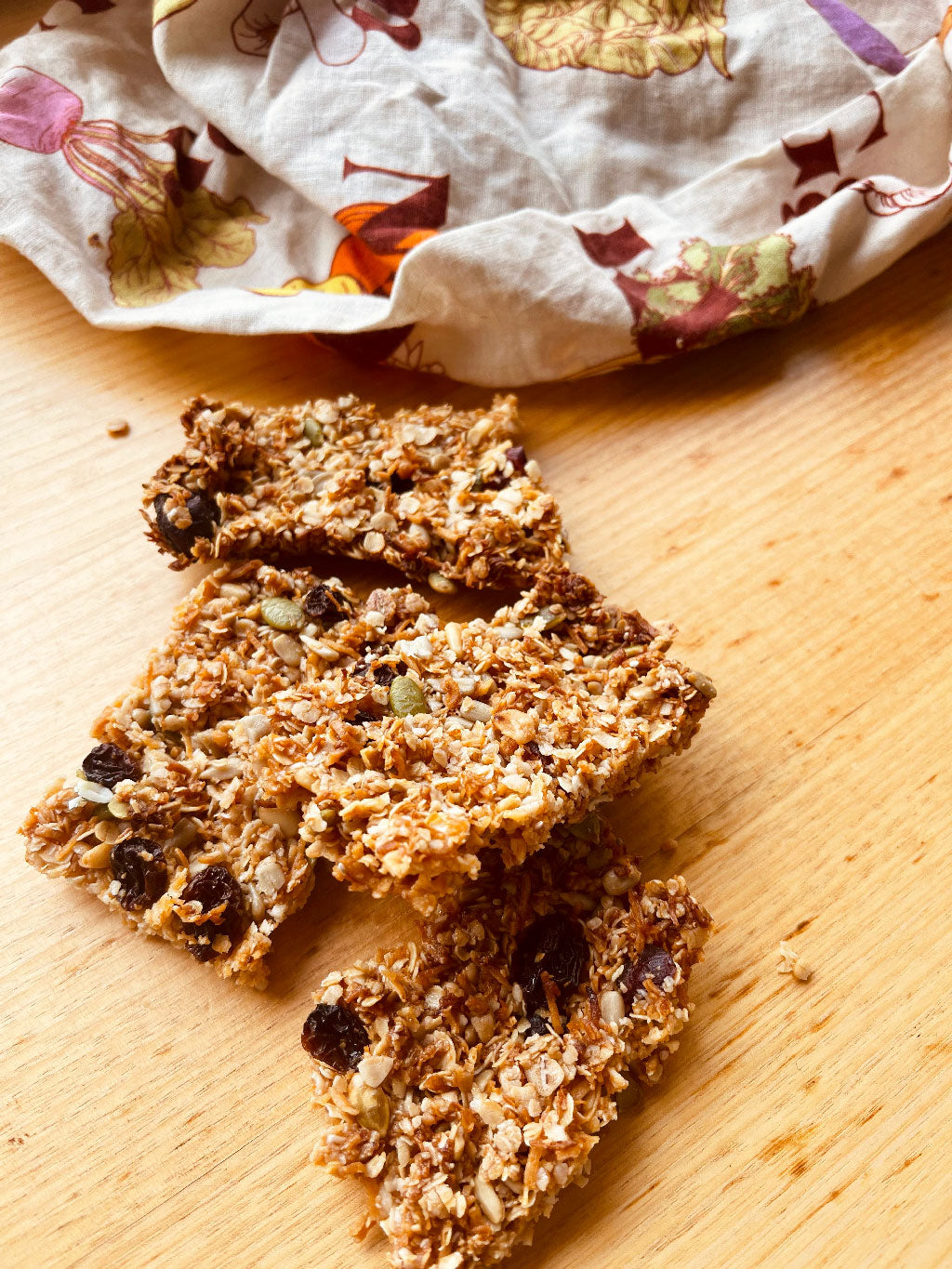 HEALTHY NUT-FREE MUESLI BARS
These healthy and yummy muesli bars tick all of the boxes as a super quick and easy treat for the whole family. Best of all, they can be easily made from your pantry staples. Feel free to mix and sub the dry ingredients to what is available and what your child likes to snack on! 

Healthy Nut-Free Muesli Bars

Note: Keep it nut free if they are for school lunchboxes.

Ingredients:
- 1 cup rolled oats 
- 1/3 cup of seeds (I used sunflower and pepita)
- 2 tablespoons chia seeds
- 1/2 cup shredded coconut
- 1/3 cup of dried fruits like cranberries, chopped apricots or raisins
- 4 tablespoons of coconut oil
- 1/3 cup honey or rice malt syrup
- 1 tsp vanilla extract
Method:
1. Preheat the oven to 160 degrees. 
2. Mix the dry ingredients together in a bowl. 

3. Place the coconut oil, honey and vanilla extract into a saucepan and melt together on the stovetop or a bowl in the microwave. 

4. Pour the liquid mixture into the dry ingredients bowl and stir. 

5. Place the ingredients into a lined baking tray (20cm x 20cm or similar so that it is almost 1cm thick). Pat down the mixture. 

6. Place in the oven for 15-20 minutes or until golden on top. 

7. Allow to cool completely before removing from the baking tray and cutting into snack size pieces.

Hot Tip!

You can also crunch this mixture up to use as a granola / topper for breaky.
Rad Cook 100% Linen Tea Towel


AUD $35.00
Joni Rad Cook 100% Linen Apron


AUD $89.00
Kiss The Cook 100% Linen Tea Towel


AUD $35.00
Joni Rad Cook 100% Linen Tea Towel


AUD $35.00