The Brightside: Know your Fibres and Shop Sustainably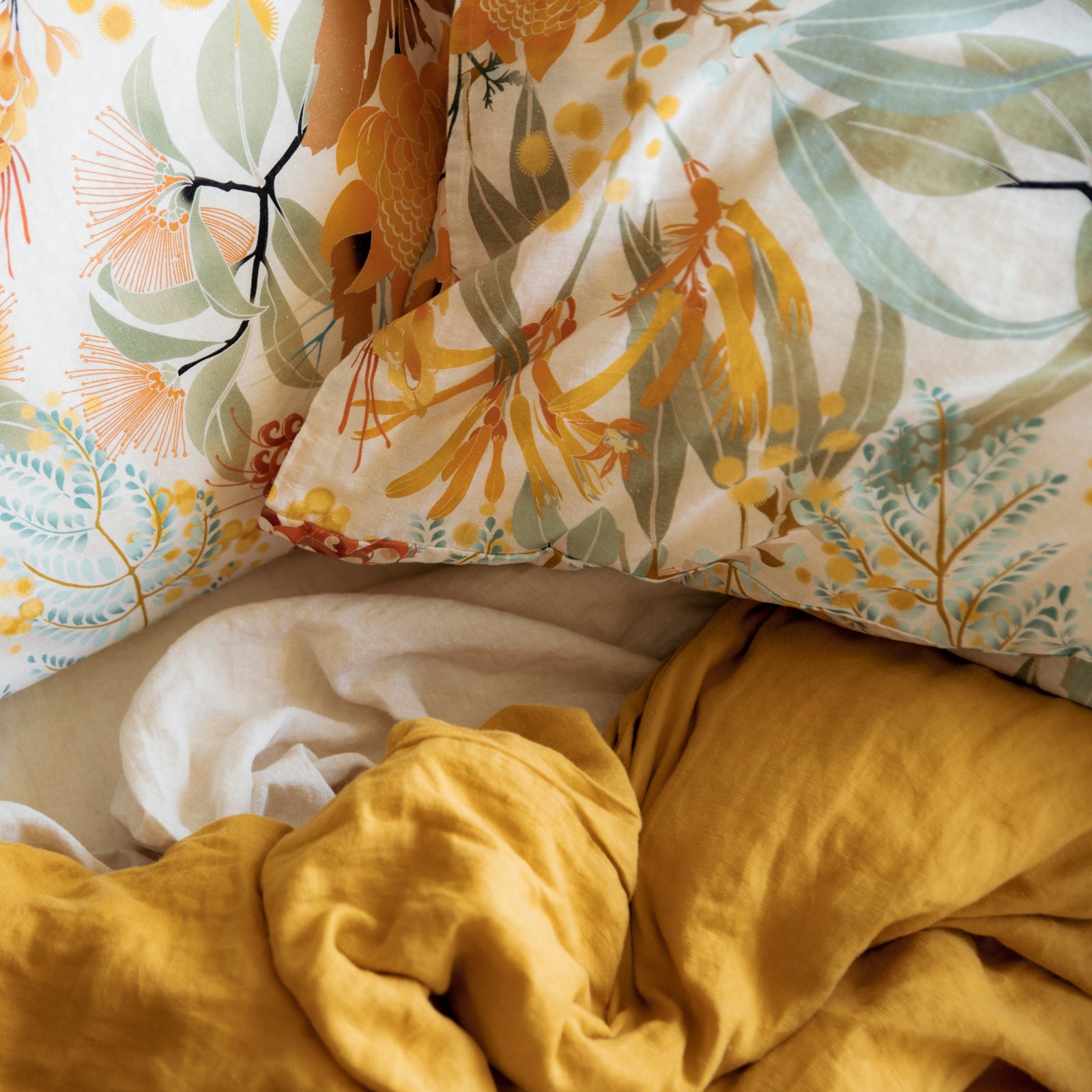 So what are our chosen fabrics for optimal sustainability?

When it comes to working with natural fibres - hemp and linen are our fibres of choice for bedding and apparel. They both rank highly when it comes to sustainability, and they have some other important characteristics that score them top marks. 
Linen and hemp are tough and hardworking fabrics that are extremely strong and durable. They also soften with repeated use and washing, making them luscious against your skin!

Digitally printed on our premium hemp/cotton blend.
Environmental credentials

Environmentally, hemp is a particularly good option compared to cotton. It is a high-yielding crop that can produce more on less land and requires less water which is our most precious resource.  Hemp and linen fibres are grown without chemicals, and they are even kind to the soil in which they grow, promoting biodiversity and soil regeneration.
This stripe slub tee is made from premium hemp and organic cotton.

Natural insulators

The hollow fibres of hemp and linen are natural insulators, which means they are cool in summer and warm in winter. This makes them comfortable to wear and sleep in all year round.  
Long lasting

 Linen is one of the world's oldest fabrics and has been around for thousands of years. It is temperature regulating and therefore versatile across the seasons. It dries well, and is resistant to sunlight, so it won't break down after long-term exposure to the sun.

This roomy trapeze style dress in a light weight French linen is perfect for summer.

Antibacterial properties

Hemp and linen have antibacterial properties. Hemp for example, is highly resistant to rot, mould and salt water. Both fabrics are biodegradable, and highly absorbent, which is a positive property in the production stages as it means they easily absorb dye. 
This premium fitted cot sheet is made from French Flax Linen. 

 All in all, these two natural fibres are a winning combo for Banabae!



EXPLORE OUR HEMP PRODUCTS:
Ripper Hemp Tee
 AUD $59.00

Marsupial Fitted Bassinet Sheet / Changing Pad Cover
AUD $51.75
Flow State Hemp/Organic Cotton Fitted Cot Sheet
AUD $49.00


EXPLORE OUR LINEN PRODUCTS:
Stencil Flora Flax Linen Fitted Sheet
 AUD $99.00

Limoncello Floral Twin Set BUNDLE: Linen Resort Shirt and Shorts
AUD $109.00
Coverlet : Upsy Daisy Butter & Leaf Green
AUD $389.00