The Dreamers #45 - With Paul West From Grow It Local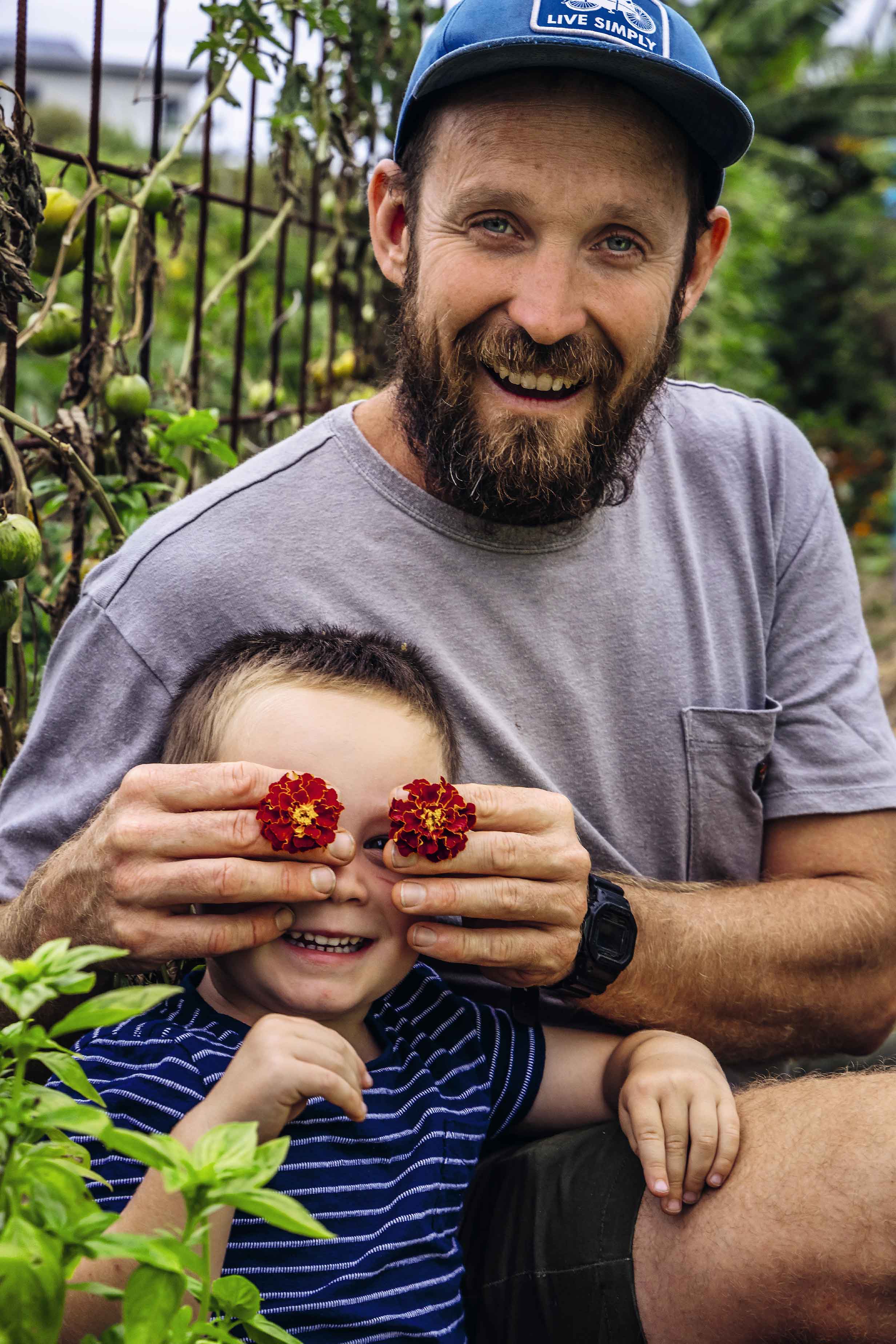 Meet our latest dreamer Paul West. An author, broadcaster(you may recognise him from the popular ABC series River Cottage Australia), chef, surfer and master grower and co-founder at Grow It Local - a community of growers celebrating and supporting all types of gardens across the country. Let's dig in and find out more about this rad dad!
WELCOME TO THE DREAMERS. 

COME INSIDE THE HOMES OF EVERYDAY FAMILIES AND BUSINESS OWNERS  DOING LIFE THEIR WAY. 
____________
Tell us a bit about yourself and your family.
My name is Paul West, I'm 38, and I'm living the dream with my wife Alicia, and two sons, Otto (7) and Bowie (5). Plus the dog, the cat and a few chooks. I'm an author, broadcaster, frother, gardener, grappling coach and cofounder of Grow it Local. 
I love writing flattering descriptions about myself, my family (dog, chooks and cat included), wild weather, black coffee, rich soil, clean right-handers, and good literature. Oh, and I also love a chat … did I mention that I love writing flattering descriptions about myself.
Where do you live? What draws you to this spot?
I live in sunny Bermagui on Djiringanj/Yuin country on the NSW far south coast. Everything about this place draws and keeps me here. There is an incredibly vibrant and inclusive community, made up of a healthy mixture of people that are born and bred here, as well as those, like me, that have found themselves drawn to this place. 
The town is small and hemmed in by forest to the west and ocean to the east, with countless nooks and crannies to explore and enjoy. I can see the ocean and Gulaga National Park from my veggie patch and enjoy the rare luxury of being able to walk a minute to the beach to refresh after a big day in the veggie patch.
Despite its size, Bermi punches way above its weight with food and culture and 99% of the time, there is absolutely no need to leave. We live smack bang in the middle of town and can walk anywhere we need to, so other than when I have to leave for work, or we're off on a trip, our trusty 2009 Subaru Forester sits on the driveway slowly rusting.
I also grew up in a small country town (900 people) in inland NSW, and Bermi still has the qualities of a country town. People are no fuss, no bullshit and are always ready to have a yarn. It suits me to a tee, I've never lived anywhere for more than 18 months since leaving home and now, I've got no plans on moving ever again.
You're on holiday while writing this feature! Where are you? What's the plan?
I'm on the west coast of Tasmania, in a place called Arthur River. To the east is the Tarkine rainforest and to the west is the Southern Ocean. The next landfall is Patagonia some 18,000km away. I was down here earlier in the year for work and fell in love with the place, so committed to bringing the family back in the heart of winter. We're caretaking the Arthur River Cabin park, and our days are filled with adventures in the rainforest, the rugged coastline and the ocean. It's pretty much my favourite place on earth other than home.
Tell us about 'Homegrown', your beautiful growing guide for cultivating homemade ingredients for every season. What inspired you to write this book?
I try to honour a few central pillars in my life, community, health and country and growing a bit of your own food and then cooking it for the people that you love is the easiest way to nourish all three. 
There's a bit of a gap in our food and gardening culture at the moment, we're some of the first generations that haven't had to grow our own food, and as a society, we've leaned heavily into the convenience of the supermarket. You can't take out a central core of human culture that has been with us since the dawn of our species and not expect to pay some sort of price. The explosion of preventable illness, loneliness and the fragmentation of our families and communities can all be traced in some way to the industrialisation and outsourcing of our food production.
I wanted to write a book that helped people start to create their own individual, family and community culture that has growing, cooking and sharing food at its heart. In my mind, it's like a silver bullet to address so many of life's woes, and I wholeheartedly believe that if everyone grew at least some of their own food, then life would be happier, healthier and more delicious. 
How has being an author changed your life?
I don't know if it really has. I do like the novelty of popping into a random book shop and seeing my beaming mug on the shelf looking back at me, and I do get invited to high cultural events like writers festivals every now and then and am always, hands down, the biggest bogan in the green room. I guess the biggest change is the feedback that people give you, the stories that they tell you about how the words that you've written have found a place in their hearts and lives. It really humbles me and keeps the fire burning to continue sharing the gardening good vibes.
Do your kiddos and wife enjoy gardening and growing as much as you do?
I'm definitely the chief gardener at home. Alicia and the boys are more than happy to jump in and lend a hand here and there, but they prefer the spoils over the toils. I'm totally fine with that, my mum was (and still is) a major boss in the garden and I hated helping her, but look at me now, I'm a flipping gardening writer!!
…and finally, if you had one piece of advice for new dads out there, what would it be? 
Nourish the mother of your children, fellas. If you think your life has been changed with the birth of your little legend, spare a thought for her, she's going through a physical, emotional and spiritual shift that we will never understand. Yeah, you'll be getting fewer waves and less time with your crew, but the early years of your children's life are but a small beautiful season. Embrace it wholeheartedly because it will be gone forever before you know it.  
Photo Credit: Chris Middleton and Paul Roger.
Homegrown - A year of growing, cooking and eating. By Paul West. 
Old Mate Cord Adult Cap - Moss
AUD $49.00
Rad Kid Spliced Cord 5 Panel Cap - Brights
AUD $39.00
Rad Kid Spliced Cord 5 Panel Cap - Espresso
AUD $39.00
Rad Dad Coco Stripe Hemp Tee
AUD $59.00