The Brightside: Laksmi Wilson. Creator And Host Of Womb Room Podcast.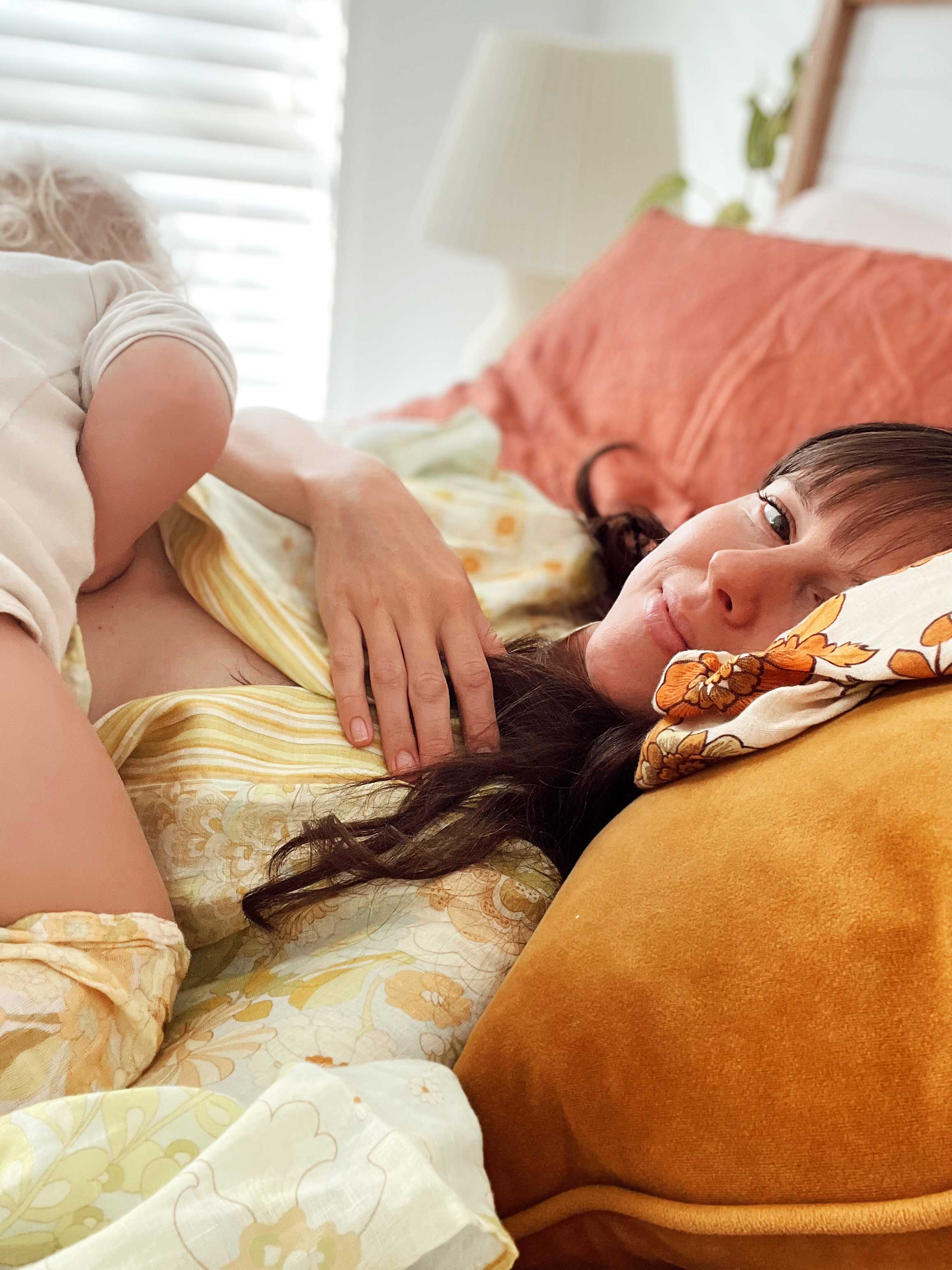 MEET LAKSMI WILSON,
FROM WOMB ROOM PODCAST.
For our latest instalment of The Brightside, we chat with Laksmi Wilson, host and creator of Womb Room podcast covering all things motherhood and infertility issues.
Tell us a little about yourself and who is a part of your beautiful family?

My name is Laksmi. I live In Lennox Head with my partner Jackson and two boys, Illy and Harvey. We are expecting another boy in early November. And then I'm done. If for no other reason, I simply couldn't name a fourth boy. (Please send me your boy name lists. We are struggling!)
Where do you live? What is your lifestyle like in the day to day?

Jackson and I both grew up in Byron Bay but have moved now to Lennox Head,  another beach town about 20 minutes away. I went to say, "my days are pretty busy", but then I remembered I'm about to have a third boy and caught myself! 
 My nine year old is at school during the week, so there are lots of pick ups and drop offs, getting balls thrown around the car, singing songs and answering a billion questions. I usually stay out with Harvey (20 months) in the mornings - beach, park, Bunnings etc. You know the drill ... and then home for nap time. 
 As a peak homebody, I'm usually exhausted by that time and sink gratefully inside my four walls. Whatever snippets I get child-free in the day (nap or bedtime), I spend on creative projects. This ranges from the podcast I host to social media management for brands and content creation. So fun!
Tell us about your podcast Womb Room. We love listening! What drew you to starting it?

There are a lot of us struggling at the sight of another rounding belly, handbags full of pregnancy tests comparing these days to the last, temperature data logs by the bed, calendars full of fertility appointments, and hearts heavy with grief. Bodies with scars, bodies that have been pregnant for six months, 12 months, 18 months but no baby in arms to show it. There are not many places we openly talk about it. Womb Room is a place for women to share their stories of recurrent miscarriages and other infertility struggles. 
 Having had five miscarriages myself, I felt so consumed by that place of pain and being unsure, that hearing how other women had been through it, what they did, how they coped, what treatments they sought out, was something I really craved and couldn't easily find. After the birth of my second son, Harvey, following multiple miscarriages, I decided to start a podcast sharing all the women's stories I could interview! 
Stories of absolute anguish and horror but also stories where women found a way through. This has resonated with so many women, who have often struggled in the shadows or not found any resources that discussed recurrent loss. I really don't tiptoe around the subject. We swear, cry, laugh. Whatever needs to come out. I strongly believe that rigorous honesty is undervalued in our society and that when we really share our human experiences, we feel less anxiety and more connection.
What are some of your favourite parts about being a mum? 

Oh gosh! Where do I start? This question is in danger of making me wax lyrical about motherhood like it's not also hard as hell, BUT I absolutely do love it. I became a mother almost ten years ago, and it's been a distinct "before" and "after" in my life.
On a personal level, wow, it's healthy to have someone else to obsess about! I feel much more mentally well, having a definite purpose and sense of constant productivity which isn't tied to trying to figure out "who am I" all the time. Motherhood is so much more doing, so much less thinking, and I think as humans, we benefit from that. Obviously there needs to be balance though.
My favourite parts? The smell of their breaths (even the smell of their nostrils haha, please tell me I'm not alone?), their soft faces, ready giggles, earnest questions. Watching them grow empathy, gain understanding, explode with first childlike wisdom but then later, learnt and sometimes difficult wisdom.
Having a crew of people that you're on a lifelong team with is just so fun! Even though I have to maintain all the people in it to keep them alive and happy right now, I feel so excited by the many forms and dynamics our team will shift and modulate through. It blows my mind that in 20 or so years, I'll (hopefully) have three grown men calling me mum, dropping in for dinners and if I'm lucky, grandchildren to sniff again.
As a mum of three, what are some tips you would share with a new mama or mama to be? 

I am a diehard routine mum. Sometimes I've despaired at myself for not being more "go with the flow", but ultimately I have arrived at total acceptance of what works for me. I like structure. I like to try to control the chaos that can be sleep deprivation. For me, having a schedule works. I don't feel hemmed in by it. It makes me feel like I can organise my day and flake less on plans. If that also makes you feel like it's all more manageable, go for it! But if that stresses you out and you'd prefer naps on the go, spontaneous snacking and not knowing what comes next, do that! 
 And definitely, DEFINITELY, if you can, find a friend that lives near you on the same nap schedule as you! It's not easy to travel long distances when you have a little baby and it can feel so lonely. It's really nice to be around people in the same boat as you. My dream would be to live on the same street as all my mum friends, and we could parent together all day long!
Favourite Banabae pieces?!

Banabae swaddles are the softest I have ever felt. They are firm favourites! I also love all of the gorgeous Banabae rugs, tufted cushions and throws. Soft, textural, drool-inducing. What more could a houseproud, homebody want?!
Womb Room podcast with Laksmi Wilson.

"Just relax, it will happen" or "at least you know you can fall pregnant" are two sayings you will NEVER hear uttered on Womb Room. Bringing you real women's stories of recurrent loss and infertility on the road to baby. 
Flow State Linen Fitted Cot Sheet
 AUD $89.00

Sundaze Floral Light Kimono Robe
AUD $179.00
Ghost Gum Stripe Bamboo / Organic Cotton Swaddle
AUD $18.00

Joni Bamboo / Organic Cotton Swaddle
AUD $49.00
Sundaze Floral Sarong
AUD $69.00

Flow State Linen Fitted Bassinet Sheet / Changing Pad Cover
AUD $69.00