The Brightside: Natural Harry's (BEST EVER!) Choc-Chunk Banana Loaf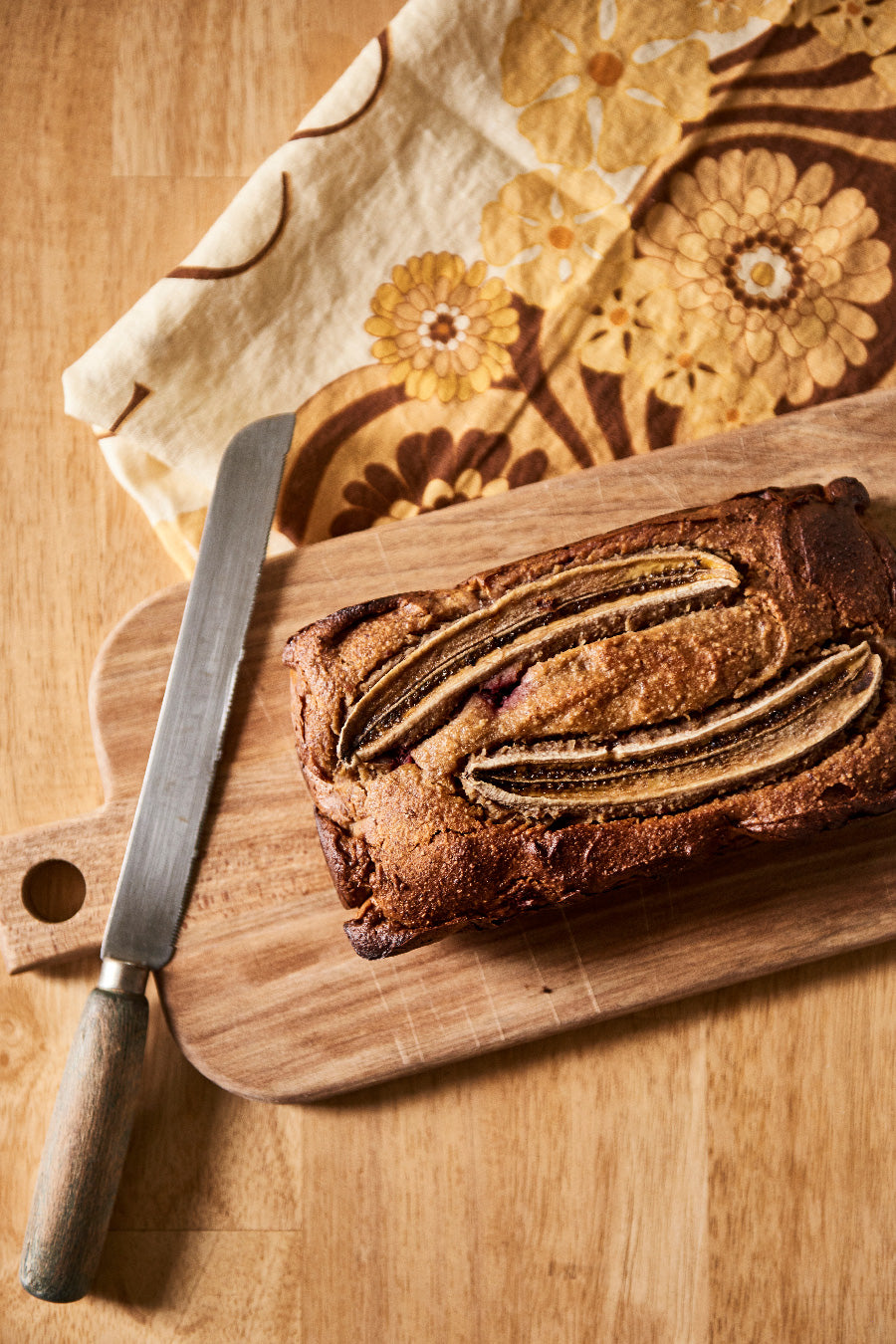 NATURAL HARRY'S (BEST EVER!)
CHOC-CHUNK BANANA LOAF
Our mate Harry (aka @natural_harry) knows her way around the kitchen, and this banana loaf is one of the most delicious you will find, and it also comes guilt free! Plant-based and free of processed ingredients, it's a delicious and healthy treat you can bake with the kids during these school holidays. 
Meet Harriet From Natural Harry
What prompted you to start Natural Harry?

Back in 2012 I couldn't find a really great, delicious and nourishing plant-based wholefood smoothie or raw dessert place in my local area. I was studying integrative nutrition at the time and making smoothies and raw desserts for friends and family. So, Natural Harry began as a little wooden vintage caravan purpose-built from scratch by my husband Fraser back in 2013, complete with a commercial kitchen for food prep. We parked it on a friend's vacant lot on the main street of Barwon Heads, scattered some beanbags on the grass out front, flung open the large side window and got busy serving locals and tourists for the next few summers. Since then I have also run workshops, catered events, wholesaled raw desserts, opened a conscious concept store and written and published three recipe books. 
 Tell us about this delicious Choc-Chunk Banana Bread...  
 This choc-chunk banana bread is one of my favourite recipes I have made to date. Countless recipe tests went into this one to make it juuuuust right! It is so moorish and full of so much goodness. It is free from refined ingredients and 100% plant based. Not to mention so, so easy to make. I love to make a couple at the start of the week. A slice warmed up is a perfect morning or afternoon tea. I like to mix up the flavours and swap the chocolate for something like raspberries or blueberries. It can be a yummy sustaining on-the-go brekkie, and my little girl Winnie loves it too!  
 What draws you to whole foods and plant-based recipes? 
 So many things draw me to creating wholefood and plant based recipes. The endless ways you can prepare and cook a huge variety of whole fruits, veggies, nuts, seeds, legumes, grains, spices and herbs we are so lucky to have access to for one. I also just love the way a wide variety of wholefoods on my plate can make me feel.  
 Your favourite plant-based or non-processed food substitutions? 
 Some of my must-have staples these days include: Dried beans and legumes, spices, coconut milk and cream, plant-based milk, fruits and veggies, nuts and seeds, grains and pseudo grains (like oats, quinoa, brown rice), tahini and nut butters, tempeh and my lazy bones loaf mix.  
 Easy plastic-free tips for in the kitchen?  
 The best plastic free kitchen tip of all is to not bring it home in the first place where possible and shop for as much as you can at a bulk wholefoods store. Clean and label some jars from the op shop or repurposed from your own home, head on in, weigh them, fill them and home you go to plonk them straight in the panty. Job done. No waste.  Shop for fresh fruit and veg plastic free by visiting your local farmers market, getting a box of organic fruit and veg delivered, growing some of your own or take your own net bags to your local grocer.  Replace easy-to-make store bought items stored in plastic like plant-based milks by making your own sometimes or regularly.  
 - Remember: progress over perfection.  
 - Compost your kitchen scraps.  
 - Store leftovers in any of the many plastic free options these days. Compostable cling film, beeswax wraps, good old glass airtight glass tupperware, jars. 
 - Store loose fresh fruit and veg in a wet tea towel in the vegetable crisper to help them stay fresher for longer.  
- Avoid plastic cleaning bottles by reusing spray bottles and jars and making your own simple tox-free cleaning products. 
Wholefood and plant-based

Makes: approx 19cm diameter, 4cm high cake or standard loaf tin
Prep time: 10 minutes
Cook time: 45 minutes
Equipment: Blender or food processor
Ingredients:

- 6-8 medjool dates, pitted (these are fresh dates, not dried)
- 3/4 cup (70 g) rolled oats
- 1 cup (100 g) almond meal
- 2/3 cup (95 g) buckwheat flour
- 1/3 cup (35 g) chickpea flour
- 1 teaspoon baking powder
- Pinch of salt
- 1 cup (250 ml) coconut milk or cream (I used 3/4 cup (75 g) coco milk powder 125 ml boiling water)
- 2 medium / 1 large (220-250g approx.) ripe bananas, peeled
- 80g chopped plant-based chocolate or chopped frozen berries of choice 
Method:

1. Preheat your oven to 180 degrees celsius fan-forced (200 degrees celsius conventional).
2. Cover the medjool dates in boiling water while you prepare the rest.
3. Place oats, almond meal, buckwheat flour, chickpea flour, baking powder and salt in your food processor and blend together until a flour is formed.
4. Transfer the dry mixture to a large mixing bowl. If you are using powdered coconut milk, combine hot water and coconut milk powder in a bowl or jug and mix well.
5. Drain your dates and add them to your food processor with the coconut milk and peeled banana. Blend until well combined.  
 Hot tip: only blend as long as you need to combine the mixture well. There will still be flecks of date which adds character. Blending for too long will make the banana taste bitter!
6. Add the liquid mixture to the dry and mix until evenly combined.
7. Roughly chop chocolate and add to the mixture, saving a little for the topping. Mix into the batter.
8. Line a cake or loaf tin with non-stick baking paper and pour the mixture into the tin.  Top with your choice of frozen berries, chocolate or even slices of banana.
9. Place in the oven to cook for 45 minutes. 
Note: Ovens vary a little, so you may like to check on it every now and then if it is the first time you are making this. It will rise a little and brown on the top. 
10. Once cooked, set aside to cool in the tin. Once cooled enough to touch, remove it from the tin and paper and pop it on a cooling rack.  
 This banana loaf is so delicious toasted and smothered in your topping of choice.
Cooking Notes:

Medjool dates - Medjool dates are the fresh kind. Not dried packaged dates. These act as the binding agent in this recipe as well as the sweetener.  
 Chocolate - Chocolate is one of many options to add to this yummy loaf. I also like the addition of stewed apple or pear pieces, additional banana, berries, ginger, coconut, pineapple, vanilla, cinnamon … the list goes on.  
 Shape - You can also make this mixture into a round iced cake. It is so good with the 'cream cheese' frosting from this recipe for a special celebration cake. You can also pour it into muffin moulds. Just make sure you watch them closely as they will cook faster in smaller portions.  
 Toppings - Honestly, this loaf is SO delicious topped with anything you like. I have tried plant-based butter (a simple natural version made of clean ingredients), cashew butter, almond butter, chia jam, coconut yoghurt, choccy spread, tahini and fresh sliced berries - all were amazing. 
 Icing - If you want to get a little (or a lot) fancy pants, I recommend trying my 'cream cheese' frosting from this recipe. It's super delicious. Add in a sprinkling of lemon rind and some dried rose petals to the top, and you have yourself a pretty special creation!  
 Coconut milk - As I have mentioned in the ingredients list, I used coconut milk powder, which is totally optional. You can replace this with canned or fresh coconut milk or cream. I buy my organic coconut milk powder from a bulk wholefood store to avoid packaging.


SHOP OUR COLLECTION OF
HOMEWARES:
Kiss The Cook 100% Linen Tea Towel
 AUD $35.00

Rad Mama x Pottery For The Planet Ceramic Travel Mug
AUD $49.00
Arab

ella Linen Table Cloth
AUD $149.00

Arabella Linen Napkin Set
AUD $65.00
Joni 100% Linen Robe
AUD $179.00

Joni Rad Cook 100% Linen Tea Towel
AUD $35.00