The Brightside: The Montessori Guide To Dressing Kids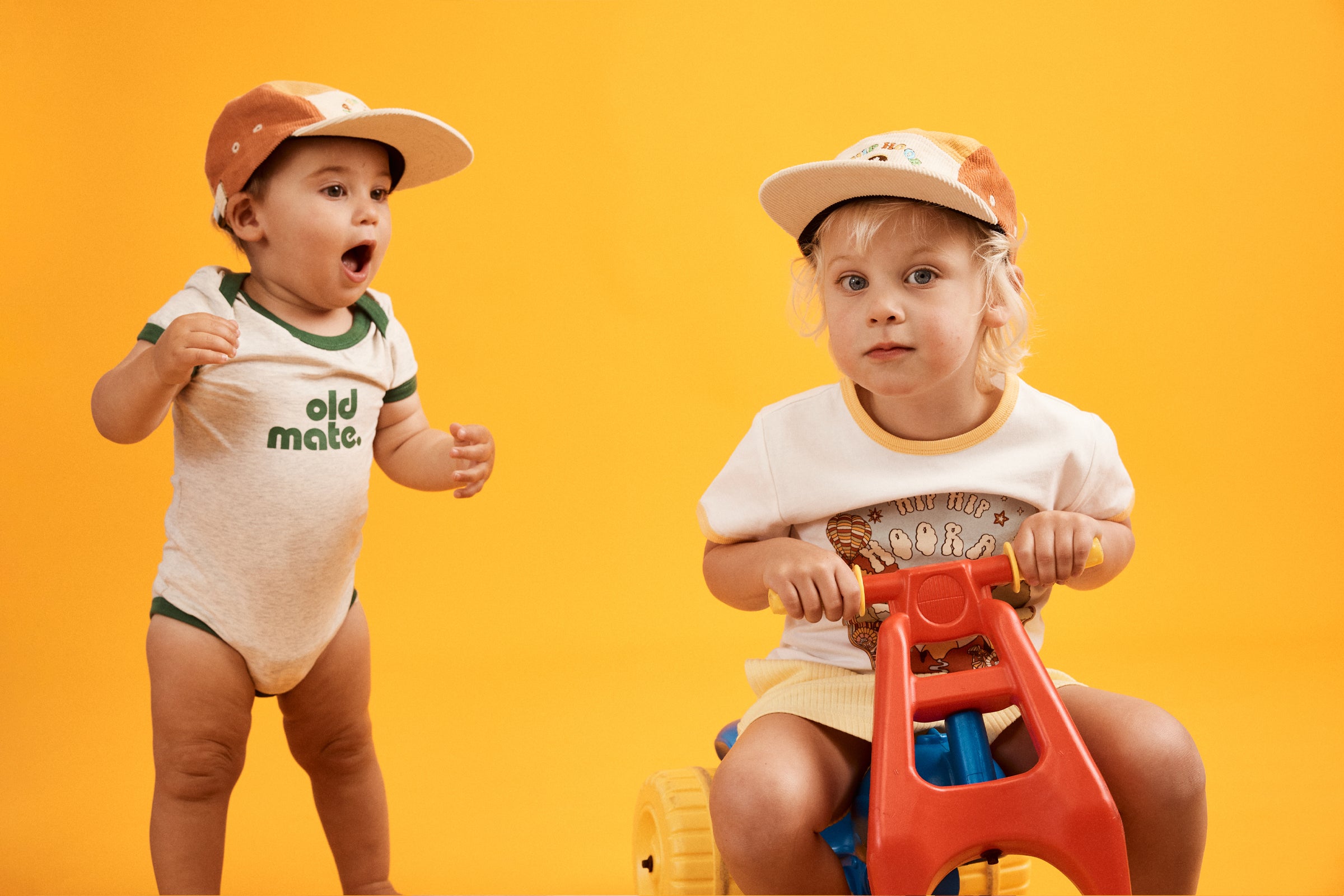 TIPS AND TRICKS FOR DRESSING OUR KIDS.
 For our latest Brightside, we delve into some tips and tricks for dressing our kids, as well as looking at the Montessori approach from one of our favourite books - The Montessori Toddler by Simone Davies. Let's get started!
Often getting our kids dressed and out the door can be a mission indeed. What seems like a fairly straightforward task can often be a source of frustration for both parent and child. As one of my friends describes it, "dressing my son is like wresting a wild beast with a mind of its own".
Here are some ideas to help you on your journey!
There are limited times as an adult we get to dress up and have fun. So why not let your child embrace the joys of childhood while they can? Giving them the freedom of choice rather than fixating on what we want them to wear can break down the friction when it comes to dressing time. 
A friend of mine gives their child a parade of options to try out, and this often results in a smoother process as there is less of a power struggle and refusal. Giving your child a choice in what they wear also helps build confidence and allows them to express their unique personalities to the world. 
Another tip to keep it fun, is to turn dressing into a race and see how fast they can do it. I often do this with my son as he loves a challenge!
Our children look up to us. Why not let your child match with you! It could be something as simple as a cap, to keep the mood upbeat. Or they might like to match their siblings to get the whole clan involved!
Rad Dad Organic Cotton Primary Ringer Tee
AUD $55.00
Rad Kid Organic Cotton Primary Ringer Tee
AUD $49.00
Let them learn to dress themselves:
I am guilty of rushing in the morning to get everything done and get my son out the door in time for him to start daycare and for me to get to work. Often in my rushing, I find myself thinking it would be quicker for me to do something rather than allowing my son to do it. e.g. putting on shoes. 
However, by not allowing him to do it himself, he often gets frustrated by my fussing and intervening. 
Toddlers love to be able to do things themselves. Choose the mornings where you aren't as pushed for time to teach your child the skills for getting dressed. I now take a step back and let my son do his own shoes. Velcro sneakers and perfect for this! I make sure I only offer to help where needed, and a lot of positive reinforcement goes a long way. 
Celebrating these little wins each day when they do things for themselves assists further in their continued development.
The Bright Side Ringer Organic Cotton Tee
AUD $49.00
Rad Kid and Sunny Organic Cotton
Sock Pack
AUD $35.00
Consider the type of clothing:
Clothes need to allow for play first and foremost. As adults, we need to be properly outfitted for our jobs at work, and for children, their job is play! They need to be free to twist, turn, climb, run and jump. Here are some tips from The Montessori Toddler for appropriate clothing choices and what to avoid when dressing our children:
Good choices: 
 - Shorts and trousers with elastic waists that they can pull up without having to undo a zipper and /or button.
 - T-shirts with large openings for their head (or a press stud on the shoulder to open it wider). 
 - Shoes with velcro openings or buckles - easier than laces - or slip-on shoes. 
 Avoid: 
 - Long dresses, which can be difficult for toddlers to manage and restrict their movement. 
 - Overalls, which are difficult for the child to put on independently.  
 - Skinny jeans or other tight and restrictive clothing.

Choose the right fabrics:
All children are different, and some are more sensitive than others when it comes to how certain clothes feel on their bodies. For example, as a kid, I had a thing against wearing denim. It felt too thick and restrictive. I lived in stretchy bike shorts and oversized t-shirts.
Fabrics like hemp are ideal choices for keeping kids comfortable. Hemp is strong and durable due to the nature of its fibres. It is super soft and breathable, making kids feel very comfortable for play time.  
 Organic cotton is another great fabric choice when dressing kids. It's also soft, breathable and has no nasty pesticides against children's sensitive skin. Certified organic cotton is also better for the planet as it has a notably lower carbon footprint, using less fuel, water and energy to produce. 
Early Riser Hemp/Organic Cotton
Kids Tee
AUD $49.00
Keep Growing Hemp/Organic Cotton
Playsuit
AUD $49.00
 We hope our latest Brightside has given you some ideas to help make the process of dressing our children that little bit easier. Check out our range of clothes that are designed for rad kids to play all day!


SHOP RAD CLOTHES FOR PLAY ALL DAY:
Big Sister Organic Cotton Ringer Tee


AUD $49.00
Keep Growing Hemp Tee - Kids


AUD $49.00
Sea Garden Splice Organic Ribbed Twinset


AUD $59.00
Rad Kid Terry Hat - Taupe


AUD $39.00
Rad Kid Primary Splice Organic Rib Tee


AUD $49.00
The Montessori Toddler


AUD $34.95
Resources:
https://milestonetherapy.com/dressing-skills/ 
 https://sunshinewhispers.com/kids-dressed-fast-every-morning/ https://toddlerapproved.com/2015/04/5-tips-for-dressing-kids-comfortably.html https://theotbutterfly.com/clothing-sensitivity-in-children/sensory-processing/