The Brightside: With TS Makers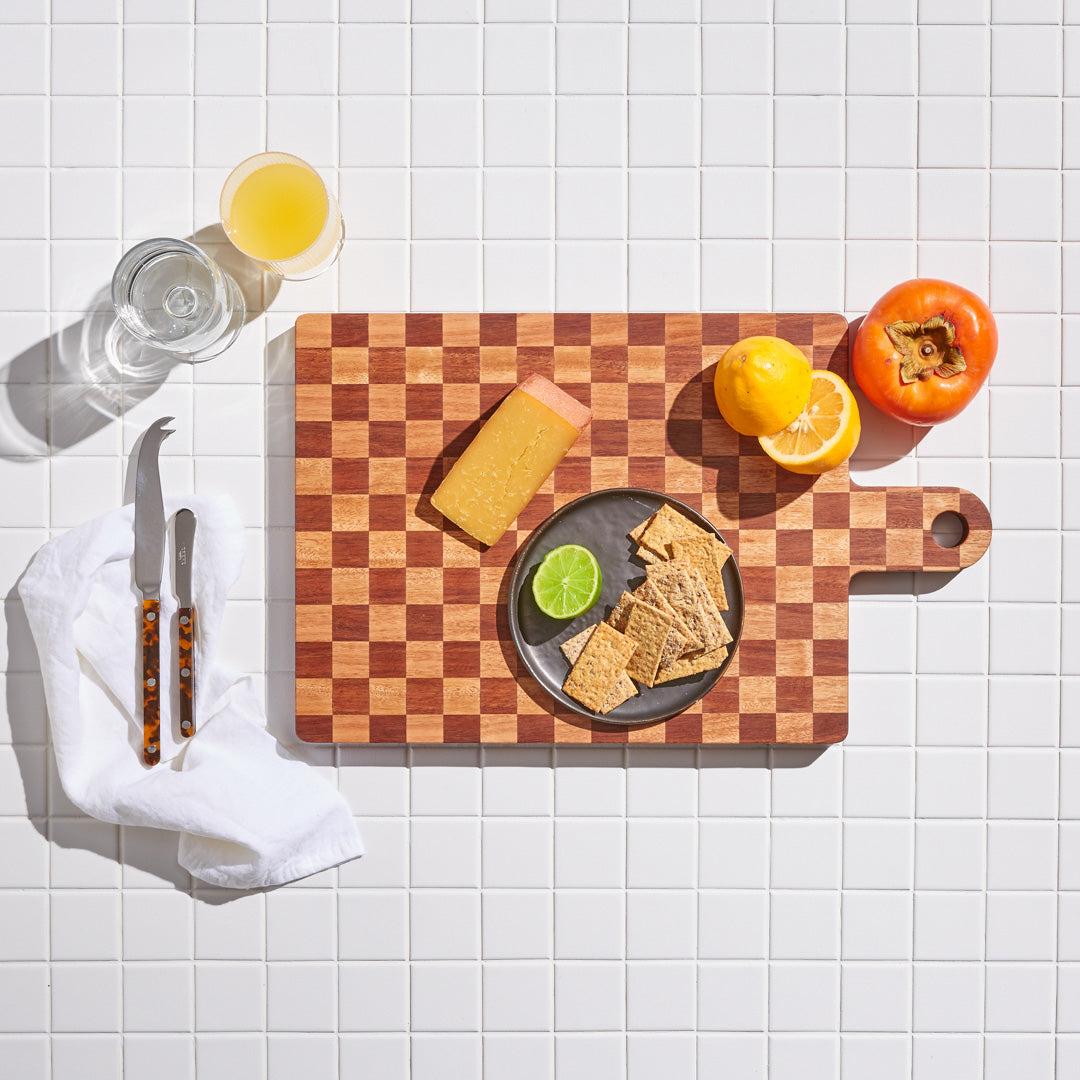 Sarah and Tim sure are a bright and creative couple. They are the talented force behind TS Makers. Living on Gadigal Land, Sarah and Tim create unique pieces for the home from reclaimed and sustainable timbers. With carpentry and design backgrounds, together they create pieces that are beautiful, modern and designed to last a lifetime. We were lucky enough to chat with Sarah and Tim to delve into their creative process and find out what's next for the brand.
Hi Sarah and Tim! We are so excited to be chatting with you. Tell us a little bit about yourselves. Who is in your fam?
We're excited to chat with you too, thanks! Our little fam is made up of Tim, myself (Sarah) and Ned, our three year old Cattle Doggo. We live in Dulwich Hill, Sydney and run a small business called TS Makers.

We handcraft timber serving ware from a mix of sustainable and reclaimed Australian timbers. Our core range features hardwood serving boards and trivets in a mix of abstract and modern shapes. We also carry glassware, ceramics and serving cutlery that ties in with our timberware from brands we love.

How long have you been doing TS Makers? And what made you start this journey? 
TS Makers started back in 2019 after we came across some incredible hardwood library countertops that were going to be scrapped. We both thought we could do something really special with this timber, and at the time we couldn't find a serving board we liked for our own home, so we decided to make one. It just kind of grew from there!

Where does the design inspiration come from for the TS Makers range? It is stunning! 
That's really lovely of you, thanks! Our inspiration comes from so many different sources. We draw a lot from interiors, art and architecture and are obsessed with shape and form. Each new timberware piece we design goes through lots of revisions before it's just right, so it balances being both functional and beautiful.

Did you both have experience in carpentry before starting this brand?
Tim has been doing carpentry and joinery for almost 30 years. He's definitely the one that makes the products come to life and constantly astounds me with what he can do. When it comes to finishing our pieces, sanding and oiling, it's all hands on deck, so they're skills I've picked up over the past few years.

Why charcuterie and tableware? What inspired you to niche (or get started!) in this area? 
When we couldn't find the perfect serving board for our own home, we decided to make one, which was a bit of a lightbulb moment that other people might be after things that were a little bit different too. Food is a huge part of life for us, and our favourite time is spent with family and friends around the table. To make quality pieces that can be part of people's mealtimes for years and years means a lot to us. Why shouldn't the things you use every day be just as beautiful in use as they are on display? 

Tell us about the design process, from ideation to the completion of a stunning piece. 
We produce two seasonal ranges a year, summer and winter. Between each release, I'm constantly pinning ideas and drawing different shapes. Once we're ready to start working on samples, we take a bit of an inventory of the reclaimed timber we've been able to source or what sustainable ones are available at that time.  
 We pay a lot of attention to what timber is used on each shape to ensure we're really maximising the beauty of its colour and grain. Templates are also a big part, and we'll often go through a few rounds of adjusting a design to get the size just right. For our boards, the handles and serving space have to be fine-tuned, and trivets need to be the perfect size for resting a range of pots, pans and platters on a table.  
 Our photoshoots are where it all comes together and where we get to stand back and enjoy the months of work that go into any new range. We work with some dear friends, photographer Nigel Lough and stylist/art director Elizabeth Lough and have so much fun being creative and always trying something a bit different to keep things fresh. 

Do you have a creative place/activity you turn to when feeling blocked? 
We're both huge music fans. Sharing new artists we've found or listening to a favourite album always makes us feel inspired and clears out any cobwebs. Tim loves skateboarding and photography, and for me, it's cooking for friends or a long walk with Ned. It can be hard to balance time for yourself when you run a small business, but we try to be conscious of getting the time we need to stay balanced.
Any peeks into what we can expect in 2023? 
We're hoping to find a larger workshop, ideally with room for a small retail space. There are also plans to add timber homewares and furniture into the mix as well. We can't wait to share it all with you!
That Sounds So Good
AUD $44.95
Wattle Wander Linen Napkin Set


AUD $65.00
Arabella Linen Napkin Set


AUD $65.00
Joni Rad Cook 100% Linen Apron


AUD $89.00
TS Makers 
Handcrafted in Sydney from sustainable and reclaimed timbers.

The perfect addition to any tabletop.

Visit TS Makers to view the range.