The Colour Trend That Inspired Our Latest Bedding Collection: Buttercream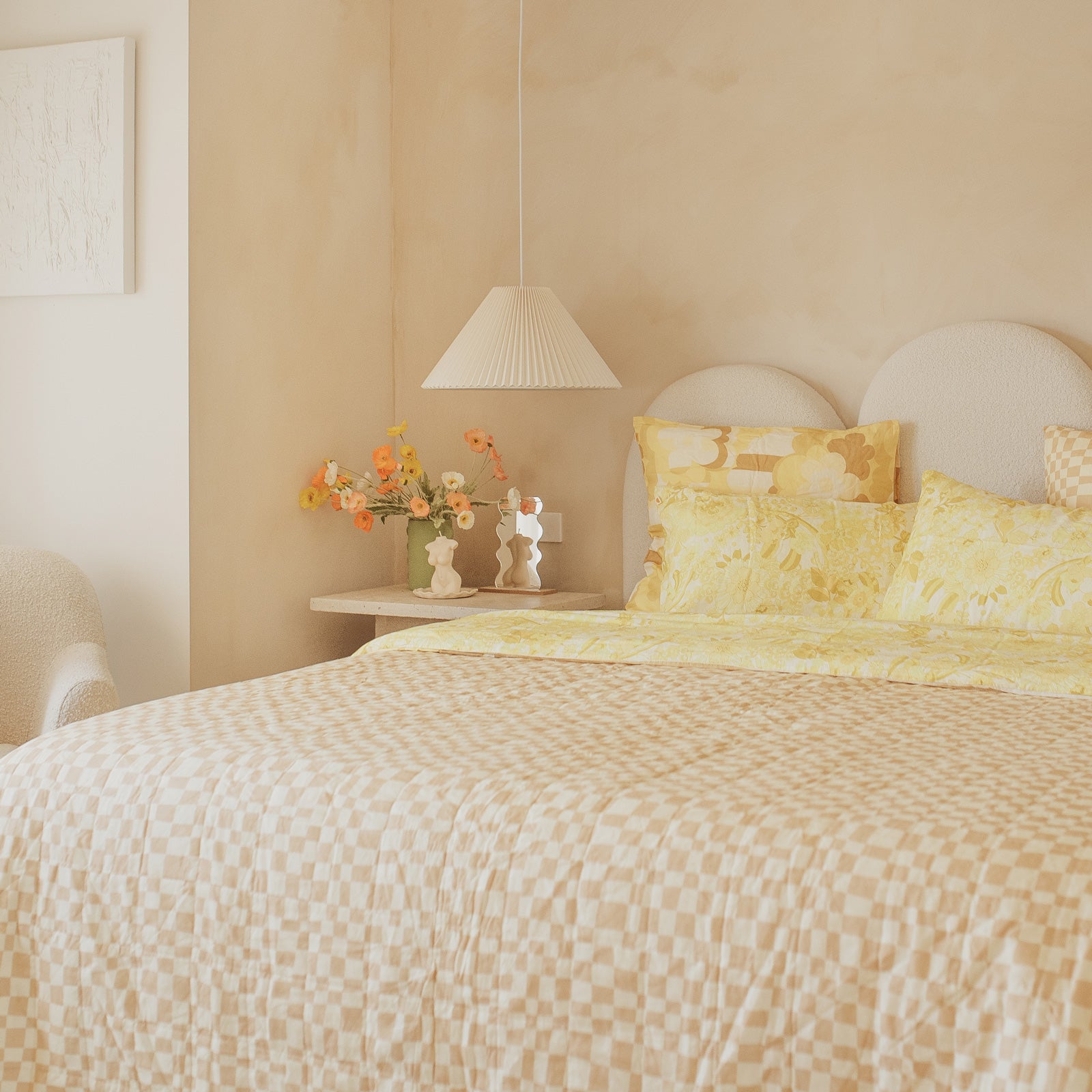 BUTTERCREAM:
Now it's no secret that we are fans of the colour yellow here at Banabae. 
 So when we discovered this delightful colour would be a key trend in 2022 for interiors, we jumped right on board, geared with retro print ideas and inspiration for our first ever adults bedding collection.

This light and airy pastel yellow almost verges on a neutral tone making it easy to style whilst adding a warm and optimistic vibe to any living space. Happiness is at the heart of this look, and when you combine it with nostalgic retro prints, you have a recipe for a feel-good design. Perfect for adult's and kid's rooms alike.
How it features in our collection:
From a warm cream in our checkers print through to a sunny yellow in our Sundaze floral. Pastel yellow tones appear in almost every print of the Early Riser collection. For the floral fans, we have our Upsy Daisy print and Sundaze Floral. For mid-century lovers, our Retrograde placement print is a true hero piece in the bedroom. Pops of pastel yellow also appear on our tufted cushions and rugs (dropping soon).
Natural white:
Whether on your walls, curtains or bedhead – natural white and light creamy tones are perfect matches for buttercream.
Curves, circles and rounded shapes complement the softness of this colour perfectly.
Add contrast with darker timber features like this scallop-shaped bedside table from McMullin and Co.
As we move into the cooler months, layer the look with tufting, boucle and knit pieces.
Want to see more? Explore Early Riser.
Our first Adults Bedding Collection features uplifting prints inspired by the morning light to help you rise early and meet the day with a calm optimism. 
 Snuggle In, Dream Big, Wake Up Feeling Rad with Banabae.
Sundaze Floral Standard Pillowcase
$45
Retrograde Flax Linen Quilt Cover
$219
Checkers Flax Linen Quilt Cover
$219
Rad Mama Embroidered Standard Pillowcase
$45
Read more from our styling blog: