The Brightside: Hiking With Kids - With Viktoria Wanders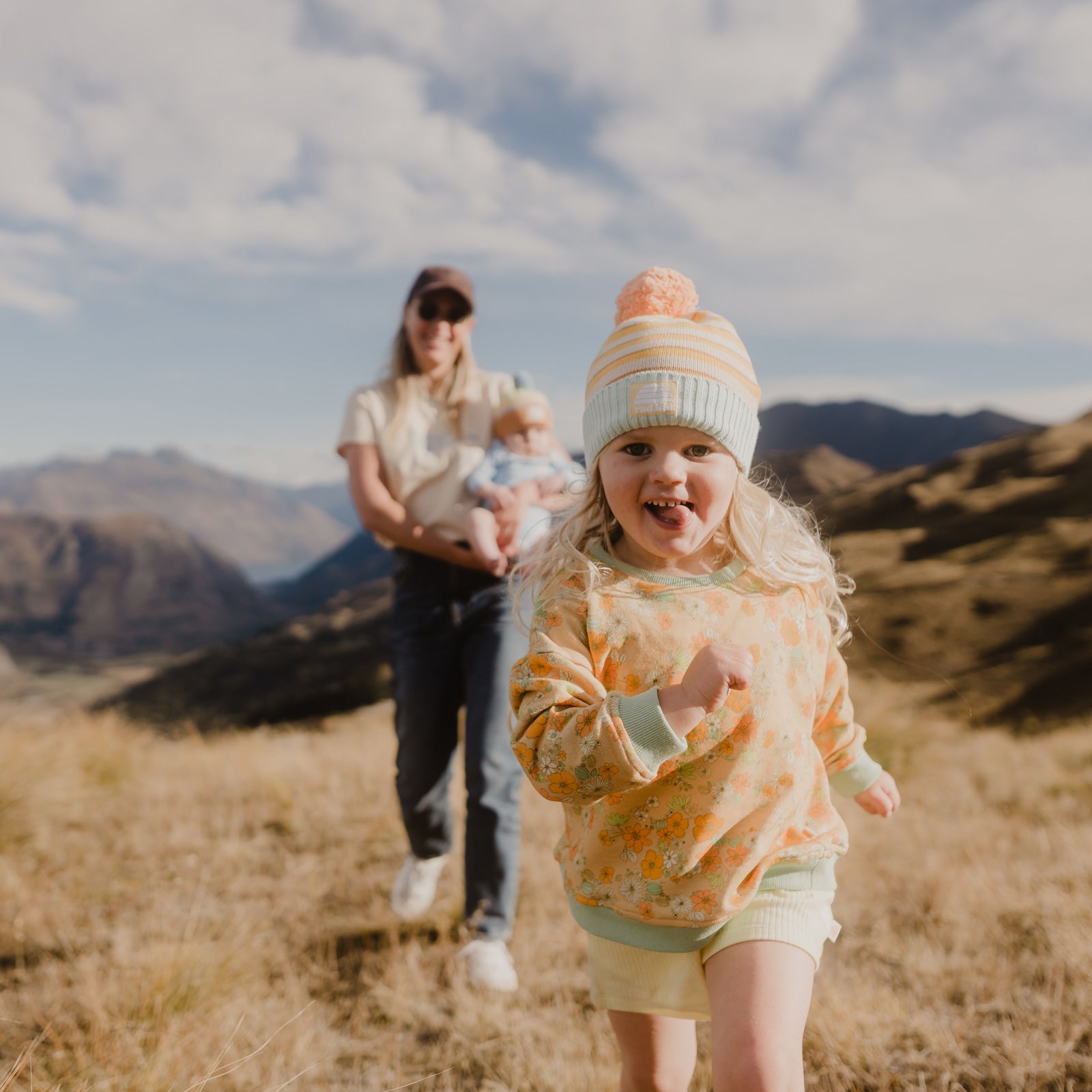 Enjoying the great outdoors with your little loves is the perfect way to celebrate Earth Day. 


Viktoria Steinhaus (@viktoria wanders) is a seasoned traveller with little ones in tow. She shares her top tips with us for hiking with kids around New Zealand.
Top Five Tips for Hiking with Kids with @viktoriawanders
Worried your hiking days are over when you have kids? Fear not, I was in the same boat four years ago before my daughter arrived, but I promise with a bit of patience and practice, you can enjoy your favourite pastime too. 
 We are spoiled for trails where we live, and we knew we wanted to share our love for the outdoors with our little one. It took some trial and error, but over the years we've learned a thing or two and I'm excited to share our five tips for hiking with kids.
Fresh air, incredible views and being carried up a mountain, what kid would hate that? 

1. Start early

I can honestly say kids thrive in nature, and the best way to ensure you can all enjoy the outdoors is to start them young. Get them used to the carrier as soon as they are big enough to go in one. Bubs love to be against their parents, and they feel safe wrapped up on you. The non-stop motion of you hiking will keep them happy and most likely put them to sleep.
Before heading out for a big hiking mission, start small. Try a local walk with your kids and slowly build up to longer and longer ones. Stick to flat, wide trails at first, especially if you have kids walking themselves. Then try out trails with little hills to get them used to walking uphill.  
3. A good carrier is your best friend

The market for baby carriers is overwhelming. Do some research and invest in a supportive carrier comfortable for both you and bub. Find local stores that sell them and allow you to trial them in the store. Follow the instructions to learn how to tighten them correctly or find the brand's website where there will most likely be tutorials. 
Depending on where you live, think about the colour and breathable factor. Our first carrier was black, which wasn't the best choice with the strong New Zealand sun. Ergobaby is a favourite amongst hiking families, and when you are ready to upgrade to a bigger one (when bub is about eight to nine months), I highly recommend the Osprey Poco Plus. It has incredible features like a built-in sunshade, multiple compartments and is adjustable depending on the parent's height so it can fit both mum and dad. 
4. Factor in time for breaks

The hike may take an hour, but I always add on extra time for stops. Whether it's a potty break, a nappy change or time for a snack, time quickly gets away from you when hiking with kids. If you are trying to encourage your toddler to keep going, choose a spot on the hike to reach for a snack break and to recharge before carrying on. 
5. Prep well

The most important factor to keep your family safe is to prep smartly. Check the weather multiple times before stepping on the trail. Know your route and stick to it. Don't wander from the trail, and if phone service is unlikely, think about hiring or purchasing a PLB (personal locator beacon). Always tell someone where you are hiking, just in case.
Packing tips:

Pack layers for everyone in the family. You may get warm hiking, but the bub in your carrier isn't moving and is likely to get cold extremities. Packing extra outfits is also something I highly recommend for all parties. There's a good chance bub will soak your shirt with drool or on a hot day you'll sweat through yours with your warm bub on your chest. 
Snacks are key for kids. They can help encourage those walkers to keep going or entertain them in the carrier. Our daughter loved munching on the same apple for ages. Plenty of water is also necessary, especially if you are breastfeeding, plus nappies, wipes and some type of ziplock bag to contain the smelly ones. 
Hiking poles are great for support on treacherous trails, and we always pack a little blanket or scarf to wrap bub if needed and use to change nappies. Bring a first aid kit in case of any owies, plus sunscreen and a torch in case it's dark before you make it back to the car. If your little one has a favourite toy or soft animal, it may help to pack it. 
In my opinion, it's always better to overpack and over prepare than the other way around.  My best advice is just to get out there and do it! It will take patience and the pace will be much slower, but watching your kids love nature and the views as much as you do is the best part of it all. 



SHOP THE LOOK FOR YOUR NEXT ADVENTURE:
Magic Mama Ringer Tee: Sky 
 $49.00
Rad Mama Cord Cap - Espresso 
$49.00
Sky Blue Ribbed Organic Cotton Long Sleeve Onesie 
 $45.00
Rad Dad Cord Spliced 5 Panel Cap - Espresso 
 $49.00
Read more from our blog - the brightside: