The Dreamers #37 - Pottery for the Planet owners Clare and Renton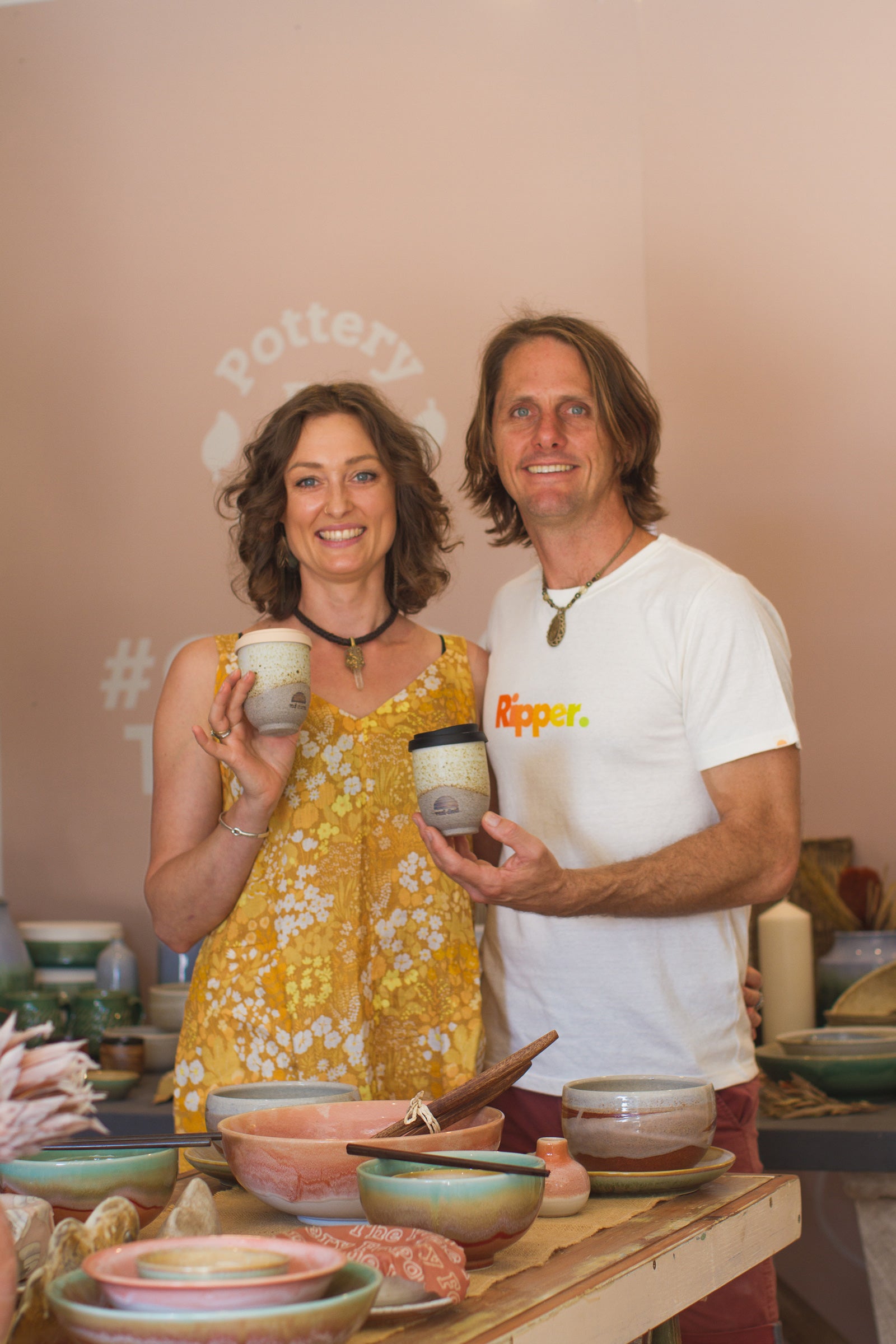 Meet Renton and Clare. 
This passionate pair are the owners of business with purpose Pottery For The Planet. On the launch of our Mothers Day travel mug collaboration we chatted to this lovely couple about their passion for art and the environment and how they translated that into a blooming business. 
WELCOME TO THE DREAMERS. 

COME INSIDE THE HOMES OF EVERYDAY FAMILIES AND BUSINESS OWNERS  DOING LIFE THEIR WAY. 
____________


13th April 2022. 
Clare and Renton are two like minded souls, who are as passionate about art and the environment as they are about each other.
Who is in your family?
Just the three of us, Renton, Clare and Gypsy (our dog)
Where do you live? 

We call Peregian Beach home. A small leafy suburb located on the beach between Noosa and Coolum on QLD's Sunshine Coast. We love the 'small village' vibe of this special little town.

We love that PFTP is a fellow business with purpose! Tell us a little bit about how and why Pottery For The Planet started
Clare came up with the reusable cup idea many years ago and basically wouldn't stop pestering me until we developed and launched our first run of cups back in 2016. But for both of us seeing plastic washing up en masse with driftwood and shells on beaches is enough to make us sick and watching people use plastic without even thinking about it breaks our hearts. We are re-users and always have been and we wanted to see if people liked our cups idea. Paper cups are pretty horrible to drink coffee out of too. We were very fortunate with the timing of our initial idea and product launch, coinciding with Craig Reucassel's 'War On Waste' Series going to air on ABC. Pottery For The Planet's growth took off from there.
What does a 'typical' day look like at Pottery For The Planet?
The ceramic process is very labour intensive and long, with each step needing careful attention so as the end product is perfect. We have an amazing team who all contribute in some way to every product that leaves our studio, from our potters bringing cups to life on the wheel through to our marketing and dispatch team. It is a true team effort.
Where do you find inspiration for your ceramic creations?
Although Renton leads most of the design side of things, we try to get all of our design and production team involved in the development of our new products. When it comes to glazing we have a combined total of over 70 years pottery experience on our team. When many minds work together to to use their unique experiences to develop new designs we find that great things happen!
How do you make sustainability a part of the everyday operations at Pottery For The Planet?
We try to approach ALL of our daily operations with sustainability in mind. From the energy we use firing kilns, through to the packaging we use to dispatch our products. Often this approach results in an outcome that is not only a win for the environment, but also a win for cutting costs within the business as well! Our most recent investment in sustainability has been our large scale solar system that is big enough to fire our electric kilns on. Producing a carbon neutral reusable coffee cup has been a long time dream come true!

Owning and running a business is all go – what do you do to switch off/fill your cup?
Renton spends his time on or in the water, surfing, sailing or anything else that gets him salty. For Clare her happy place is in the garden with all of her plants. We love our downtime as much as our work!

What are your favourite PFTP products?
We love to eat and food always tastes better off handmade pottery. At the moment we are both really enjoying trying out the new tableware designs that have been released recently. Each product is suited to its own style of cooking and food and every night when we sit down at home for dinner we feel like we are eating at a restaurant!
Ripper Mens Hemp Blend Tee
$59.00
Honey Bunch Linen Dress
ow $75.00
Joni Linen Tea Towel
$35.00