The Dreamers #36 - Viktoria of @viktoriawanders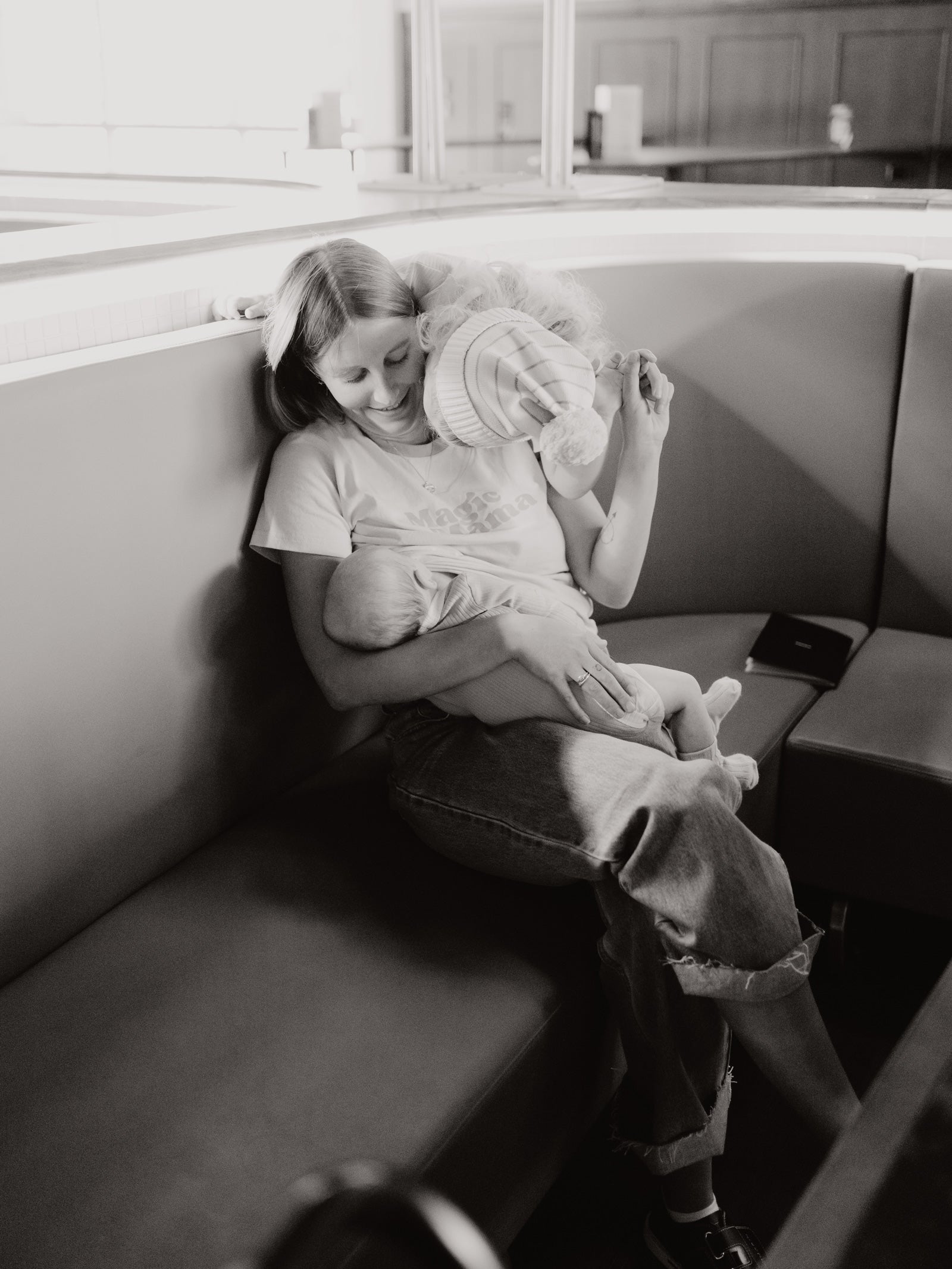 Meet Viktoria of @viktoriawanders. Viktoria and her husband Ryan are outdoor lovers and adventurers living their best lives with their young family in Queenstown on the South Island of New Zealand.


WELCOME TO THE DREAMERS. 

COME INSIDE THE HOMES OF EVERYDAY FAMILIES DOING LIFE THEIR WAY. 
FROM DAILY ROUTINES TO INTERIOR STYLING, JUGGLING WORK AND HOME LIFE, PARENTING HACKS AND MORE.
____________


April 8th. 
Hi, we're the De Dominicis'! I'm Viktoria of @viktoriawanders, wife of @ryan_domenico and mama to Lia and Oliver. 
Originally from Chicago, I travelled the globe chasing a bout of wanderlust for years before meeting my British/Italian husband in Melbourne in 2013. Continuing with the backpacker lifestyle, we split ways and met back up in 2015 in South America, falling in love with not only each other but nature and hiking. 
Wanting to prolong our adventurous lifestyle, we decided to move to New Zealand, where we could work, explore and continue to date without visa issues. Six and a half years later, we are still here, loving the life we've built for ourselves and our family.
Who is in your family?
Viktoria: Me, Mama Viktoria or Tori for short, Ryan, Dadda, the talented photographer of the family. Lia our curly-haired cutie, who is almost four years old, and our latest arrival, Oliver (Oli), our blue-eyed boy. 
Where do you live? 

Ryan: We live in Queenstown on the South Island of New Zealand. There is an endless list of things we love about this place, but at the top of the list is the beautiful scenery. To have the mountains on our doorstep is quite special. After living in windy Wellington for six years, we moved down here at the end of 2021, and we don't ever want to leave. 

Can you tell us a little about the birth of Oli?
Viktoria: Oli's birth was the one I dreamt of for years. After a hospital birth with Lia and being stuck there for five days due to high blood pressure (most likely due to heaps of intervention), I knew I wanted a different experience. 
I spent time reading, meditating and manifesting a beautiful, calm home birth in Queenstown. Frustrated at being a few days late, we took a family hike to one of our favourite spots in the gorgeous golden light. I think the uneven trail kick-started my labour, and the next morning, around 3am I woke up with surges. I watched a remarkable sunrise full of colour and peace, and I knew this was the day I would meet my son or daughter. 
I distracted myself throughout the day by imagining our little one arriving at night. Sometime around 7pm, the surges became more intense and just before 8pm I climbed into the birth pool set up in my bedroom in front of the french doors overlooking our garden. From there, everything ramped up and just after 10pm we welcomed our son amongst the most beautiful playlist, candles and twinkling lights. 
It was everything I dreamt of and more. We climbed into our own bed and woke up with our son beside us. It's a moment I'll never forget. 
What does a 'typical' day look like in your household? 
How has your fresh little babe fit in?
Viktoria: Our days are far from typical as Ry works freelance, and we rarely have a set schedule. Lia bean is always first up and usually drags Ryan out to the living room for breakfast and TV time. Oli and I sleep in, cuddling in bed as the sun pours into our bedroom. 
A few days a week, Lia goes to kindy and I'll run errands or go for long walks with Oliver. Ry helps out when I'm struggling with the two, and he is the chef of the house, so he's always cooking up something delicious. 
We love popping into town for coffees, playground time and a stroll or up to the gondola for a ride on the luge. We try to squeeze in hiking and camping trips as much as we can, and we are slowly figuring them out with two littlies. 
What are your favourite activities to do as a family right now? 
Viktoria: We love hiking, but with a toddler who isn't keen on massive walks and an infant who loves a good wail, we are only doing shorter hikes at the moment. We've camped a few times and love being outdoors as much as possible. As we head into our first Queenstown winter, we hope to hit the slopes and teach Lia how to ski or snowboard. 
What is your favourite travel destination for families in New Zealand? 
Ryan: Our favourite place in New Zealand is Aoraki/Mount Cook National Park. The scenery is incredible and easily accessible for families with trails that your little ones can walk. You're surrounded by the tallest mountains in New Zealand with glaciers down to village level. The drive into the park is equally beautiful with great photo opp stops along the way, and it's a great place to try out camping with a drive-in campsite with toilets and an indoor spot to cook. 

Parenting life is all go. What do you do to fill your cup? 
Viktoria: Filling my cup includes self-care, which right now means a long, hot shower, going for walks and chats with friends. I try to find time for my yoga mat, and when we put the kids to bed early, Ry and I will have a late dinner and movie date. With no family in the country, it can be very hard to find time for ourselves, but we make sure we do. Ryan loves to rock climb and is often climbing crazy peaks when a moment arises, and we have dinner parties as often as we can. If all else fails, just getting outside with the mountain views helps immensely. 

Your best parenting hack/s?
Ryan: Always carry snacks. A good snack can diffuse even the most volatile situation. Also, if you want to travel, hike, or road trip with your kids, start young. Get them used to the car seat and the carrier as early as possible. Kids are super adaptable, and I honestly believe they thrive when travelling and being in the outdoors. 
What are your plans as a family this Easter?
Viktoria: As someone who grew up in the States, going all out for holidays is in my blood. I love creating magic for my kids, and Easter is no different. I fill eggs, hide them around the house, and hide a basket full of treats and toys. Then we feast on a big brunch with mimosas for the adults. This year we're inviting our rad Uncle and Aunt and doing all the above!

Magic Mama Ringer Tee: Sky
$49.00
Sky Blue Ribbed Organic Cotton Long Sleeve Onesie
 $45.00
Rad Dad Cord Spliced 5 Panel Cap - Espresso
$49.00
Rad Kid Stripe Organic Knit Beanie
$39.00
Sunkissed Splice Organic Rib Twinset
$59.00