The Dreamers #48 - With Photographer Emma Wand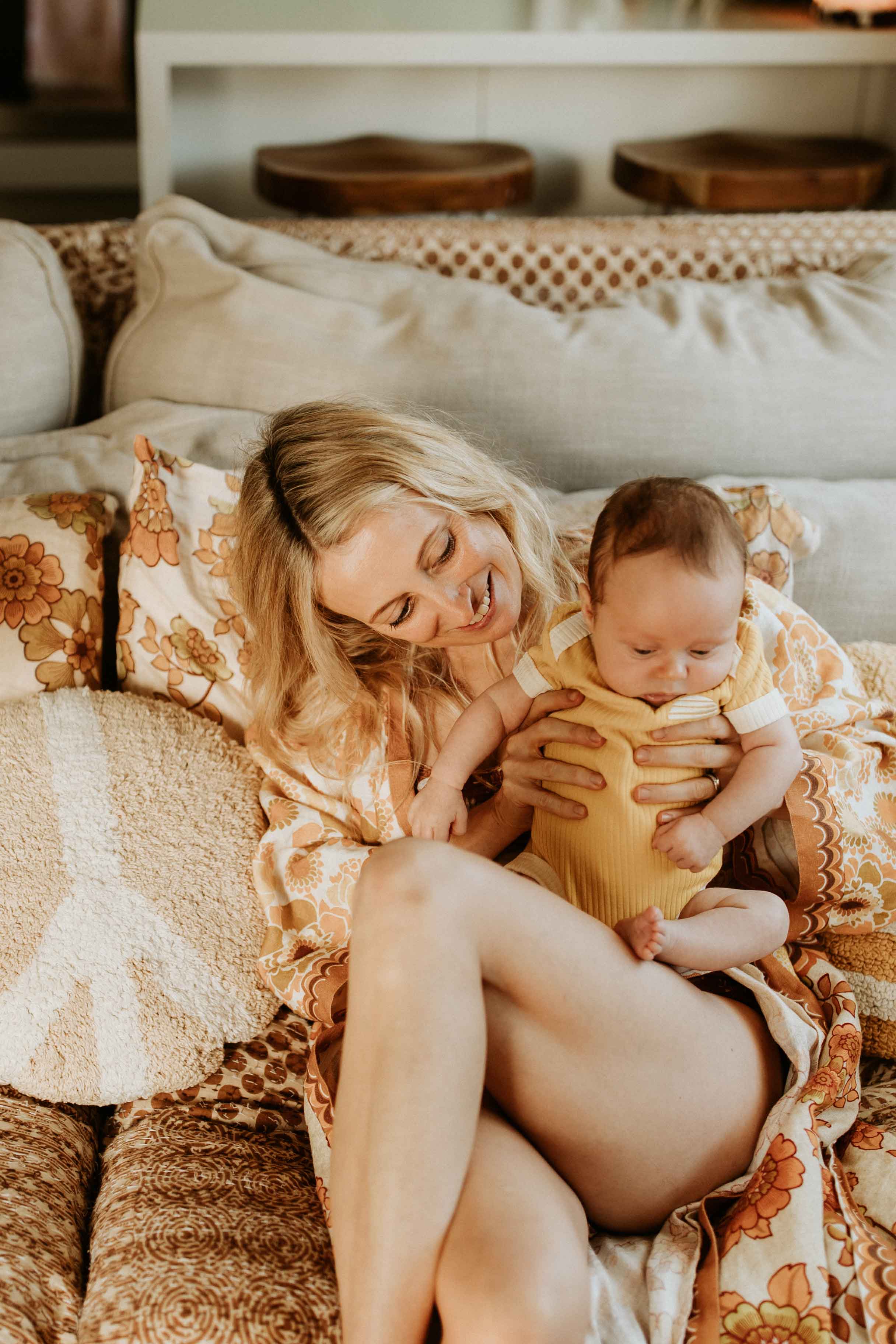 Meet Cronulla-based photographer Emma Wand (@emmawandphotography). Emma shares with us her transformation into becoming a mother, otherwise known as 'matrescence'. She fills us in on her background and how she came to love all things vintage, and her future plans with her son Cash and partner Ben.
WELCOME TO THE DREAMERS. 

COME INSIDE THE HOMES OF EVERYDAY FAMILIES AND BUSINESS OWNERS  DOING LIFE THEIR WAY. 
____________
Hi Emma! Tell us a little about yourself and your sweet family. 
Ben, Cash, Betty (our Frenchie) and I live in South Cronulla in a little red brick 1960's apartment near our fav beach, Blackwoods. Ben and I have been together for 17 years. We met when he worked at a surf store and we have loved each other ever since. We exchanged tape cassettes of our favourite bands, went on a date into the city and had our first kiss at an Irish pub in The Rocks. 
 We live for ocean swims, music (hubby is a guitarist) and afternoon beers in the sunshine. Everything in our life is about coastal chilled out vibes, and our little love bubble. We welcomed Cash into the world only 11 weeks ago. It had been a dream of ours for six years. We still can't believe he's here. 
You're a photographer. How did you start this career?
I was always creative and never into school (more social and loved a party). I had a film camera around me since the age of 15, and my first job after school was in a photo lab developing film before digital even existed.  
I then studied photography at TAFE and worked in a studio in Balmain for over five years, always dabbling in my own business. It's just always been me and my camera. I can't imagine my life without it. Even on maternity leave, I had to organise a portfolio session as I was missing it so much. It took a tribe to make it work with a newborn and it felt so good to fill my creative cup.
I now run a family portrait business for the adventurous and open hearted souls who live for the ocean, nature and have a free spirit. It's all about capturing the magic of them as they are without it being forced. It is a more fun, active, documentary style. 
Tell us about your love for vintage.
I've always loved retro things. Maybe it came from my sister. She had a 1959 FC Holden - it was frickin cool. She would drive us up to Byron in it from the age of 15. Maybe that's why I also have a love for being on the road, especially the east coast of Australia. 
My home is full of quirky bits and pieces. I adore 1950's furniture. I love the 60's and 70's fashion and the 1970s colours and tech styles … hence why I'm obsessed with Banabae!
And your new bub, Cash - how old is he? 
Cash Roscoe K Wand is 11 weeks old. He's the best!!!! We ended up doing IVF in July last year, and the 2nd transfer worked - YAY!! He brings us so much love and endless smiles every day. 
How has his birth changed you? Tell us about this transformation into becoming a mother, otherwise known as 'matrescence'.
WOW, THE BIRTH!!! I totally went into another realm, and if it wasn't for the photos, I don't think I would remember much of it. As soon as he was born, I fell totally in love. Our little boy was finally here!!!  
Motherhood has definitely has changed me. I love not being selfish and putting him first. I think before becoming a mother, I would worry about things that really didn't matter. I still worry, but now it's just about him - haha.  I never knew I could love someone this much, and also love my partner even more after going through this transition.  
 Within my business, I'm feeling nervous and a bit anxious about the new role of motherhood and a small business owner. I need to keep up my daily practices of meditation, nature time, and journaling to help with these next stages. I also attend acupuncture and see a holistic psychologist monthly to help with this time. It's all the unknown at the moment and how it's all going to come together, but I'm really excited for what's next. 
Any tips for mums going through their first child and transition into motherhood?
Do it your way. It's amazing to get advice, but the best thing is trusting your own gut. Remember to fill your own cup, whether it's a walk around the block on your own, some meditation, swimming, the gym or meeting a friend for coffee. I sometimes feel guilty leaving him, but if I don't fill my own cup I won't be the best mama or partner I can be. It makes the biggest difference to my day. 
And finally, it may be hard to choose, but tell us your favourite thing Cash is doing currently.
Giving us the biggest smiles I've ever seen. They totally pull my heart strings!!!!

Joni 100% Linen Robe
AUD $179.00
Rad Kid Ribbed Organic Cotton  Onesie
AUD $39.00
Upsy Daisy Reversible Euro Pillowcases
AUD $55.00
El Sol Looped Round Cushion
AUD $139.00
Joni Kids Bedding Set
AUD $239.00
Peace Tufted Cushion
AUD $139.00
Checker Cotton Tufted Floor Rug
AUD $450.00
Sundaze Floral Flax Linen Quilt Cover
AUD $219.00
Rad Dad Tee - Washed Black
AUD $55.00
Take A Day Trip Tapestry Blanket
AUD $129.00