The Dreamers #59 - With Julie Pointer Adams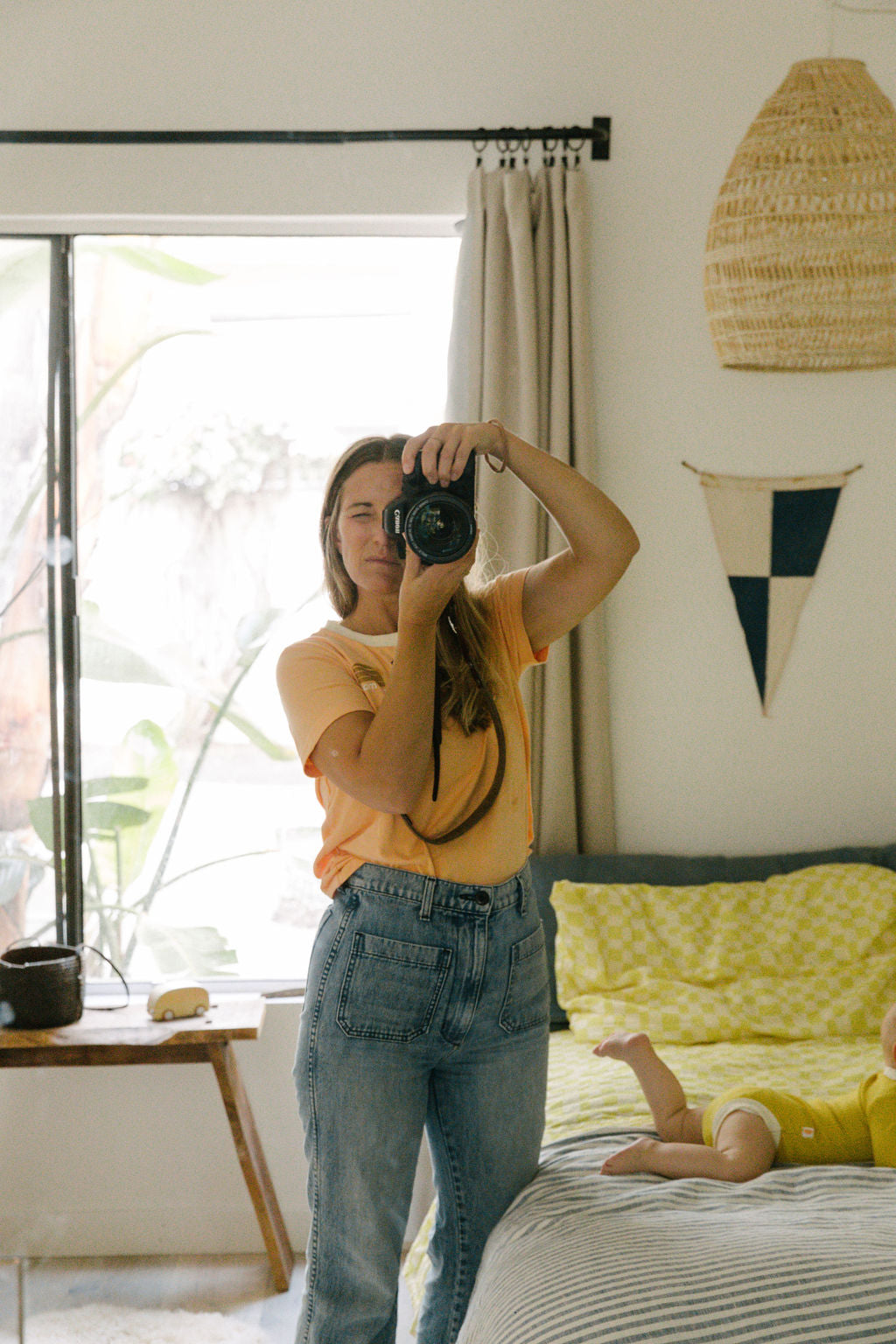 Meet our latest Dreamer, Julie Pointer Adams. Julie is a thinker, doer and creator who has just written, photographed, and art directed two books: Al Fresco: Inspired Ideas for Outdoor Living and Wabi-Sabi Welcome: Learning to embrace the imperfect and entertain with thoughtfulness and ease. She shared with us her bustling family life living the California dream.
WELCOME TO THE DREAMERS. 

COME INSIDE THE HOMES OF EVERYDAY FAMILIES AND BUSINESS OWNERS DOING LIFE THEIR WAY. 
____________
Hi Julie! Tell us about your family.
Hi! My family is me and a bunch of boys … my husband, Ryan; my 4-year-old, Oliver (or Ollie, as we usually call him), and our newest member, Asher, who is just about six months old. Our home is loud, chaotic and full of love!
We live in a small beach town called Carpinteria, which is adjacent to Santa Barbara – a city more people may be familiar with. It's located about 90 miles north of Los Angeles, so we're close enough for LA to be accessible for work, etc., but far enough that our pace of life can be nice and slow and simple. We can pretty much walk everywhere in our little town, which we love.
California! What a dream. Are you originally from there?
My family moved to Santa Barbara when I was eight years old, so this definitely feels like home. I've lived here almost my whole life, except for those few years at the beginning and a six-year stint in my twenties when I lived in Portland, Oregon.
Does the ocean inspire your daily life?
My proximity to the ocean grounds me every day. We live about a 15-minute walk from the beach, and even if I don't make it onto the sand each day, I almost always at least see the water from a distance when I'm driving or doing errands around town. There's something so calming about seeing the far-off horizon, and the ocean blues are infinitely inspiring to me. You can find echoes of this blue everywhere around my home.
Did it inspire the Al Fresco book you've recently written? Warm summer days eating under the sunshine … we're obsessed.
Living in a place with basically year-round weather that's amenable to being outside was absolutely a huge motivating factor for writing the book. Life here just completely revolves around nature, and for me, the amount of time I spend outside is such a central factor to my own health, happiness, and well-being. I wanted to share others' experiences with that as well to serve as a reminder that wherever we live, spending time in nature, especially around food shared with others, can be such a healing and uplifting practice.
Do you integrate alfresco dining into your daily life?
We try to as much as we can. Sometimes that just looks like the simplest thing, like eating popsicles together after preschool on the patio or bringing snacks with us to the beach or the park. It's not always a full-on meal or picnic these days (life is just nutty with two small kids!), but whenever we can make it happen, we love to eat outside.
Any exciting plans for the seasons ahead?
No specific plans ahead … just looking forward to another fresh year of diving deeper into my photography and hopefully finding a steady groove in my work. We're dreaming of taking something of a sabbatical on the east coast for a few months, just to shake things up and have some time away from regular life to actually think and talk about future plans! We'll see if we can make it happen.
Where can we find your book
Al Fresco for sale?

Unfortunately, I don't know all the sellers in Australia, but I know, at the very least, you can find it at Booktopia!
Rad Cook 100% Linen Tea Towel

AUD $35.00
Rad Mama Peach Ringer Tee
AUD $49.00
Rad Kid Tufted Wall Hanging

AUD $149.00
Lime Check Quilt Cover
AUD $199.00
Sun Kissed Ribbed Organic Cotton Long Sleeve Onesie

AUD $45.00
Rad Kid Cable Knit Jumper - Espresso
AUD $79.00